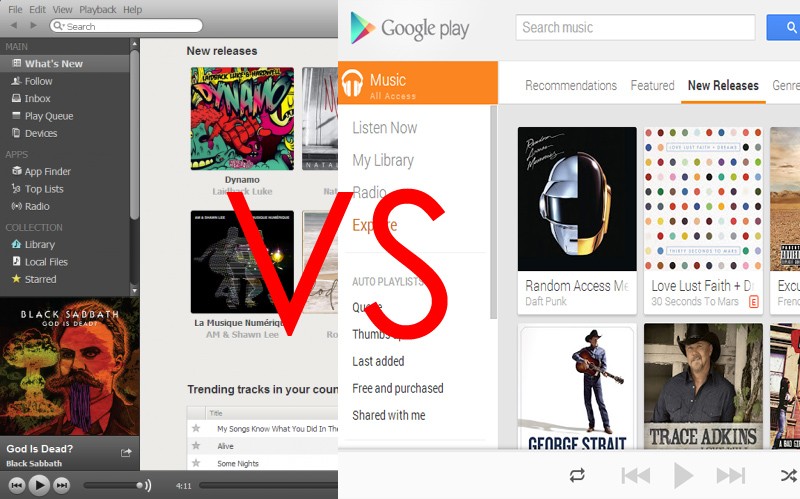 I recently wrote a review of Spotify, a music streaming service that blows iTunes and Amazon MP3 out of the water. A few days after my Spotify review was published, Google released their own competing service that integrates into the already-existing Google Play music store. Premium Spotify is $9.99 per month, but the Google service is only $7.99 per month and allows up to 20,000 songs to be uploaded from iTunes or other local MP3 files.
Owning an Android phone and being a fan of most Google products, I decided to sign up for Google's 30 day trial of their "All Access" streaming service. I have found it comparable to Spotify, but each have their own strengths and weaknesses.
The Interface
In my opinion, the most important part of any app that you use every day is the interface. If the app is unorganized and hard to navigate, it makes it annoying to function using it. Therefore, when I first started using both Spotify (after switching from iTunes) and Google Play (to compare to Spotify), I compared the interfaces on all possible screens.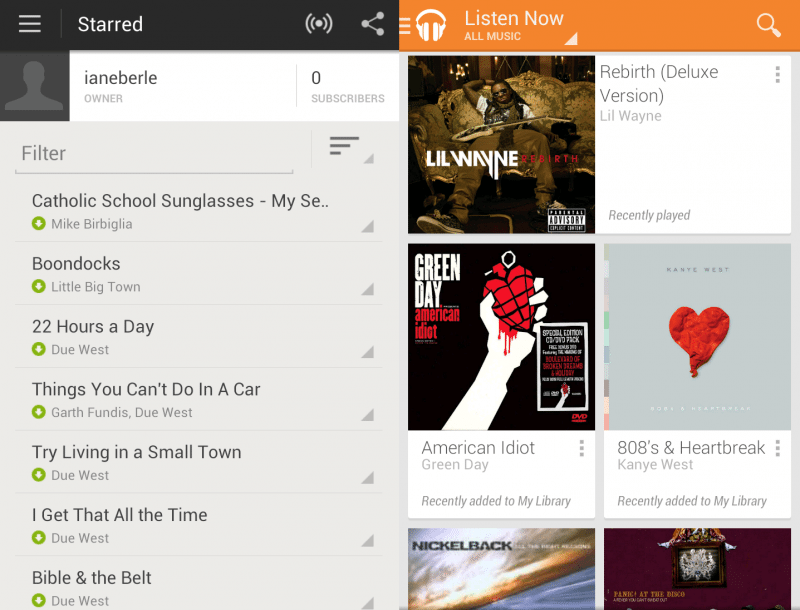 To operate in Spotify, I normally start at my "starred" playlist because you don't necessarily have a library of songs to start at. The starred playlist (and all playlists for that matter) are simple lists with little to no graphics. Google, on the other hand, is almost the exact opposite. You do indeed have a library of songs that consists of up to 20,000 local files you can upload and any music you have purchased from Google Play in the past. This library is presented to you in tiles of album art. In all honesty, I am not a fan of Google's layout. It looks really nice, but when I put it to practical use, it's a pain to scroll through all of the albums in that manner. In addition to the library, you also see this view on Google's app when searching for music by title, author, genre, etc.
In terms of interface, I want something that's easy to use and simple. When I'm in my car, I need to be able to choose a new song within a few seconds. I don't want to be searching through album artwork while waiting at the red light. I just haven't found Google's layout to be practical.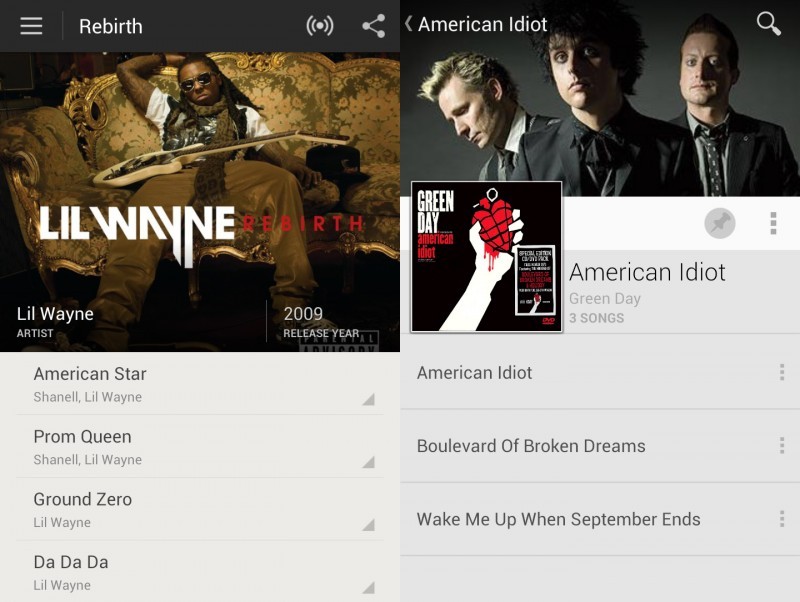 When you click on an album to listen to, Spotify and Google look almost identical. However, Spotify only displays the album artwork at the top of the screen while Google shows an image of the artist(s) plus the album artwork for that particular album. There isn't much of a difference between the two, but I've found the picture of the artist(s) to be a bit overkill. It does not add any value to the particular screen – I simply want to choose a song.
Features
The features between Spotify and Google Play are almost the same. Both have unlimited streaming for a flat fee per month, both have radio stations that tailor music based off what you like, and both allow you to make playlists for later listening. One thing that Google allows that Spotify does not, however, is the ability to upload music to the cloud. Certain mixtapes and unreleased music may not be available to stream on either service, but since Google allows users to add up to 20,000 of their already purchased MP3s to their library, this music is available to you all the time.
The fact that I can upload unreleased mixtapes and albums to Google is awesome and beats Spotify hands down in terms of features.
Music Selection
Google's service allows users to stream any music that is offered for purchase through the Google Play store. This includes practically all artists and songs, but not everything that's out there. I have actually found Spotify to offer not only popular and more well-known artists, but indie artists as well. In fact, one of my favorite bands has 5+ albums on Spotify and only 2 are available on Google Play. This is an issue that will most likely be fixed over time as Google catches up in the indie realm of music, but until then, Spotify is the winner here.
Desktop Experience
Most people I know listen to music exclusively on mobile devices, but I spend a great deal of time at my computer, so the desktop music experience is very important to me. Spotify has a downloadable application for both Windows and Mac, but Google Play can only be accessed through a web browser. For practical purposes, it doesn't make much of a difference, but there's a certain feeling I like about using a dedicated application for Spotify instead of Google's website to stream music.
Hopefully Google will eventually release desktop applications to compete with Spotify, but until then, Spotify is the winner here.
Verdict
Overall, I like both music streaming services. However, due to Google's overly picture-based user interface, smaller selection of music, and lack of a desktop application, I'd rather pay $2 a month more for Spotify. Spotify has been in the music streaming business a lot longer than most companies, but I feel that Google will be able to catch up very shortly. Until then, however, Spotify is a better service overall.
Computer science major at Northwest Florida State College. I enjoy programming, web design, technology opinion, and following the news.