Disclaimer: This was a sponsored post, commissioned by SpyShelter.com. I was provided with a full license key so that I can accurately review the product and the company will provide 2 free full license keys to two contest winners. The words and opinions are mine and mine alone.
---
Many people are already using anti-virus programs to help keep their system protected from viruses and malware, but there are many types of intrusive programs that can evade spyware detection and once they get on your system they install at such a low system level that they are beyond detection.
In addition, anti-virus or spyware programs to not protect against websites or programs that record your typing activity, which many malicious Trojans and other forms of malware use to capture you typing in your credit card information or website usernames and passwords.
SpyShelter Stop-Logger goes above and beyond virus protection programs by acting as a barrier between programs and the keyboard. They block any other program from reading your keystroke inputs so that nothing can record what you are typing and be transmitted maliciously.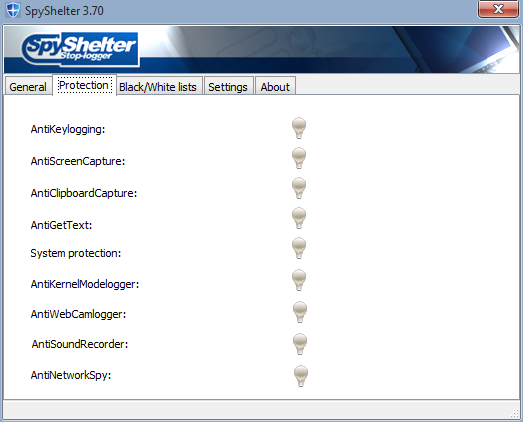 You also get AntiSoundRecorder and AntiWebCam logger which blog other processes from reading or recording information taken from your webcam or audio device. This is to circumvent a whole new breed of Trojans which can record your VOIP conversations and capture audio data.
Now as with installing all protection software, after you first install it and reboot your computer you will get lots of prompts about applications that are trying to access your keyboard (FireFox, TweetDeck, Explorerer.exe itself) and I saw right away that my MagicJack.exe was trying to access the audio device. So you will have to train the system on what is allowed and what isn't, once you build your "whitelist" of approved applications you can make it so those applications won't prompt you again for access.
My system tests fared very well, with the program running in the background I did several application loads, browsing tests, and even played a few web based games like Guild Wars and didn't notice any major impact to performance or stagger times with the various pieces of software I tested. I didn't find anything malicious on my computer popup that I didn't already know what the program is, but then again my computer was freshly built about 4 months ago and I rarely install new applications except to test or review them and then uninstall them if I don't need them anymore.
I will be leaving SpyShelter on my computer active for at least another month and report if anything unusual occurs or if it finds and blocks anything that looks like malware.
Now on to the contest:
SpyShelter is giving away 2 full licenses to the SpyShelter Stop Logger program ($26 value) to two lucky people on DragonBlogger.com. Winners will be chosen at random but the number of entries you have in the contest increase your odds of winning. Winner will have to provide email and contact information and then you will be sent the license key and download link for the software directly form the company.
The contest begins on April 20th at 1200 PT and ends on April 30th at 11:59 PT. 2 Winners will be chosen on May 1st 2010 and names and emails submitted to SpyShelter company so they can provide you with the full license.
To enter the contest you can do at least 1 of the following (each is worth entries).
Write a blog post about the contest and link back to the contest (4 entries)
Subscribe to DragonBlogger RSS Feed via email (1 entry)
Leave a comment on the post (1 entry)
Submit the post to Twitter via the following Tweet: (1 entry)
"@DragonBlogger is giving away 2 free licenses to SpyShelter Stop Logger so you can protect your PC Data: http://bit.ly/auD9Go"
You can gain multiple entries for multiple tweets.
Update:
2 winners were chosen and their names and emails sent to the Spyshelter team. You will be contacted and receive the download information and license keys. I will post the winners after they accept and receive their reward.
-Dragon Blogger