Okay we all know that StumbleUpon is among the best sites for bringing in bursts of traffic for your site.  Though I still don't know what it takes to build a strong SU network where my recommendations can actually bring lots of PageViews, I have had the benefit of a few stumbles bringing in traffic peaks and SU is one of my top referral traffic sources to DragonBlogger.com.
StumbleUpon is growing in popularity due to the "channel changing" nature of web surfers. They don't want to have to click on a website or go to a website to read articles, they just want to click a button and stumble on a page in the topic or area of interest and be shown something cool.
This is why StumbleUpon is actually getting a boost from Facebook and from mobile browsers where it literally is like the web equivalent of channel surfing.
But, did you know that you can also use StumbleUpon to help you come up with Blog Post idea's?  When I myself am in a rut for what to blog about or share with my readers I will just pop open my StumbleUpon toolbar and pick a category related to Tech or gaming and just bounce around until I find something cool to read and talk about.  I also stumble upon sites that I almost always like or thumb up myself.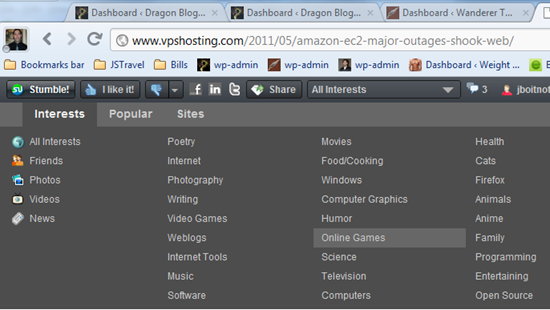 StumbleUpon allows you to also share your links with your network of stumblers to help "prod" them into checking out your article.  Since StumbleUpon limits you to following no more than 500 people it kind of prevents your social network from getting too out of hand, but this is also a limiting factor as you can invite Facebook and Twitter friends whose profiles match and I quickly maxed out my following by doing this.
The next time you are looking for a blog post idea, try stumbling for one and probably will come up with something to write about (or at least share on your social networking sites).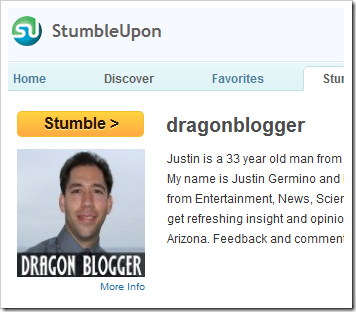 As always, you can follow DragonBlogger on StumbleUpon and feel free to share some interesting stuff with me.
-Justin Germino