We are influencers and brand affiliates.  This post contains affiliate links, most which go to Amazon and are Geo-Affiliate links to nearest Amazon store.
The Tagital T7X 7″ Android Tablet is a seven inch tablet that comes with a keyboard case.  The tablet fits well in the case and the case provides the micro USB cable connected keyboard.  The case also has a kickstand in the back so the tablet is easily viewed without having to hold it up.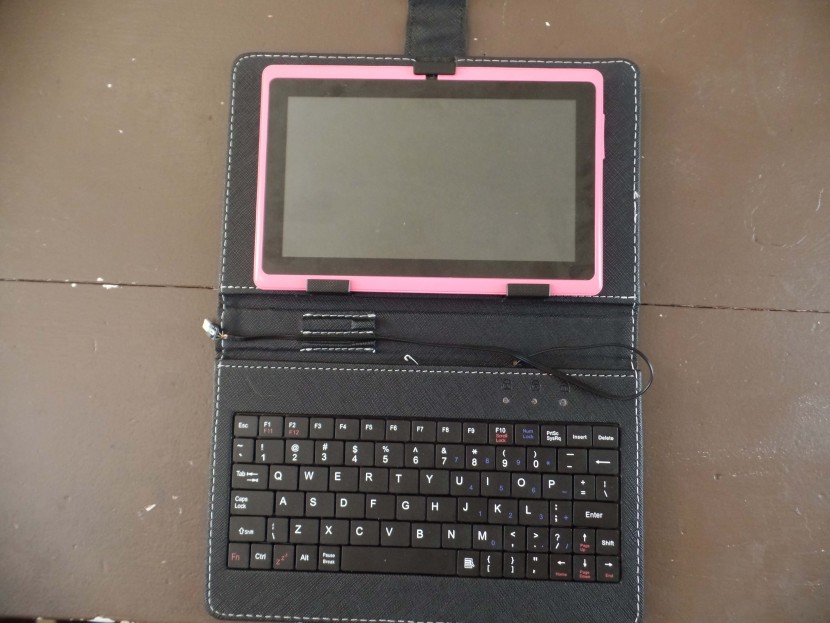 The specs:
Screen Size 7 inches
Screen Resolution 800×480
RAM 512 MB
Hard Drive 4 GB
Wireless Type 802.11bgn
Operating System Android 4.4 Kitkat
Item Weight 9 ounces
Item Dimensions L x W x H 7 x 4.75 x 0.20 inches
Color Pink
ARM A33 Cortex-A7 Quad-Core
Computer Memory Type DDR3 SDRAM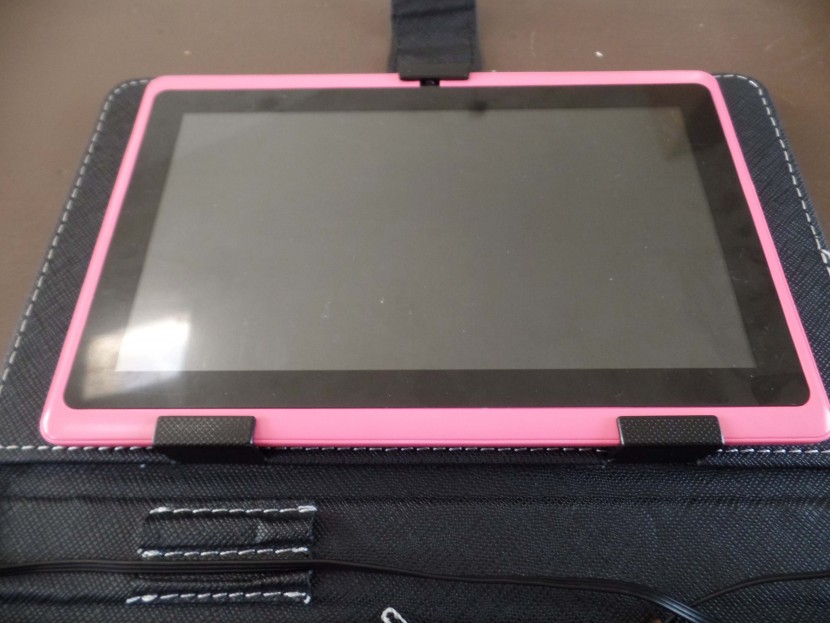 So you may look at these specs and then think of other tablets and their specs.  If you are a geek I get that.  Similar to a car guy that looks at how much horsepower a car has.  If you picked up this tablet without seeing the specs the specs might surprise you.  My mother always taught me big things come in small packages.  She is 5 ft 2 and scares me at 6 ft 4.  My daughter especially loves it and that is after she has been using a Nexus 7 2012 version.
It is Android KitKat 4.4 and it does have the Play Store already installed for access to all those apps.  I am hopeful for Android updates from Tagital.
My daughter (she is 6) and played a few games on the tablet.  She loves Minecraft and has the paid pocket version.  She connected to a siblings tablet so they could play together and it ran well.  She played it by herself and if ran well.  She also likes the car games and Sonic CD and they all ran pretty well.  We also watched a bunch of YouTube videos and a few shows on Netflix all without any issue or lag.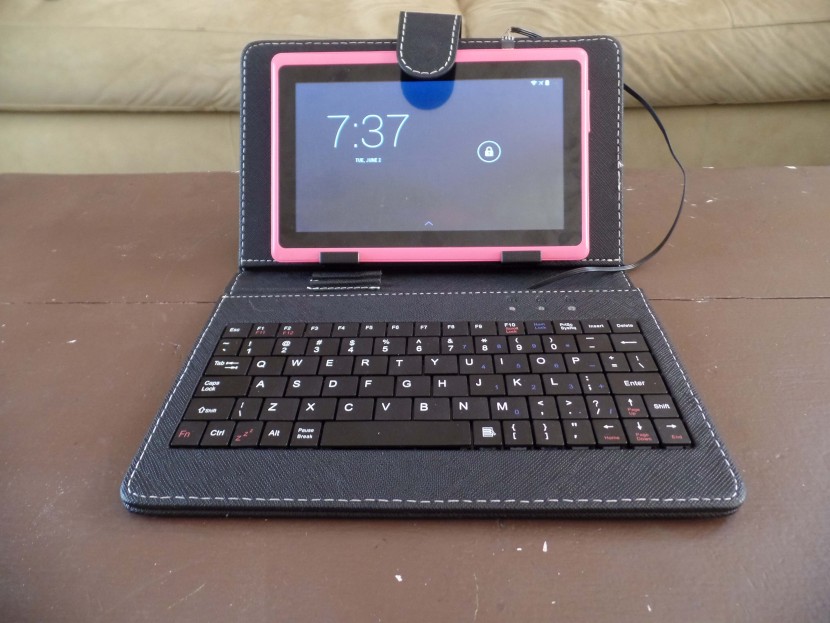 So the case and combination keyboard are nice.  Something that tickled my daughter.  Just being able to type a few things into YouTube or Netflix when searching for something to watch.  The need for the micro USB cable is a little old fashion.  The Tagital T7X has Bluetooth so that might be a future upgrade for your tablet.  It is mostly a nuisance when plugging into to charge or when when unplugging to use.  The tablet has dual camera but this case does block the rear camera so to use it you will need to remove it from the case.  Again a little bit of a nuisance but having the rear camera is nice when needed.  My thought is the case is free so little things like this are worth dealing with.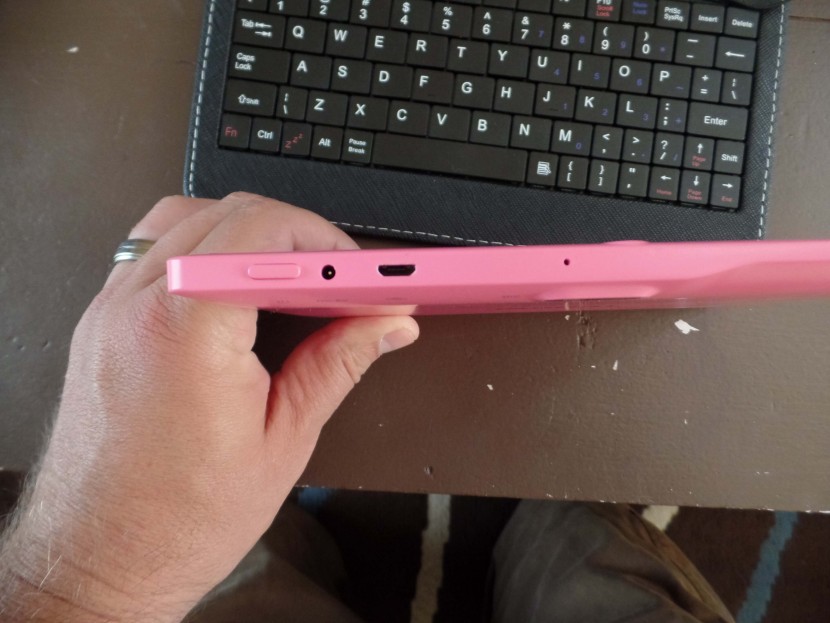 You have a microphone, micro USB port for charging, headphones jack and power button.  You also have volume rockers.  There is a plug for the DC power also, so the USB charging is not your only solution to get the tablet charged. The front and rear cameras are 2.0 MP so you won't be taking any super photos but the front works for video chatting and my daughter has fun with taking videos and pictures.
If taking the videos and pictures has you concerned with the storage the Tagital T7X 7″ Tablet has a micro-SD card slot to expand that memory.  I slid a 32 GB micro SD card in and it worked as expected.  Stored a movie and some music without issues at all.
The only real negative is the battery for me.  It lasts a couple hours while watching videos or movies.  You can get 3 to 4 hours of use just browsing the web and maybe some lite YouTube but considering its form factor I can't see a huge battery being built in but with some management.  Remember this is a sub $50 Android tablet and considering that you get a pretty decent amount of power and usage out of it.  I think this is a great kids tablet.  Be ready for the battery limitations and storage limitations and all should be fine.
We are influencers and brand affiliates.  This post contains affiliate links, most which go to Amazon and are Geo-Affiliate links to nearest Amazon store.
I am just a geek getting older but keeping up.