Making it big in the digital space is no easy feat. Now that everybody has the technological means to upload and express themselves online, it takes a special kind of individual to rise above the noise and gather an audience who are interested in what you have to say.
It's not impossible however, and more and more people are harnessing the power of the internet to put together lucrative careers for themselves in numerous different genres. From the worlds of business, fitness and even fashion, digital careers are on the rise. So how can you do this for yourself?  
A new interactive timeline featuring some of the internet's most successful personalities has revealed what kind of routine it takes to become one of the most influential characters in the digital realm.
The timeline created by online hosting providers UK2, takes an in depth look at 10 online influencers from a variety of different backgrounds, each one amassing a large following and a successful career.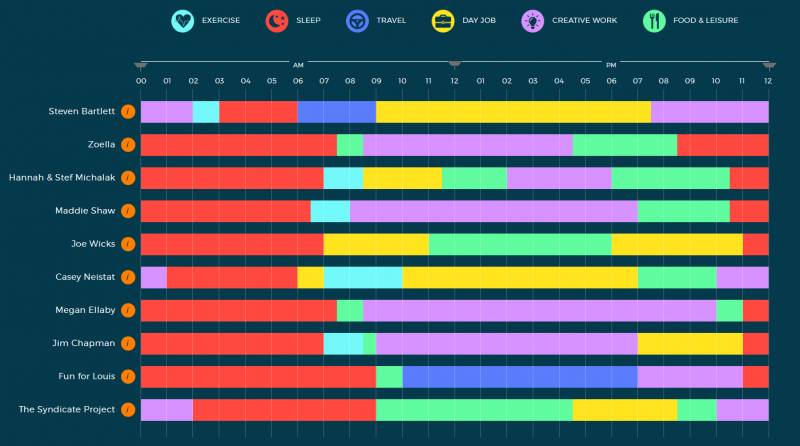 Click on the Image the bars are interactive on the hosted site and you get a lot more detail into each segment of time.
It's an interesting read, with research into the lives of top influencers such as Joe Wicks, Zoella and Casey Neistat revealing a number of similarities and differences in the way they attack the day.
Sara Rego, General Manager of UK2 has commented on the interactive timeline…
"Our timeline shows that every successful online personality has a different routine of ensuring they get through their daily workload successfully.

 It's clear that the key to optimizing your time is to combine your working life with what you love to do. Many of the personalities we researched have made a career out of their passions. This means they're able to spend the majority of their day enjoying themselves, and making money from it too! 
As Steve Jobs said, "Love what you do and you will never work a day in your life"
You can take a look at the interactive piece here – https://www.uk2.net/the-daily-routines-of-online-geniuses/