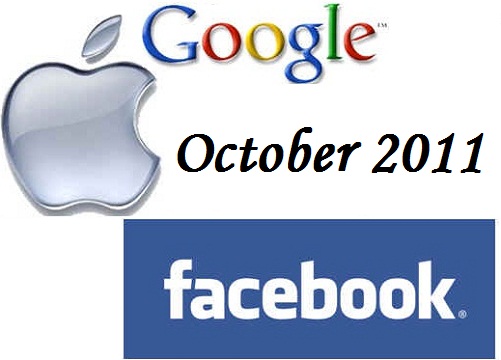 From the launch of iPhone 4S to the death of Steve Jobs, from 800 million active users on Facebook to the hottest trends on Google Search, this post will highlight the names and numbers that dominated the tech-world in October 2011, along with a couple of things that caught my eye on Google Plus.
Apple:
Apple Inc. launched the iPhone 4S and the iOS 5 on October 4, 2011 but the iPhone 5, rumored to be set for release on the same day was nowhere to be seen. Here's the original post on Dragonblogger.com about .
Steve Jobs, a co-founder and former Chairman and CEO of Apple succumbed to respiratory arrest caused by pancreatic cancer on October 5, 2011 at 56, after fighting it for nearly 8 years. As of September 2011, he had a net worth of over $ 7 billion. He had resigned as Apple's CEO six weeks earlier, following severe health concerns. Steve Jobs became extremely popular in the last decade owing to the introduction of unforeseen and revolutionizing series of devices – iPods, iPhones and iPads.
Facebook:
As on October 31, 2011 Facebook has crossed 800 million active users, with an average of 130 friends and connected to 80 community pages. Around 250 million photos are uploaded to FB each day, and with 70 languages to choose from it's no wonder that over 75% of the visitors are from outside the US! 350 million people access Facebook on their mobile devices through 475 operators across the globe.
Source: Facebook Statistics
Google:
Let's take a look at the most searched and the most rapidly rising phrases related to Technology on Google Search in the United States.
As expected, the rising tech trends in October 2011 are completely dominated by Apple, with the 10 most rapidly rising searches on Google related to computer/electronics being:
iMessage
iPhone 4s
Steve Jobs died
Steve Jobs dead
Steve Jobs
iOS5
iCloud
iOS 5
Apple
iPhone 5
The most popular searches in October 2011 were:
How to
Windows
Apple
Hotmail
Download
Steve Jobs
Mac
HP
Windows 7
Finally, here are a couple of things that caught my eye while going through my Google Plus stream:
A quote by Albert Einstein:
If you can't explain it simply, you don't understand it well enough.
And a musing about the precarious state of the world:
10 years ago we had Steve Jobs, Bob Hope and Johnny Cash. Now we have no Jobs, no Hope and no Cash.
So, what was your October like?