The market of cross-platform tools for app development has been growing steadily. Since the range of tools is pretty diverse, many developers wonder which of them to choose. Here are the most distinctive features of four most popular cross-platform app development tools.

Xamarin
Native iOS, Android, Mac and Windows apps in C#. Unlike Appcelerator, the code is not interpreted at runtime but is right away translated into a native code. As a result, an app behaves, looks, and has the same performance as a native application!
UI is created for each platform using their standard view.
Xamarin Test Cloud is an automated app testing service on hundreds of virtual mobile devices.
A great number of components (plugins) for better performance.
In-app purchases.
Freezeprosoftware.com Nearshore Developers is a Xamarin consulting partner. The company develops the apps using the Xamarine cross-platform framework.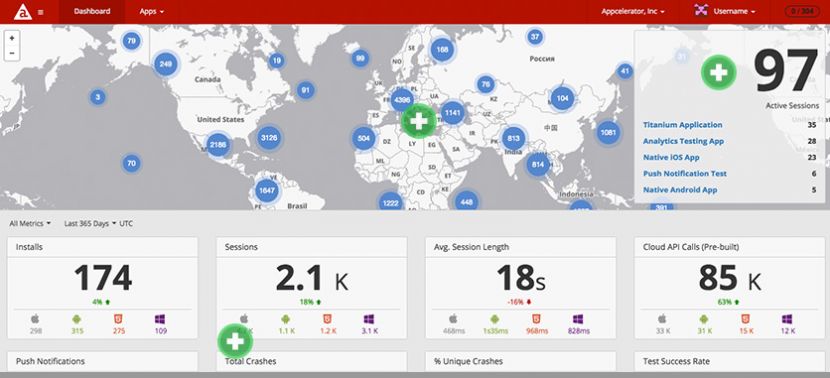 Appcelerator Titanium
The applications provide the experience of a native but are written in JavaScript (JS code translates to a native "view" at runtime).
The UI are created according to a particular platform using the Alloy framework (integrated MVC framework using XML and CSS-like syntax). Despite the fact that the creation of a separate UI for each OS complicates the development process and reduces code reusability, general business logic, app model and kernel stay the same for any platform.
Plugin and component store (520 components, 204 of which are free) where you can find everything you need to build an app: analytics, ads, cloud storages, social networks, graphics etc.
Analytical platform (real-time app data monitoring, performance, crash, log, and development process monitoring).
Complete test automation.
Built-in connection to the most popular enterprise platforms (Salesforce, SAP, Oracle, Microsoft Dynamics и SharePoint), popular apps (LinkedIn, PayPal, DropBox, Facebook, Twitter and others) as well as the possibility of creating your own connectors to any services.

Kony Platform
Web, hybrid, and native apps for smartphones, tablets, and desktop devices written in a single code.
Support of all the stages of cross-platform app development (design, development, testing, deployment and management).
The ability to demonstrate and share the prototypes among the designers and developers (they can even comment on and discuss some questionable parts of app layouts).
Access to the backend services using thousands of RESTful APIs.
Flexibility in choosing the development frameworks (including JavaScript and PhoneGap) as well as native systems (iOS, Android).
Real-time apps' preview.
The ability to send messages and notifications to the users (push services).
Sync services enable the integration with any third-party enterprise services.
Reports and analytics system.
Device detection, crash logs.
Authorization and security.
App updating, settings, and version control.
Adobe PhoneGap
An app functions as a Web-page inside WebView. It is based on JS, CSS, and HTML. At the same time, PhoneGap API let the developers use all the performance capabilities of a device in an app: camera, sound, GPS, file system, contacts, notifications, etc.
Thanks to WebView a PhoneGap app can be integrated into a native application (hybrid app).
An app can be compiled to any existing mobile platform including Tizen, Bada, Firefox OS. It is easily done in a couple of clicks using PhoneGap Build (cloud service).
PhoneGap is open and free.