When Once Upon a Time debuted last year I thought it was an interesting concept for a TV series.  A town with well-known fantasy story characters who did not know what they really were due to a spell.  It had the potential to take children's stories in a new direction, and in a way it did.  So when it got renewed, despite the fact that everyone figured out who they were at the end of the first season, I was ecstatic.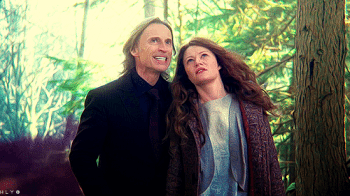 The show is great at taking well-known tales and twisting them in ways you don't see coming (anyone remember how Red Riding Hood turned out to BE the wolf?).  It does beg the question, can the series continue with this now that everyone knows who they are?  It is possible, especially with not only some part bits which will now be main cast members, but also some of the new additions.  Emilie de Ravin, who played Belle/the mental patient, in season one will now be a major player in this crazy tale.  Will she be able to make Rumplestiltskin be the good person he was trying to be when he fell in love with her?  We can only speculate.
Joining the cast this upcoming season is de Ravin's former Lost cast member, Jorge Garcia.  His role is only known as The Giant.  What that means in this fairytale character, real-life world is anybody's guess as the network is being super secret about his character.  Also making an appearance will be Sir Lancelot, although rumor has it he will not be the great knight everyone knows him as from our stories.  Others include Aurora, Mulan, and Captain Hook.
So how will the new season begin with everyone remembering who they were in Fairytale land AND in Storybrooke?  It can't be the happily ever after that all tales have since there are so many problems which have occurred as their modern selves.  Even Emmy is sure to have issues now that she knows Mary Margaret and David are her parents and they did give her up.  One thing is for sure, Mr. Gold releasing magic into Storybrooke will have some interesting effects on the world and the inhabitants of the town, including Regina herself.
With all the new characters/fairytales being added, season two of Once Upon a Time is sure to delight those who fell in love with the first season.  Will there be any happy endings this time around?  The only way to find out is watch on September 30 when it premieres.
I have been a gamer for over 20 years. My preference is RPG, fighter, action, adventure, defense, and strategy although I will play just about anything. I also prefer console to PC gaming. Depending on what interests me, I watch TV and movies. Some things every week or when its new and others as they catch my fancy. Here I prefer dramas, fantasy, sci-fi, and action. I also am an avid reader and writer.