When I came across the Top 30 Young Bloggers on RetireAt21.com I was shocked at how many of the bloggers I knew on the list, but I didn't realize that they were all as young as they were.
I mean, Glen Allsop from Viperchill led the list, with all of the bloggers being between 14 and 21 years of age.  Many having sites that have become so popular that their Alexa ratings and earnings would be enough to pay college tuitions per semester.
I found most of the bloggers on the list were Make Money Online or "Be Better Blogger" bloggers, though there were a few technology bloggers listed as well.  I think they all have tremendous talent and the fact that so many teenagers are diving into Internet entrepreneurialism instead of "World of Warcraft" or other time consuming sinks that most teenagers or college kids have is fantastic.
I do however feel old when reading how many young people are online in the blogosphere and spewing out advice like they were doing it for a decade already. 
Every single one of these bloggers is going to be mega successful and the experience and lessons they will learn from their infopreneurial adventures will be priceless and worth quite a bit.
The fact is, testing the waters as an entrepreneur online via blogging, affiliate marketing or even content creation and selling CMS system themes, plugins, or other apps/software is a great way to gain experience, market and pay very little up front capital compared to any brick and mortar entrepreneurial enterprise.
If you haven't yet, I encourage you to read the Top 30 Young Bloggers and let them know DragonBlogger sent you.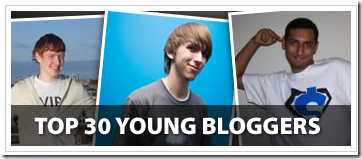 On the Internet anything is possible, and fifty years ago how many kids could strike it so successful without being in the entertainment industry?
-Dragon Blogger