Touch screen interactive kiosks such as self-serve points of sale and screens on the floor have already been introduced in a variety of retail sectors in North America, including supermarkets, electronics, QSR, ticket retailers, and pharmacies, and they're poised to totally transform the entire retail market over the next few years. While it took the ATM 25 years to become ubiquitous, industry experts expect the interactive kiosk to become much more rapidly adopted because of quickly evolving consumer expectations as well as the promise of a high ROI to merchants.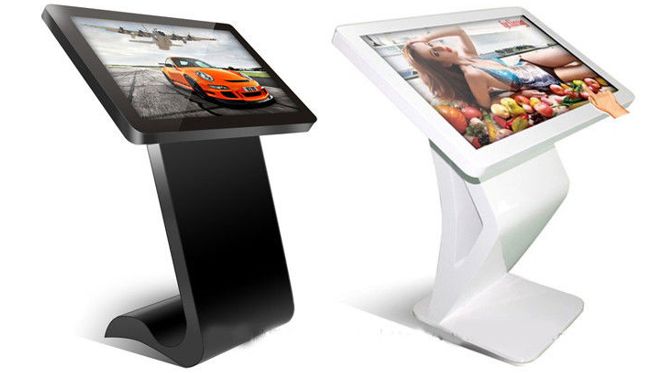 The ubiquity of touch screens and interactive electronics in the form of smartphones and tablets mean that the interactive features of self-serve POS systems are already to familiar to consumers and, in fact, at least 65% of consumers find that the new technology improves the buying experience. Consumers want more interactive technology as part of their buying experience and more freedom of choice, a trend that is driving the uptick in touch screen technology in brick-and-mortar retail (4 out of 5 retailers plan to introduce or bring in more of them in the coming years).
Touch screen kiosks are in demand because consumers are embracing the effortlessness of interacting with technology over people; many admit to feeling more comfortable placing an order or paying for a purchase through a screen than face-to-face. Consumers at ease also become more willing to engage in offers and promotions that they might otherwise resist when they are coming from a sales representative using up selling tactics or a script. What seems disingenuous from a person is more natural on a screen, and people are more willing to consider promotions when they have the leisure of considering without the perceived pressure of a person waiting for a response. That willingness to engage has been driving up the ROI of interactive kiosks as they improve sales and revenues faster than changes to sales personnel training.
The retail kiosk market is booming as innovative technology makes it possible to adapt to many new environments; to learn more about recent innovations, visit Admetro.com. Markets and Markets predicts that by 2020, the interactive kiosk market will be worth over $70 billion USD as they become rapidly adopted across a spectrum of sectors. OEMs and resellers of this technology should take note of their rapid adoption in the retail sector and start tailoring their products to this growth opportunity. Durable and affordable technology is going to be key to appealing to retail clients, but it must fit the environment, which is why technology companies like A D Metro manufacture a variety of touch screen solutions to fit different demands.
For example, a touch screen kiosk in a QSR will have to work despite contaminants on the screen (like ketchup or grease) and be easily cleaned without damaging the sensor. If the technology is going to be left largely unattended, it will need to be vandal-proof, something achieved by the Ultra Resistive sensor made by A D Metro. As an OEM or reseller, it's important that you find touch sensors and controllers that will stand up to the environment where your customers plan to use them. Find an innovative supplier of touch screen solutions that prioritizes durability, affordability, and customer engagement.