Over the past three years I have tested and used a variety of methods to make money blogging with some being more successful than others.  DragonBlogger.com continues to remain my flagship blog and this enterprise continues to grow rapidly.  This growth really came into play since October 2010 when the site redid it's theme and became more of a magazine interface as well as hiring on a team of writers and staff to help add content more frequently and engage readers over a variety of channels.
June 2011 was the best month by far in terms of both Traffic and Income for my blogging Enterprises and continues to further my enthusiasm and hopes for continuing on this line of success.
First let's talk about the traffic and growth:
Dragon Blogger June 2011 Traffic Report
In the 30 days of June 2011, DragonBlogger.com received over 49,600+ unique visits and over 65,100+ pageviews for the month.  61.5% of this traffic came from search engines with about 24% from referring sites.
Top referring sites included StumbleUpon, MGID, Twitter, BlogEngage and Facebook (in that order).
My top 5 specific pages are below:

Note that 5 posts (including homepage hits) account for 20% of all site traffic, this is both good but also bad as should these pages drop in the SERP it could be a huge % drop in traffic for the site if I lost one or more of these pages getting traffic from searches.  So this is a good and a bad thing to have some singular posts accounting for so much traffic.
Ideally I would like to see my homepage itself climb the ranks and become the most hit specific page on the site.
Overall though this was the best month in terms of traffic and was about a 3% gain on traffic from the month before even with May having 31 days.
Dragon Blogger June 2011 Income Report
One of the hardest things to do as a blogger is keep track of all the different methods of monetization I use.  This necessitated I use a spreadsheet and I constantly am adding new rows for affiliate programs or new income programs I am testing.
This month however my testing blog earning programs came at a price, and when I started testing Teliad and Intellilinks on this site I had a penalty email from Google in Webmaster tools saying they noticed paid links on my site and they were penalizing my PageRank.  Sure enough within a week my PR dropped from a PR4 to PR0 on DragonBlogger.com which was the price I paid for testing programs which allow you to sell links on your site.  A fair warning, that even though I earned about $96 in a month from Intellilinks and Teliad combined, I don't think it personally was worth losing a PR4 for this income.  I wouldn't recommend selling links on your homepage if you want to keep a high PageRank to anyone and I was doing it as part of the research more than anything else.
Here was the full income breakout: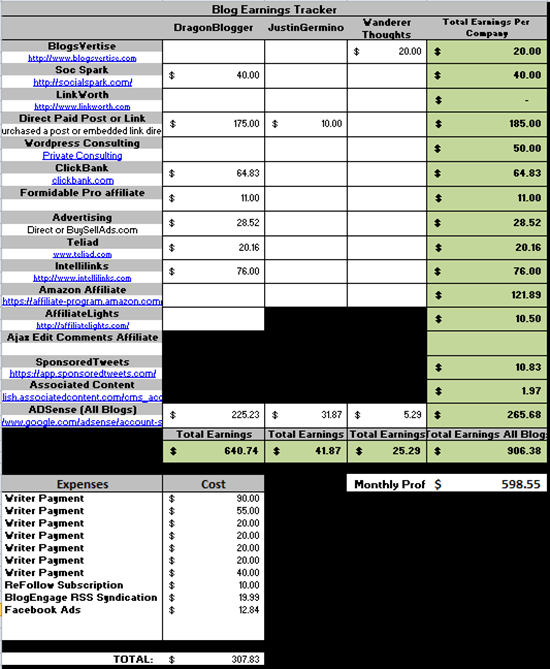 You can see that AdSense was my highest earning month ever at over $265 in a single month of income, most of this came from DragonBlogger.com but my personal blog also started increasing its AdSense earnings.
I also had my highest Amazon Affiliate sales ever at $121 from 21 sales total.  The odd thing is though I install amazon ads for products, I continue to get commission mostly from products I don't advertise directly as a result of the Amazon referral cookie being set.  This is another really great reason to use a plugin like the WordPress Easy AZON which allows you to insert images that link to Amazon affiliate products with ease.
I also became an affiliate for Formidable Pro which I use and consider THE BEST WordPress form Plugin as well as making some earnings with ClickBank on the Popup Domination plugin sales.
Some sponsored articles and reviews rounded out my earnings bringing my total blogging income to $906.38 for June 2011.  This was offset however by my highest month of expenses to date at around $307.83 which brought my net profit from blogging related activities to $598.55.
As you can see the web of income/expenses is becoming larger each month as my enterprises grow and this only becomes more essential to track everything separately (I keep everything itemized in a more detailed sheet for tax purposes).  I do file taxes as an independent contractor at the end of the year for being a blogger and it is becoming increasingly more complicated to make sure I have everything in order which is one thing you need to be aware of if you are a blogger trying all of these programs.
In Summary
This was the Traffic and Earnings report for DragonBlogger.com in June 2011 and this was the highest earnings report so far as well as highest traffic.  I am well on my way to reaching my $1,000 per month steady income goal from the site and reaching 100,000 unique visits per month by January 2012 which is another one of my goals.
How did my fellow bloggers fare?
-Dragon Blogger
I have been obsessed with computers, tech, gadgets and games since the early 1980's having grown up on the Commodore 64 and Amiga computers.
By day I work in the IT Security Industry and have been in IT for over 20 years. On my spare time I am a Vlogger, Blogger, Streamer, Gadget Reviewer, affiliate marketer, influencer and entertainer. I am also an avid movie fan, TV Show fan, Anime fan, video game fan and fan of trying anything and everything new.