I talked previously about using Triberr to help establish a group of bloggers willing to cross promote articles and increase our reach collaboratively, you can read about my Triberr request for members who want to have me cross promote their articles about blogging, tech or gaming for more details.
In the meantime, yesterday I saw that Triberr offered out branding as a service and now you can create an application on Twitter and connect it with Triberr.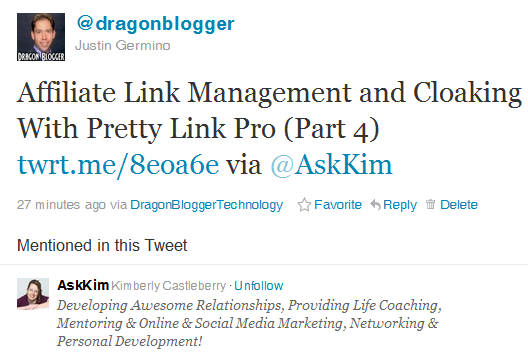 This now allows you to customize the "app" your tweet comes from, and the link if they click on it goes to your website instead of Triberr.  This is an awesome feature because your tweets are "showcased" as from you and your application.  This could help drive additional traffic and this branding service is something that most social media applications charge you a premium for.

You can watch my video on how to set this up in less than 5 minutes:

Or you can also follow Dino's steps on this article to Setup Twitter Branding on Triberr as well, if you are using Triberr you should setup custom branding as it helps bring focus to your own website.
Also, if you haven't tried Triberr yet you may want to consider it, this service lets you build "Tribes" with other bloggers and help share each other's articles mutually.  You get full control over what you want to promote/reject and you can clearly see benefits by belonging to a strong tribe.
I am building my tribes and always looking for new members, it is completely free and if you want to join my Blogging, Technology or Gaming tribes just fill out the form below.
-Dragon Blogger