Tweetdeck now officially has a default configuration that will allow you to type more than 140 characters and it will use it's own Deck.ly service to send the reader to a URL where they can finish reading the entire message.  You can send entire blog posts in a tweet now on Tweetdeck and the landing page even allows for leaving comments and feedback.  This is a feature of Tweetdeck version 0.37.2 or later and is something I tested to see how well it worked.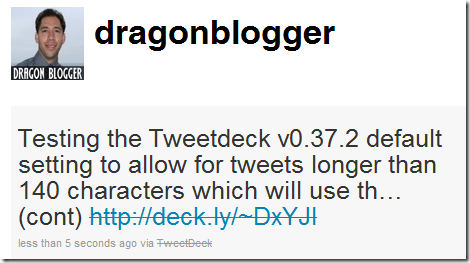 I sent out a test tweet in the early Wednesday AM to see how it works, and Tweetdeck will truncate your tweet at exactly 111 characters, then append "… (cont) http://deck.ly/~xxxxxx" to the end of the tweet so that users can click and read the entire Tweet.  Now since you can create Tweets with Tweetdeck and anyone on Twitter can read the entire tweet by going to a URL so they can see the full message.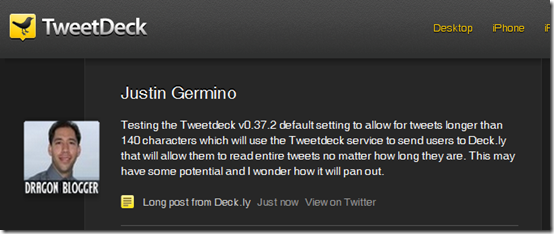 The real question is how likely is a user going to follow a longer tweet just to read the rest of the message?  Also if you are promoting something you are now asking the user to click twice, once for the longer tweet and potentially a second time in the longer message to your target article or product.  It is hard enough getting one click through but to convince a user for a second click through is something I don't see as effective.
I do see the potential for really valuable information to be shared, more details and questions as well as more interactive conversations like the ones you can have on Facebook.
What do you think about extended Tweet sizes?  Is this a good thing?  Should Twitter default to having longer tweets?
-Dragon Blogger