The new V0.36.1 version of TweetDeck was released a few days ago and I upgraded right away but knew that real time tweet streaming was not going to be as valuable as it was being touted for me.  At least not for people who actually have a column for their "All Friends" list.  Real Time tweet streaming is for people who can't wait for the 1 minute or 3 minute interval and absolutely have to see a tweet the second it is sent and arrives in their stream.  This is valuable to those who spend a good deal of time on twitter responding to replies and DM's or watching search feeds and replying or getting involved in search results or trends but the majority of the people will find this feature just simply overload.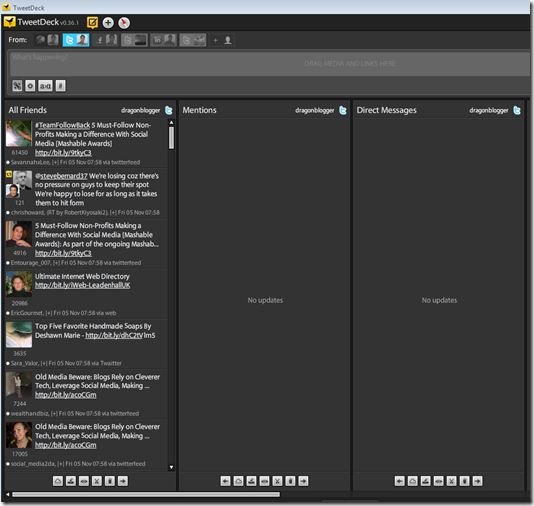 This is especially true if you have thousands of followers and you happen to check your "All Friends" column periodically as I do, this column became a constant stream in motion and was nothing more than a blur with no ability to even read any information.  Even some of my lists were so active that I was unable to read tweets as fast as they streamed in, like it or not there needs to be a pause in feed streams so you can actually read and catch up on tweets and respond properly.
You can read more details about the latest TweetDeck 0.36.1 update from the TweetDeck blog.
Does anyone else find the real time twitter streams to be overkill?  I am curious to know if anyone actually leverages the real time twitter stream to increase productivity or benefit vs waiting the extra poll time.
-Dragon Blogger