List building and email marketing has been around for quite awhile. In fact, even my company offered list hosting and email list management back 15 years ago, before SPAM became a constant pain. I enjoyed managing the process, and we considered becoming a list management company instead of a hosting company.
List building is something that enhances the blogging efforts, allowing you to reach people and remind them to come visit your site and check out all of the wonderful new content that has been added.
Nowadays, there are many email list management services out there, to help with your email marketing endeavors. These services take care of the technical stuff so you can simply point and click and insert the code into your blog or website. I have used a few of these companies. While there are many similarities between these companies, there are also differences that make one company or another stand out, with their particular specialties.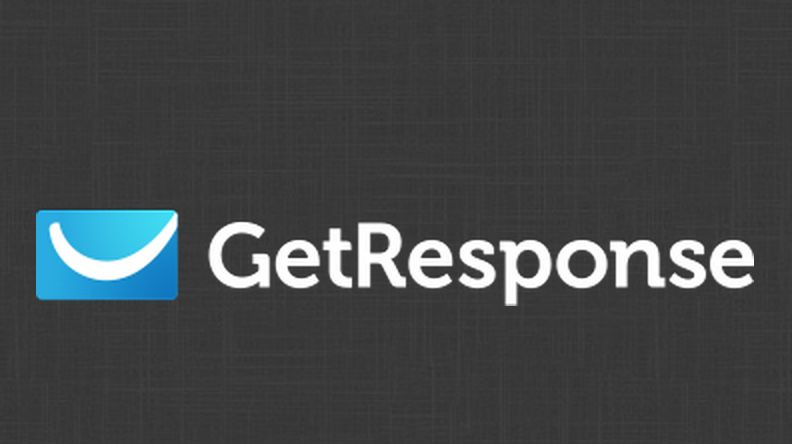 More recently, I checked out GetResponse.com. The people over there are so nice, and I have to say that Abby Hartz is so personable that I couldn't help but want to switch to GetResponse, just because of her helpfulness and client-focused attitude. She seems to be the real deal! But, don't take my word for it, check out the conversation that we had with Ms. Hartz on a #SocialCafe Twitter Chat. During this particular Twitter Chat series, we covered ten tools and decided to add GetResponse to that list because we had heard of its popularity. Abby Hartz and GetResponse, as a company, took up our offer to participate!
After signing up for GetResponse, and logging in, I was greeted with their initial three steps, complete with instructional video(s) to help me with my
email marketing
:
Build Email List
Send Newsletter
Send Autoresponder
It was very helpful to have this list, to have some direction provided by the company. I mean, there have been a few trial versions that I have started and haven't finished because I wasn't sure what the next steps were. Oh, did I mention that? GetResponse offers a trial version!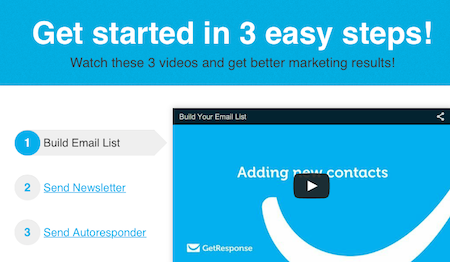 Frustration Turned into Success.. with Exceptional Customer Service
Let's take a step back, to the beginning. When I initially signed up for GetResponse, there was a verification process. It is somewhat standard procedure, to have a security verification, but it required a text message to my cell phone. I appreciate GetResponse's due diligence in ensuring that I am a verified person/entity, but here is the catch… With some cellular services, like mine, there is an option to turn "off" 3rd party notifications. That is what I did with my service, to avoid the spam texts that try to bill your phone company. So, the rub here was that I didn't get GetResponse's text message. As a comparison, Google offers an option for a text message or a phone call and I have always opted for a phone call version.
After waiting a few moments for the GetResponse text message and not receiving it, I visited their site. It was pretty easy to find their online chat form, and I figured I would have to wait awhile and then wait while they resolved it. To my surprise, someone came online right away, and my problem was resolved in less time than it took for the delivery of a text message! I was very impressed with the customer service and courtesy and promptness. It would still be nice if GetResponse had a phone call version, but I think if I had to choose between that feature and the customer service, I would choose the customer service, which is waaaay beyond a normal expectation of good customer service!
Password Set-Up
GetResponse, as mentioned above, is very security-conscious. This includes their password requirements. No easy password usage, as their requirements include uppercase and lowercase characters, numbers, etc. This is pretty normal, so is probably not an issue for most people, but for those who want to use easy passwords, this is not something that would be allowed with GetResponse. But, security of your account (and your list!) is very key, so this security is something that you want.
The Feature That Sets Them Apart: No Double Opt-In for List Migration
One of the key features that sets GetResponse apart from their competitors is the easy ability to import an existing list from another service WITHOUT having to go through another opt-in process.
There are two schools of thought on this. On one hand, there is the thought that someone could "scam" the system and grab another list, or compile a list and import it into the email list provider's system and spam the subscribers because they had not opted to be a part of the list. This is something that none of us want to experience, as subscribers!
There is also another view, from the publisher's perspective. An issue is created for those publishers who want to migrate (switch) email list management service providers. The problem that exists is where their subscribers have to re-opt-in to the "new" newsletter even if they have been subscribed for years. This gives the subscriber the opportunity to say, "Hey, I don't really need this newsletter anymore and so I'm not going to re-subscribe." I admit it. I've done it as a subscriber. Have you?
This is where GetResponse provides the option for the publisher to silently upload their "clean list." In the video (above), Abby Hartz explains that GetResponse has an "algorithm" that they use to determine if the list is clean and to avoid a scam situation. Regardless of how they do it, as a publisher, this feature is very appealing! It allows the publisher an ability to avoid the risk of losing subscribers during the migration (those that would have been lost during the repeated opt-in).
AutoResponder Tool and Unique Feature to Manage Effectively
In sales and marketing, many professionals and many bloggers set up their own autoresponder series. Two common uses for a series are:
sales (including affiliate sales)
training
In fact, GetResponse is probably using their own autoresponder series tool to send out emails regarding the training on how to use GetResponse. The way that the series works is that it sends out a pre-formatted email at a designated time. So, if someone signs up for a 7-day email course, the publisher can set up a series to email on Day 1, then Day 2, etc. until the series is completed.
Another advantage that many high-end email service providers offer is the ability to import and export these autoresponder series. In this way, if you have a couple different lists or products, you can use the same type of format and export your series and re-import into another list. Or, if you have affiliates and you want to help them with sales copy, you can provide your series to them, to import.
Trial Version… then Trial Again
GetResponse offers a 30-day trial version. This gives plenty of time to try out their list management software (their new landing page software) and even import your list from another provider. But, if you are like me, it is easy to "forget" to utilize the free trial period.
GetResponse has an answer for that and sends out an email, toward the end of the trial version, to ask if you want to extend the trial, providing you with the steps to take to request an extension of your trial. I did that. No sweat. Trial extended.
But, again, I didn't utilize my trial period. And, yet again, I received an offer to extend the trial. This time, I opted to pay for my service. (I didn't think it was quite fair to keep requesting extensions just because I hadn't organized myself to try it out!). I was impressed enough by the software to chat with Abby, and that is what persuaded me to actually put GetResponse into place. There is something about moving past the trial period that is motivating as far as really giving the software a full test. Fortunately, the software lived up to what Abby Hartz had described and it exceeded my expectations.
In Summary…
The features that I listed in this review were what I would term as non-standard for a review. GetResponse exceeded my expectations as far as newsletter design, landing page design, ease-of-use of the website and all of the normal things that a professional would look for in an email list management software. However, I wanted to highlight those things that were not necessarily on the list of what to look for, like the list migration advantage (over competitors) and the autoresponder ease of use.
Of course, don't take my word for it alone, go ahead and check out what Abby Hartz has to say (in the video, above). Then, get a trial version yourself (so there is no outlay of money, initially). And, if you want to take it to another level of testing, try out GetResponse's customer service. To me, that is what sets them apart. It is as if they have redefined the phrase "Customer Service."
Be sure to stop by and give us feedback on YOUR experience trying out GetResponse!
Deborah wears many hats, from professional sound engineer, to marrying a professional sound engineer and recording a Jazz album that put her and kept her on the RN Jazz charts in Los Angeles, for a year. From that experience, she learned how to make it work with social media marketing. She traded in her position as Chief Technology Officer in the financial industry to help small businesses to realize their success online.