Sometimes you just want to help clean up your Twitter follower list and remove people that just aren't active enough to be worth following on Twitter.  This is where a website like UnTweeps comes in, this service is specific in that it allows you to list all the people you are following who have not tweeted in X number of days.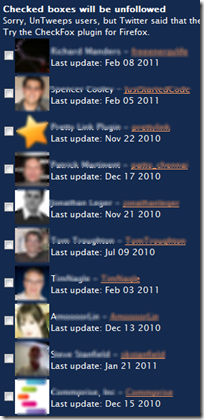 The default is to query 30 days, but you can be more aggressive and find people who haven't tweeted in a week, or those who haven't tweeted in 3 months.  As somebody who pays attention to those in social media and online, I typically only follow those who are active and relevant.  30 days is a long time to not tweet and means you are likely not a business or active twitter user that will provide a steady stream of information typically.
So after logging into UnTweeps you have to give it some time to build the list of people who are declared inactive for the duration you specified.  After the entire page is finished loading you will see a button on the bottom that allows you to remove all the people you "checked" so you can unfollow them.  Twitter policy states that you have to check mark each Twitter account one at a time so there is no "check all" feature as this is a violation of the Twitter ToS.  However, there are some plugins for Firefox like CheckFox or even a bookmarklet you can use called Toggle Em All which will auto checkmark every single box on the page so you can mass unfollow the inactive Twitter users.
This makes a quick and effective way to unfollow a block of people who are inactive on Twitter but I must warn you that if you have tens of thousands of Twitter followers, you will want to filter out those inactive for 120 days first, then 90 days, then 60 days.  Too many will be listed if you do the 30 days and you should not perform more than 300 unfollows on a given day or you could put your account at risk for violating the Terms of Service.  So if you see more than 300 show up in your check mark, then I would suggest you increase the date range until you whittle the number of inactive users down to a manageable level and do a little each day instead of all at once.
UnTweeps combined with JustUnfollow are among the most useful Twitter tools for bulk unfollowing Twitter users so that you can cleanup your Tweet stream and keep your Twitter follower / following ratio at a good level.
-Dragon Blogger