As a 3D modeler or an aspiring 3D modeler you probably want to make money with your art. Great, you can totally sell your 3D masterpieces on CGTrader, an (and the) online model market place. And it's not just as easy as just dragging and dropping files…
Wait, no, it is that easy! But there are hidden nuances that will influence how well your model performs. But lets take it from the top!First, you have open an account. It's easy – as an internet user, you won't have any difficulties.
Once you're signed up and logged on, you should press the menu botton (three horizontal bars to the right of your picture).
1. Now, press "Upload product"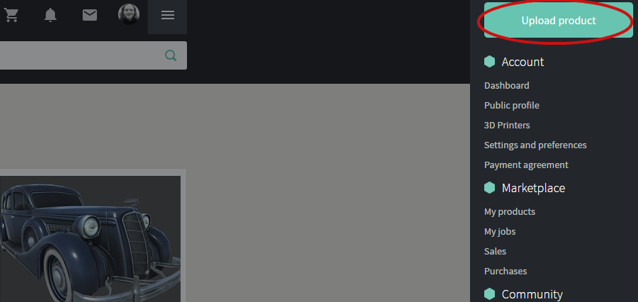 2. CGTrader frequently hosts various challenges, so check them if your model applies to any of them.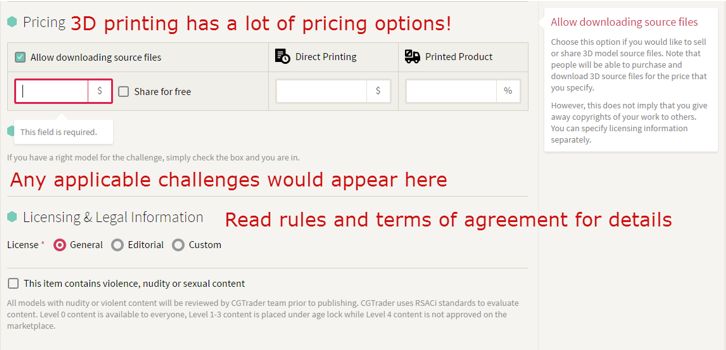 3. There are many other details to fill in, like (for CG models) is the model low poly or the amount of polygons used in it or (for 3D printed models) compatible printers or units of measurement. Don't forget tags (at least 5 of them), either – keep them informative and relevant.
4. Now, you should move to the "Details" section – the navigation toolbar is at the top and at the bottom of the page. Detail panels are a little different for 3D printable and CG models. What they share in common are titles and descriptions. Make sure that your title is unique and informative, it will be easier to find and more attractive. Meanwhile, description is where you break out your writing chops – the more the merrier, where models with 1000 symbol descriptions get about twice as much traffic as those with paltry 50 symbols. You must also choose a category to help future clients find the model easier.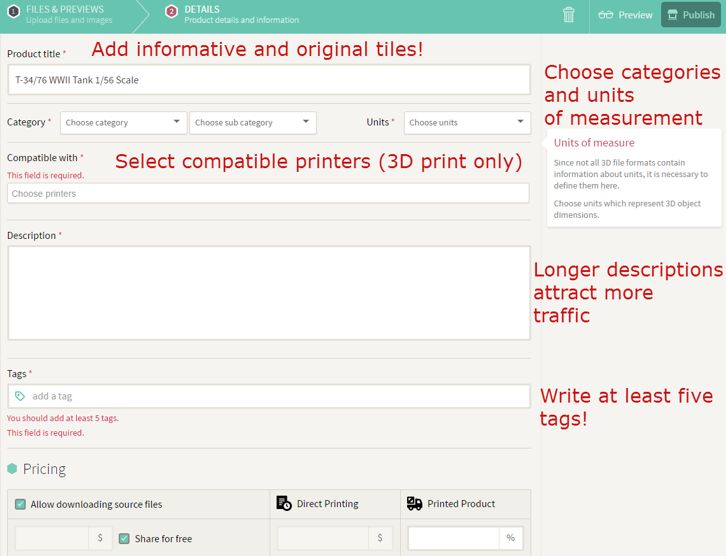 5. Once you have chosen a category, you will be led into a screen where you will drag and drop both the model files and pictures of it. Take heed: models uploaded in 5 or more formats sell 3.1 better than those with only one format. Image count is important, too: quantity has a quality of it's own, in that models with 20+ pictures sell 7.7 times better than those with only 1 image.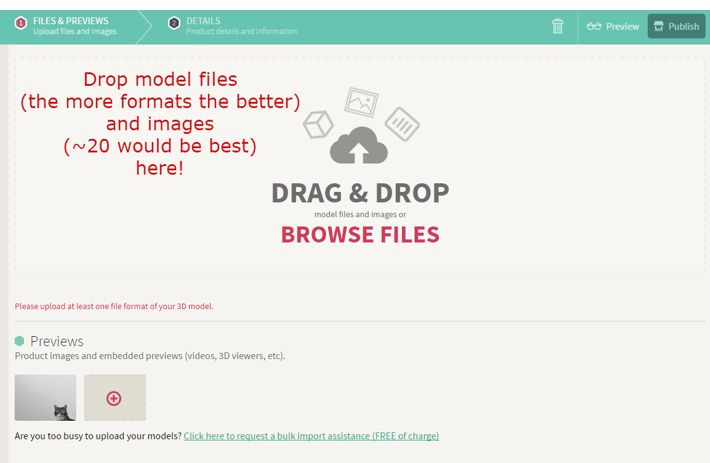 6. You are presented with a choice of the type of 3D model you're uploading. "3d Printable model" and "Regular 3D model" are largely self-explanatory – you already know what you're uploading. "Gallery showcase" is used not to sell models, but to grow your reputation on CGTrader – and the percent of royalties that you get from every sale.
7. Pricing – here's where you write in how much money do you want to get for it. For 3D models, this means choosing whether you let the people download the model files, use direct printing (set a reasonable price for a single print) or allow them to buy an already printed model through Sculpteo (you select the cut you get).
8. You can also set your model to be free – it's advisable to have a few free models on display so that your clients could try them before comiting to buying your creations.
9. Select the type of license your model would fall under – the full details are here (https://www.cgtrader.com/pages/terms-and-conditions).
There you go! As easy as pie and only several points longer than a recipe. You have now uploaded your first 3D model and you're on the road to riches, glory and success. CGTrader is happy to help you get there.