MyMobileWitness.com has created an app for the US Homeland Security to empower ordinary US citizens to fight terror. New York City has just launched its version, which connects mobile phone users directly to the New York State Intelligence Center. They can send a short textual message or suspicious photos using the app See Something Send Something. After installing the app using Apple Store or Google Play Store, all you need to do is enter your mobile phone number and name. Then you're all set to become the latest vigilante fighting terror using your cellphone.
The app requests you to send as much detailed information as possible. This innovation is certainly much better than tapping webcams and cellphones. A lot less garbage information to sort through, since instead of working against human intelligence See Something Send Something works with human intelligence to remain vigilant about suspected terrorist activity. It remains to be seen how accurately the security teams can sort through false alarms and hoaxes.
Offering a live map of suspected and real terror activity across the Earth, Global Incident Map provides information about airport, chemical, bridge, railway, bomb and other incidents. It provides links to detailed articles on the terrorist activity and data mining facility using searches. "GlobalIncidentMap.com Tracks And Maps Terrorism Incidents And Other Suspicious Activity, Hazmat Situations, Amber Alerts, Gang Activity, Major Drug Interdictions, H1N1 Swine Flu, Plane Crashes, Threats To The President/White House, Forest Fires etc."
Terror Alert is a Homeland Security Advisory System which simply alerts security agencies and the American public about the current terror level. From LOW Risk to SEVERE Risk, there are 5 levels of terrorist threat assessment much like the DefCon or Defense Condition levels for the US Nuclear Armed Forces. You can get the code for an HTML badge to put up on public websites which are updated automatically when the threat level changes. Or enter your email address on Terror-Alert.com to get email alerts.
Much like Terror-Alert.com, UKTerrorAlert.com is for disseminating information about current terrorist threat assessment by the UK Home Office and MI5. As shown in the screenshot below, there are again 5 levels of threat, from Low to Critical.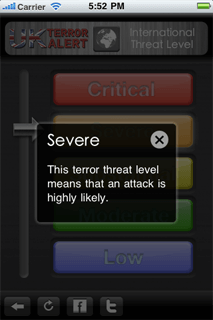 This app provides Real-Time as well as Historical threat level changes to users, using push-notifications. It also gives practical points of action to respond to the domestic or international terror threat. You can share the current state of any threat level assessment on Facebook and Twitter. Social media is undoubtedly the best way to spread emergency alerts.
These are the features of the paid version. The free version is called UK Terror Alert Lite and just doesn't provide push-notifications. You can still see the current threat level by going to the app.
If you know of any more useful websites and apps for public terror alerts, please share them in the comments below. Don't forget to install these apps on your own Apple or Android smartphones and tell your friends and family about them.
I'm a Generalist Researcher working on a Theory of Reality, Horticulturist, Blogger, Natural Systems Analyst and Amateur Architect