Disclaimer: This was a sponsored post, commissioned by Handy Backup. I was provided with a free software license so that I could review the product properly. The words and opinions are mine and mine alone.
---
I had been looking for a decent program to perform full disk and system backups on my Windows machines for a while now. I had been using some freeware that could backup specific folders and sync files but nothing that could backup my entire Windows disk so that you could restore everything instantly if you had to. I also wanted a program that didn't store the backup in a proprietary image file and could use standard compression formats so anything could extract and restore the backup files.
So I asked the folks over at Handy Backup for a licensed copy of Handy Backup Professional and offered to review the product in exchange. I wanted to see how it compared against other backup products that I had used professionally in the past and several hours last weekend putting it through some tests.
I decided to do a standard folder backup first and went through the backup creation process. I started a new task and selected a "Backup Task" as opposed to a restore or a synchronization task.  I chose my external NAS drive, but the backup software does have the ability to span your backups across multiple optical discs (DVD or BluRay) so you can be sure you can spread your backup data across multiple discs without issue.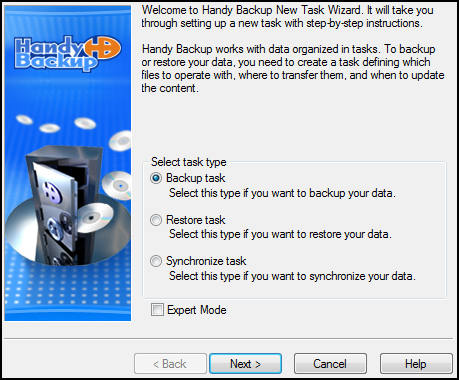 I then chose to have the backup be "incremental" this means that it will skip over files and folders that already are backed up and have not had their date/time stamp changed. This is a way to only backup new or updated files so you don't waste resources copying untouched files over and over again.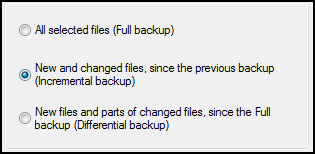 I then set a schedule time of 3:15am for my task and for it to run daily, but I decided to kick it off manually to see how long it would take.
In running a backup of My Documents folder the program was able to copy 6.1 GB worth of data over my 100GB LAN to my NAS drive in about 1 hour. This is a backup rate of over 100MB per minute which is pretty quick. It would be even faster if I had a 1 GB network connection I am sure. My Documents folder contains not only my documents but also backup images of my blogs (which includes gigs of uploaded images, video's and such so is a fairly large volume.
You get a full details summary of the backup as it occurs and when completed:


You will also see any errors just by copying the log and looking for the word "ERROR" such errors will be displayed like such:
ERROR:> 11:32:49 Can not get listing for a directory "D:\Documents\Water Heater Issue\". Reason : The system cannot find the file specified. [00000002]
Handy Backup also provides the ability to run a server that can manage and backup clients remotely over the network. This is a great option if you have more than one PC in your house as you can have a backup server that handles all your client backups and you can Download Handy Backup Server to see how it works and give it a try.  In addition to backing up files, folders and your operating system disk, the Professional version of Handy Backup can do a database backup for MySQL and the Full version can backup Oracle, DB2, Lotus Notes and Microsoft Exchange databases.   All versions of the Handy Backup software can compress or encrypt backup files with 128bit BlowFish encryption, though I would like to see FIPS compliant 256-bit AES encryption in the future for professional organizations.
Summary:
Handy Backup is a full fledged backup program that is at least equal to many of the rival products I have seen and it has features that I have not been able to find in free versions of backup software.  If you are looking for some backup software, Handy Backup is something to consider.
One other note, Handy Backup supports running on Linux under WINE, so if you run Ubuntu you can still use the software under the WINE emulator to backup your Ubuntu files and folders.
-Dragon Blogger