So recently I have started testing the MessageHub application as an iOS application (which you can find on iTunes here) to help manage social media communications across multiple networks in one place. At the time of testing and reviewing this app Facebook, Twitter and LinkedIn were the only applications support for integration. I am quite familiar with social media management tools which I won't name, so I went into reviewing and testing MessageHub with a lot of experience in managing multiple accounts on various social media platforms and within a few minutes knowing right off the bat this app would appeal to those who have a very finite number of social media accounts and a smaller number of friends and followers on those accounts.
MessageHub is free, so you can feel free to test it out and try it for yourself by downloading it from the iTunes Apps store. When you install the app you will be greeted with the main screen where you connect your first of several social media accounts. I did Facebook and Twitter for purposes of this app showcase and review.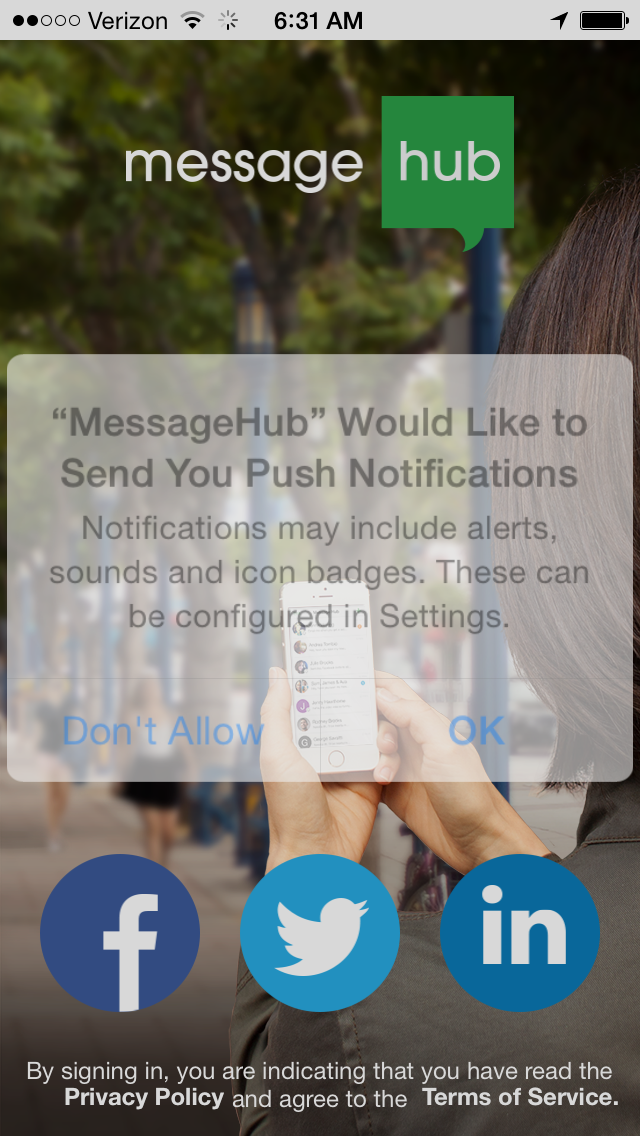 MessageHub of course lets you also tie in email for conversations as well as your social media accounts as you can see from the account add screen.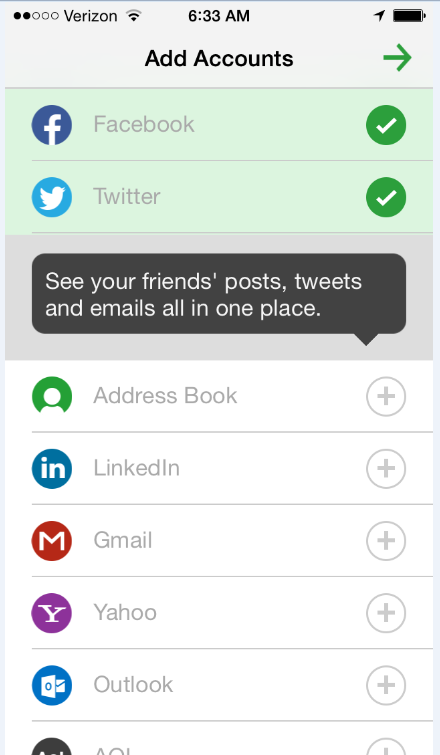 When MessageHub first adds your social media accounts it tries to recommend Favorites based on who you most recently and frequently interacted with. This is a fairly good feature, but you can see the "Unknown" are fanpages that I communicated with as my personal Facebook profile, so the app clearly needs to be updated to better be able to handle Fanpages on Facebook if you are someone who communicates with fanpages often.
In fact, the MessageHub app is designed for personal profiles and personal conversation completely, it has no integration with any Facebook fanpages at this time, and this would be a feature that I need, as I get a lot of messages on my Facebook fanpages that I wish I could track in the same centralized location, but this is more specific of a use case for online entrepreneurs and bloggers rather than the casual user audience that the app is targeting.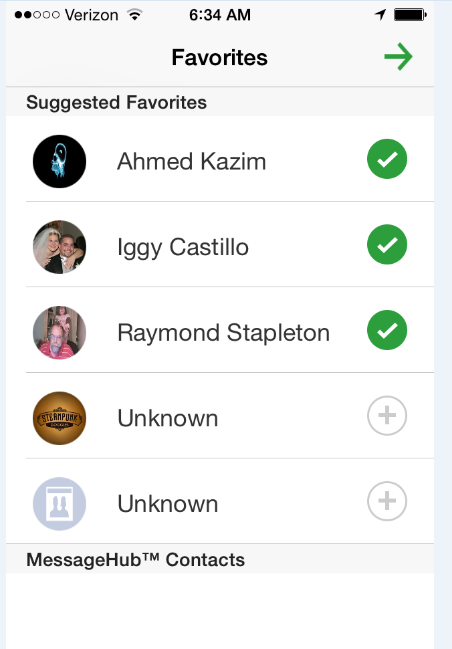 When you do add people as favorites, MessageHub prompts you if you want to notify them that you added them as favorites and presumably sends them a message to download and install the app for themselves. This I avoided doing, so "No Thanks" here for my testing.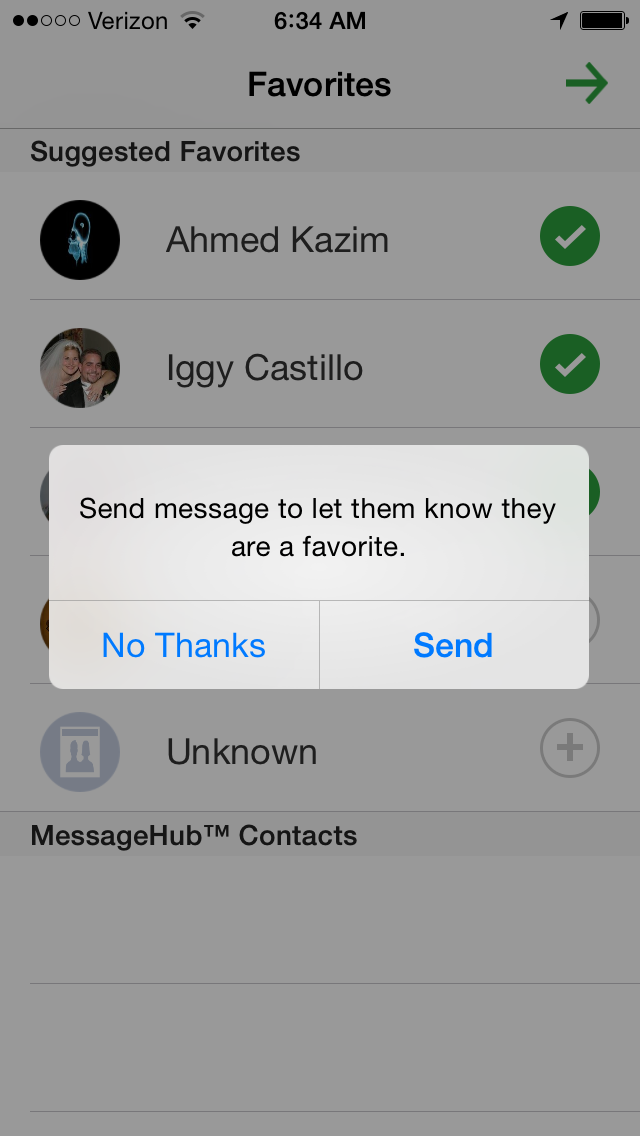 You can go into settings anytime with MessageHub and add additional accounts if you didn't include them all and you can setup new favorites, in a rare feature you can actually open support and send direct feedback to MessageHub with the Contact Customer Care, which which is a rare feature to see inside of an iOS mobile app.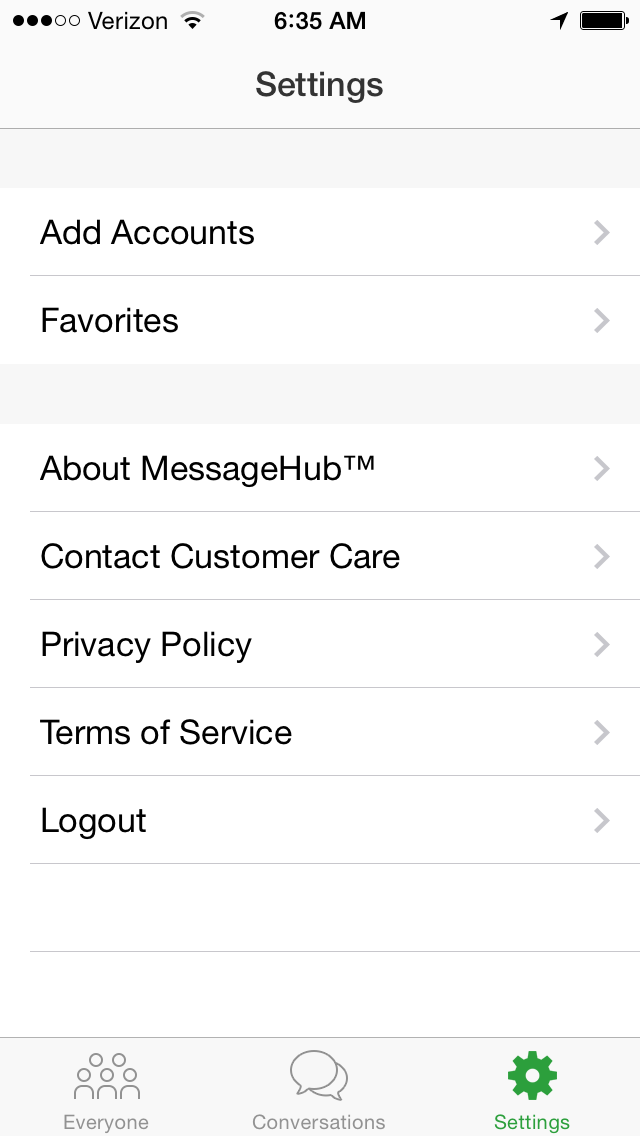 So in the MessageHub app I found Facebook conversations to most beneficial to manage but also odd in how it manages them, I never saw any Twitter Direct Messages or Replies show up in Conversations, so I think only email and Facebook show up under conversations, though I didn't test LinkedIn here. With the Conversations it doesn't just pull in messages, but apparently anytime you @reply someone in a post it pulls it into the consolidated conversations for that user. So even messages in a Private Facebook group I was in, where I was talking with Ahmed showed up along with my direct messages to him. The odd thing is, when you reply next in the conversation it only goes directly to the person who was listed in that conversation. So it is kind of odd how you can see conversations and your favorites/contacts in Conversations but can only reply to them directly not in the thread where they were called into. So you can't use this app for any conversations in Facebook groups, it is designed for direct conversations (messages) with users.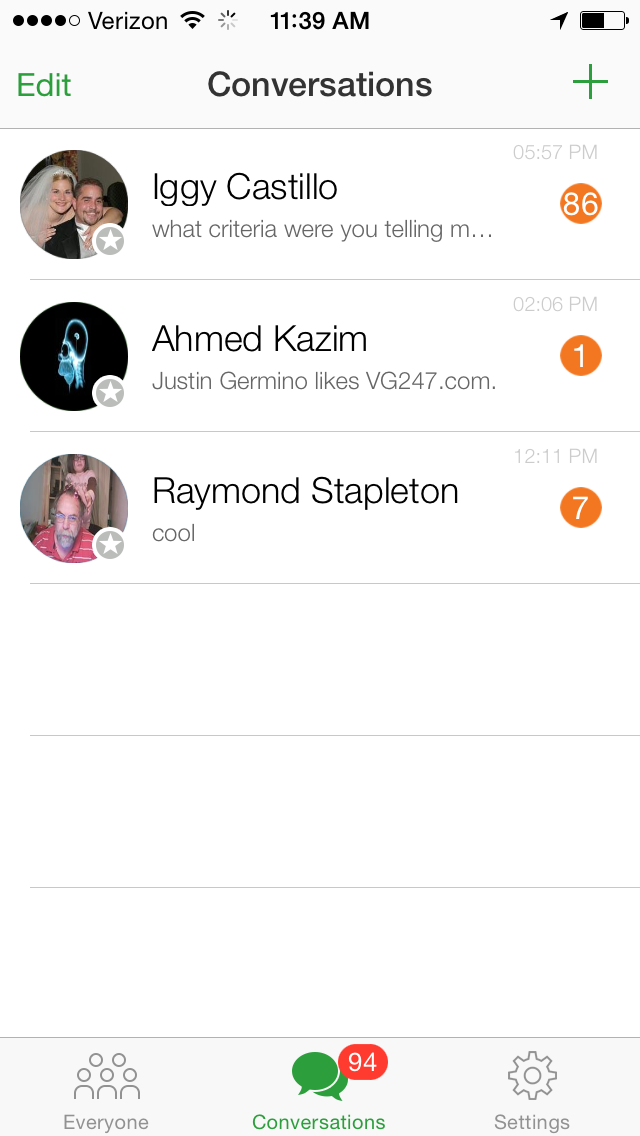 The home feed which is called the Everyone tab is basically a consolidation of your home feed from all connected accounts, this is fine if you run small social networks, and at first it integrated my Facebook and worked well. You also get reshare options and can send a message from one platform to one of your other social media platforms with ease.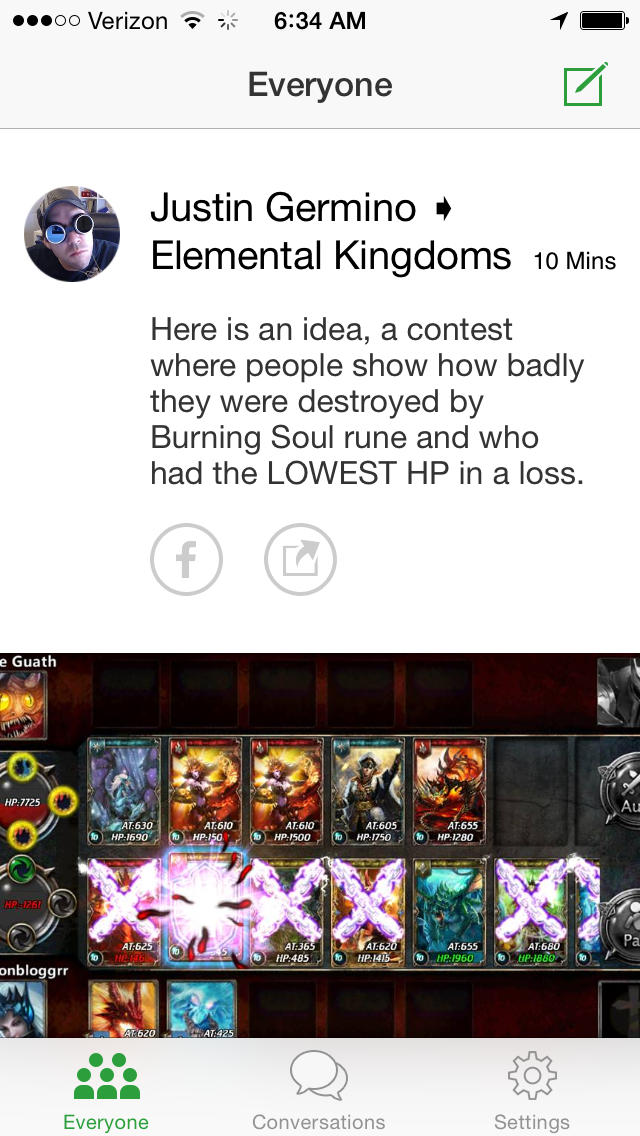 This quickly went out of control however once it indexed my Twitter account where I follow THOUSANDS of people. Once this happened my Everyone tab became useless and constantly updating with only a handful of visible updates a time from my constantly updating Twitter stream. The app desperately needs to allow you to build a view for @reply only, and/or leverage a Twitter list instead of using your Twitter home feed.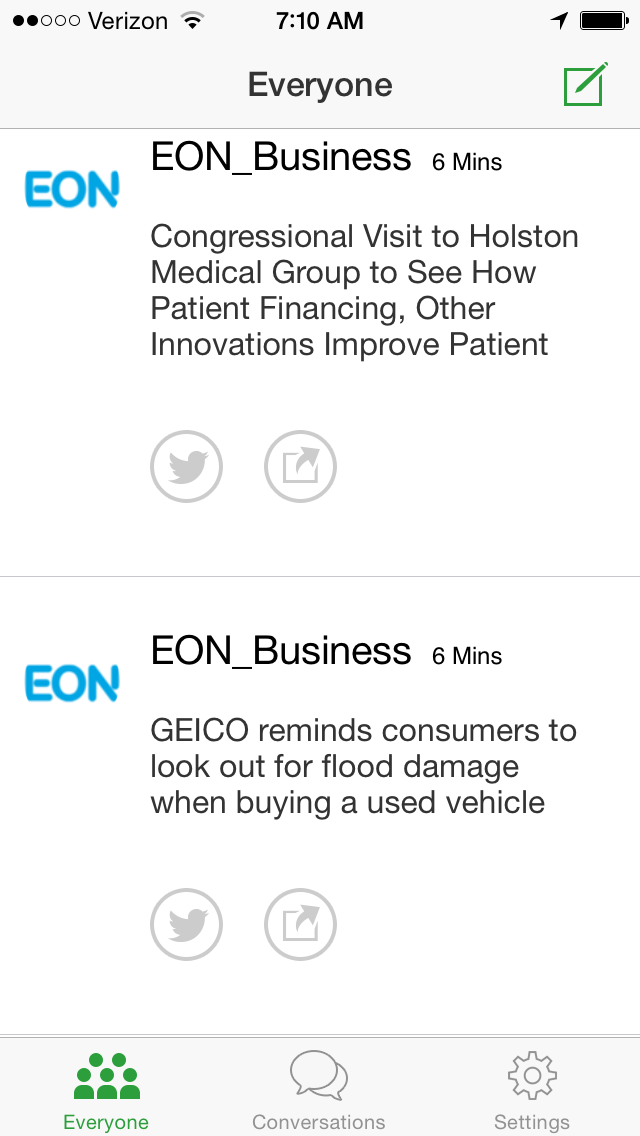 Creating and sending messages across your platforms is fairly easy and acts like drafting an email on your mobile device. The TO: is basically the social media network you want to broadcast on and you click the X symbol to minimize the list and get to the compose part.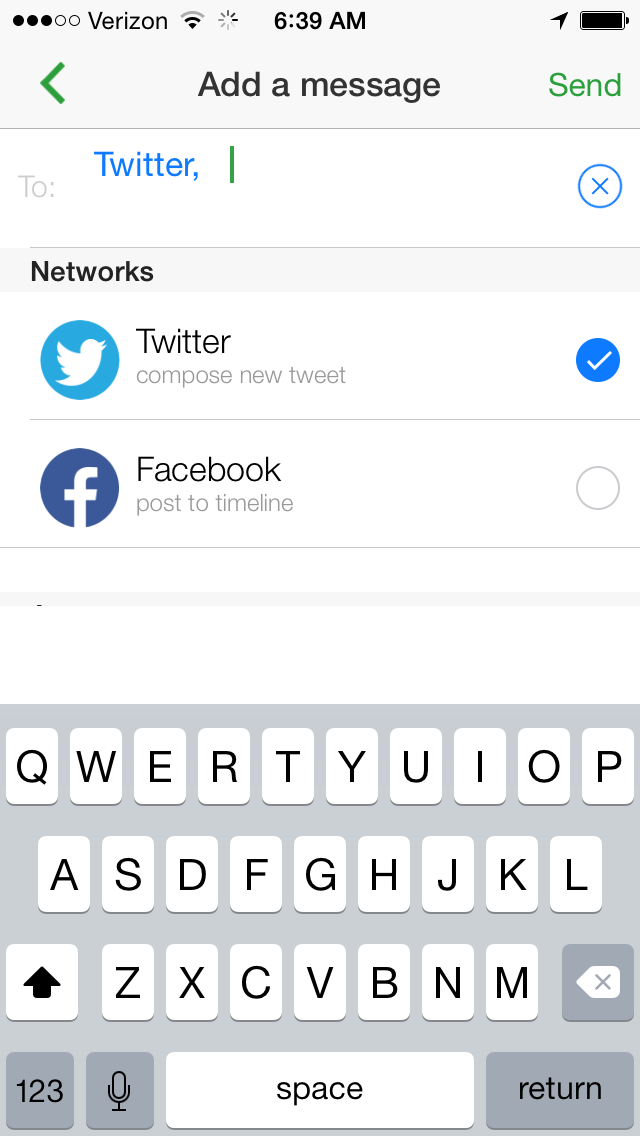 By default MessageHub will want to sign your message with Via MessageHub, and it connects to your Facebook account and posts as MyLife.com.

The same message goes out on Twitter at the same time.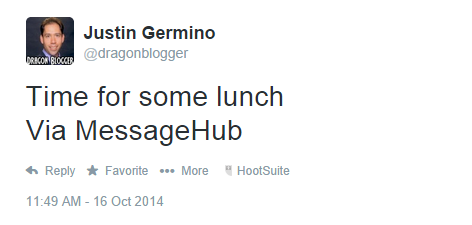 This was the version of the MessageHub app that I was using.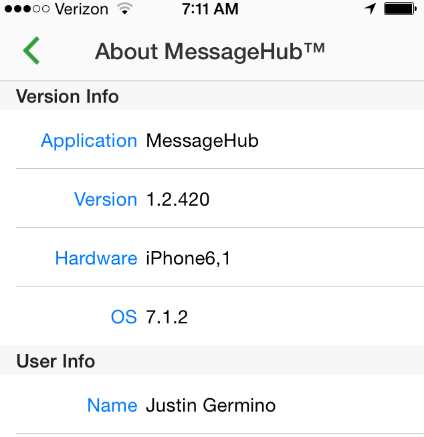 So in summary, I found the MessageHub application to be a starter app and primarily useful for those who have casual social media conversations with a small number of friends in their network. It doesn't appeal to the business blogger or small business owner who manages Facebook fanpages yet due to it's lack of Fanpage support. The app also doesn't support Google Plus or Google Plus Business pages yet, and this functionality could be useful as well to tie in. MessageHub also only lets you manage a single Twitter or Facebook account connected, and I manage 8 Twitter accounts and 5 Facebook Fanpages. So this app again is really more about just communicating with close friends, and ideal for smaller social networks based on my initial review and testing. It is significantly more convenient than having to open the Twitter, Facebook, Facebook Messaging apps separately and does the basic job of 5 conversation apps in one if you also connect LinkedIn and Email.
Again, feel free to try MessageHub for free and see if it helps save you some time and keep all your social media communication and more importantly conversations in one place.
Save time and get closer to the people who matter with MessageHub from MyLife. A revolutionary new app that will change the way you message! Visit the app store to download it today. Available on iOS and Android.
This is a sponsored conversation written by me on behalf of MessageHub. The opinions and text are all mine.