I am not the only blogger who enjoyed giving Kindle Fire devices away to readers and fans and this month DragonBlogger.com has teamed up with 29 other bloggers including Adventures of a Military Family of 8 and 7 on a Shoestring bring you this Valentine's Day Kindle Fire Giveaway.
This contest was an experiment in joining a micro-sponsorship program, where a whole slew of bloggers all got together and donated a small amount of cash which added up to one larger prize.  The event is self-sponsored and there are 30 bloggers participating. Each one has contributed towards the Kindle Fire and deserves a little recognition.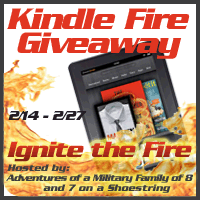 Ways to Enter
Join the Rafflecopter contest below, there are plenty of ways to earn entries as you like all 30 Facebook pages, follow 30 Twitter accounts, and add 12 bloggers to your Google+ circles.
Enter using the Rafflecopter form below. The contest ends at 11:59pm EST on February 27, 2012. Please note: All entries will be verified. Shipping is only available to the US per Amazon's restrictions, thus the giveaway is only open to US residents. Good luck!
Good luck and this contest only runs for 2 weeks instead of the typical 30 day contests, so get as many entries as you can quickly.
-Dragon Blogger