Daniusoft gave me a license to try and review their iPad Video Converter software and were so confident that I would like the software and recommend it to my readers that they provided me with full licenses to give away to three lucky readers who enter the contest.
The software itself installs simply and is very easy to use, you simply open it up and add the video files that you wish to convert. You can select just about any file format you want, then choose from four output file formats that are supported by the iPad. It can convert all video audio like AVI WMV MPEG FLV MKV M2TS, etc to iPad MP4 formats with super speed and excellent quality, as well as extract background music or audio from videos and convert them to iPad audio formats.
To test the software I decided to rip my Avatar DVD to my computer to an AVI file and then convert video to ipad and specify the .MOV file format.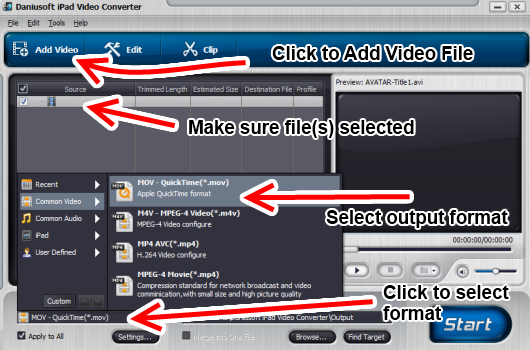 The above image shows the 4 steps I went through to select the file, make sure the video is checked, click on the output format and select the right output format.
For the 2 hour and 41 minute movie, it took about 15-20 minutes to complete the entire conversion. I do have a much older PC though and don't have the fastest processors.
The video quality was excellent considering it altered the movie from the 720×480 to 320×240 resolution. I watched a good portion and saw the audio/video were intact and looked fine on my PC.
In addition to converting video content for your iPad, Daniusoft iPad Video Converter can also convert audio files for your iPad device, you can even take a video file and just strip out the Audio to put on your iPad. I used to do this and make "audiobooks" out of movies and TV Shows and just have episodes or movies I can listen to instead of watch. (Not great for movies with lots of visuals and not a lot of audio).
Now, on to the contest and here is the contest information:
I am giving away a free full licence for the Daniusoft iPad video converter to 2 people who enter the contest. The contest starts on June 1st 2010 at 07:00 PT and ends on June 4th 23:59 PT.  Just leave a comment if you want to win free software to convert your video files to play on iPod Nano, iPod touch or iPad.
Bottom Line:
If you are looking for a way to put video on iPad then I suggest you check out the Daniusoft iPad Video Converter to see how easily and quickly it can convert your video's, movies or music files to your iPad. The Daniusoft iPad Video Converter works very well and should serve all your needs to convert your movies, TV Shows and other video files to iPad compatible formats.
Update:
All 3 licenses have been won and Daniusoft has been contact to send a copy to the winners. Thanks to all who entered the contest.