I got my hands on Vidonn's X6 smart band courtesy of DX.com to test and review this past week. Now this isn't like those smart watches that do almost every thing under the sun, this is a smart bracelet so it has simplified functions and use but it also is far easier to wear for extended periods of time. The Vidonn X6 also does do enough that it can be helpful and become a part of your daily life and habits. So the day it arrived I was like right on a new toy to play with. I open the envelope it came in to see a small plain white box with a large X6 on the front. Now on the back it had two  languages. One was English so I was able to see some of the option on the watch. Inside the box you have the band, power cord, and instruction book.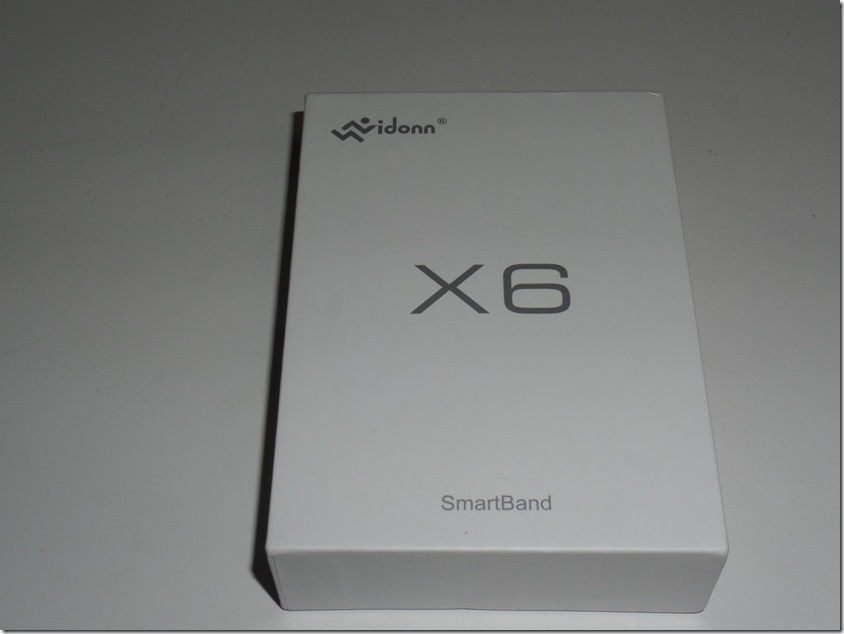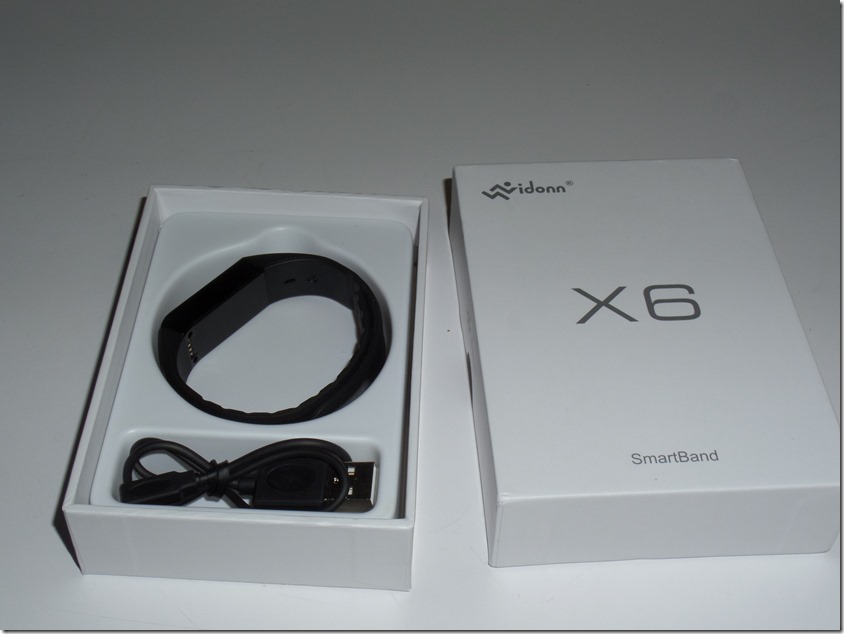 Check out my unboxing here!
Now there are a few things about this smart band I did dislike. First being you that you need to have a smart phone to run it since you need to add their iOS/Android app to run it and setup and use the Smart Bracelet.  I would have loved to see a option for the app for my PC also and be able to setup the Vidonn X6 from my PC, but hey these watches are mean't to pair with smartphones and not PC's so this is a minor peeve. Don't get me wrong every one now days has a smartphone so this should not hurt it, just something I would have loved to see. Or maybe something they can add in the future.  The other issue is notifications are wicked temperamental.
One minute they work the next they don't for some reason and it was a back and forth battle to get notifications. I'm sure the issue can be resolved with an update down the line however. With the clock piece on the watch you must tap the button for it to show the time, now I'm sure that is to save the battery but for me I would like to see the clock without tapping the side of my watch so I would have preferred the time to always display all the time.
Those may seem like a lot of dislikes, but overall they weren't tremendous and the Smart Bracelet was actually pretty cool and now I bring you to the app and functions.
Once you have the app downloaded and installed you will need to register your account. Now I did not take a screen shot of that since it has my personal info on it. Once registered you can go and log on. Your band will update its firmware. Now that is done you will get a screen that shows date, steps, calories and so on like in this next picture.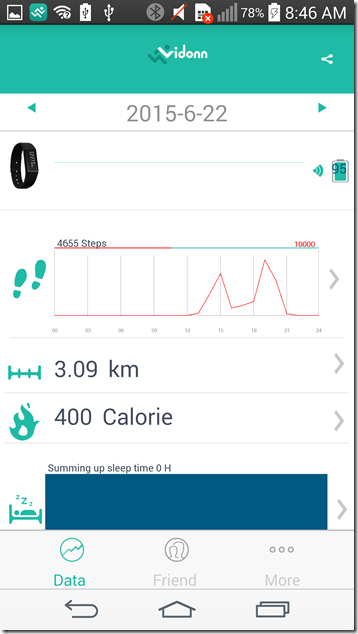 From there you can click more and get your menu list like in the next few pictures you will see the menu, sleep timer, alarm clock and other settings.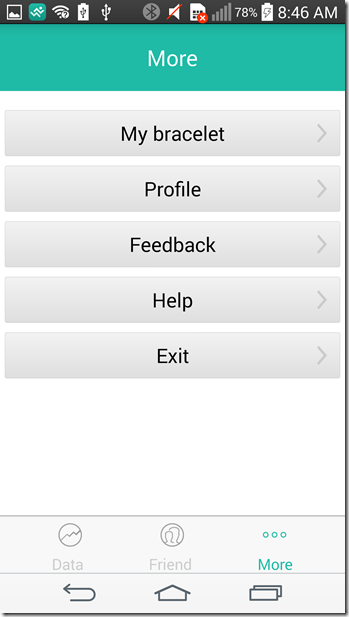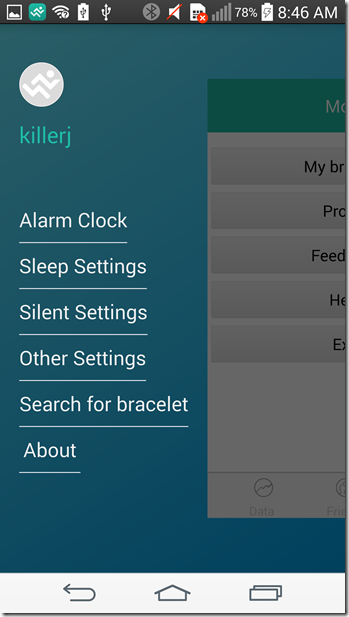 Check out my app video here!
All of which is pretty self explanatory and easy to use which is very nice. Now if you click other setting it bring up time settings, and many other setting for internal stuff. I will show a few but won't bore you with too many.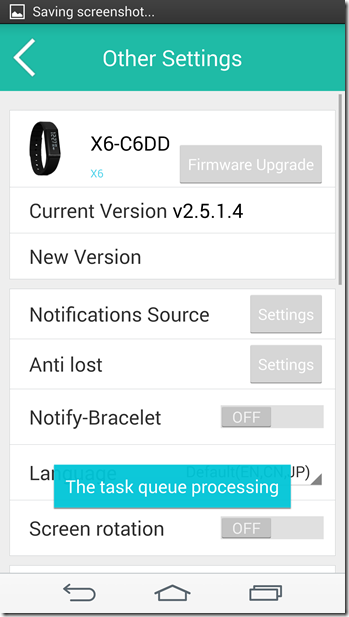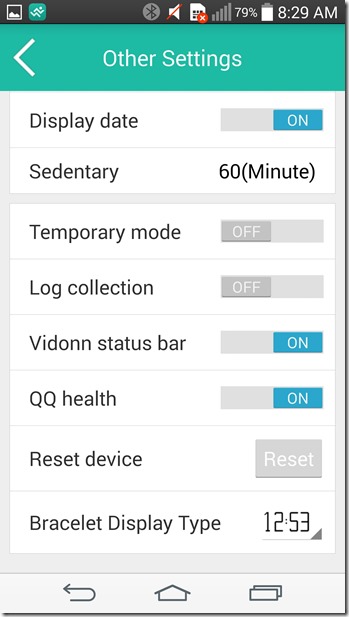 As you can see self explanatory which is a nice pace for piece of mind. The Vidonn X6 will update every time you log on too so you won't miss any updates that may need to be downloaded.
Back on the home screen you can also click on the step graph to see how many steps and when you made them. You can also see when the band has been put it sleep mode and not in use. I will admit I'm not sure the steps are completely accurate. The reason being is that if you have the band on and your just moving your hand back and forth it sometimes counts as steps. I also know you burn calories just moving arms but not sure the accuracy here. Though even if your arms are moving your calories are going away so the calorie count should be about on. I'm sure most smartwatches and smart bands like the X6 have this issue to some degree however, as GPS is can't track steps by itself. Now a few more things this Vidonn X6 Smart band does is push messages from Facebook or Twitter to the smart band from your phone.  A very nice touch if you are into that style of stuff. Now me personally I'm not a big fan of Facebook or Twitter on my phone.  I know one piece I didn't speak of yet is the power plug. This plug seem to be magnetic clip to the back of the band. The port to which you plug in is always open.
Now I know you guys want to know how it feels. Well it feels smooth and easy to wear. The Vidonn X6 is light weight and really easy to wear, you can forget your even wearing it. They claim it is splash proof so I wore it will washing the dishes and it never got hurt. I wouldn't recommend swimming with it but if you get caught in the rain you should be good. One thing also is that this is a nice inexpensive smart band most people will like to have. For under $40 this could be a Smart Bracelet that fits well in your home.
Disclaimer:  The Vidonn X6 Smart Band was provided by DX.com who partnered with us to do a review and showcase the Vidonn X6.  All Opinions are 100% mine and mine alone.