Warehouse 13 arrived with a bang last Monday in the season premier where the gang had to find something that reversed time to make the warehouse not blown up.  On one hand, the episode was intense because their numbers kept dwindling as they went from place to place but on the other, it was predictable because if they hadn't found the components there would have been no warehouse and thus no Warehouse 13 show.  However, the end of the episodes helped make up for the predictability by giving fans a twist; Claudia is now the new bad guy.
Claudia has not forgotten what happened to Jinks' nor has she forgiven any of the team for his death, although Artie gets the brunt of this since he is the leader of this small band.  She is going to leave the group with the metronome with plans to resurrect him.  Artie's premonition, after thinking about what he was told how changing the past would have severe consequences, is highly disturbing since Claudia is after the entire team in said premonition.
To help this along Warehouse 13 has now gone from the small station standard of 13 episodes to 20 episodes; this is almost a full season on the major TV stations.  Having so many more will either keep the tension high or give it time to fizzle out before the end of season 4.  However, it could be that the regular number of episodes play in order and the final seven when the Helena Wells spin-off series debuts in 2013.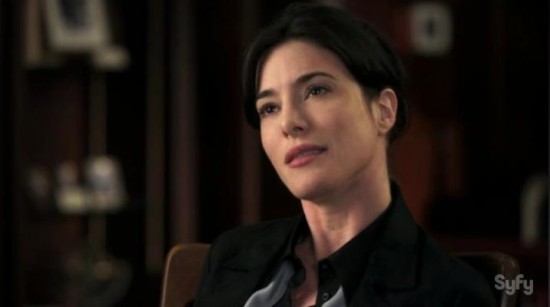 The titles of the 11 episodes, which you can find on IMDB (but not on Syfy), give an ominous feeling as well: Personal Effects, There's Always a Downside, No Pain No Gain, Fractures, Endless Wonder, Second Chance, and The Living and the Dead.  One thing that should help make this season even better though, is that the special effects budget has increased.  So the warehouse will look like an actual warehouse instead of a toy and other artifact-induced shots will look like they are from a good science fiction show now, which Warehouse 13 has proven to be.
How long until Claudia goes on this quest to bring her best friend back is unknown.  The only way to find out is to watch the show since there was only a "coming up this season" at the end of the season 4 premier.  Even so, this season of Warehouse 13 looks to be the best yet.