If you are a female blogger then Biz Chick Blogs is a place you should know about, this place showcases the woman bloggers and gives them a centralized location where they can reach an audience of their peers.  Biz Chick Blogs accepts and publishes articles in nearly every category and I am proud of that my wife is in fact a member of Biz Chick Blogs with her culinary blog posting articles there.

What I like about the site is the clean and elegant magazine feel you get right off the bat.  You won't be hit up by advertisements, offers all over the place but will easily be able to find and navigate the site to access the articles you want to read.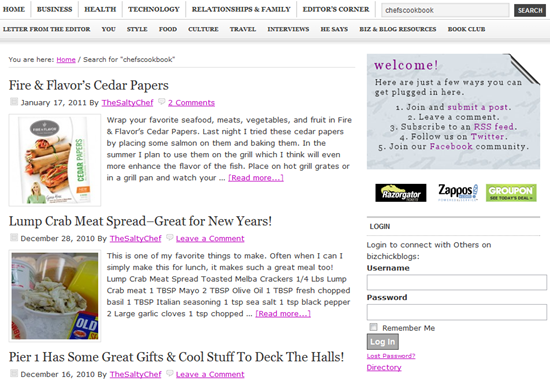 Currently 70 women bloggers are writing and contributing to Biz Chick Blogs including Aidy who is one of our writers here at DragonBlogger.com.  This site is about networking and bringing female bloggers together as well as sharing and exposing them to new readers.  Tia Peterson who is also the site owner happens to be yet another Arizona blogger I have run across over the past few years and one I highly respect.  I have watched this site grow into the online portal it has become and I couldn't be happier for the success it is reaching.
So check out Biz Chick Blogs, and start following some of the best female bloggers online who write about every subject you can think of.
-Justin Germino