After trying to find a solution to my recent Live Writer troubles with my new blog theme I saw that Windows Live Essentials 2011 is available and has a newer version of Windows Live Writer. I downloaded and installed it hoping to see if it resolves my Live Writer issue with my blog theme.
Unfortunately, not only did Live Writer 2011 not support my blog theme but it still doesn't have WordPress featured image support either.  In addition Live Writer 2011 in an effort to update the interface now is less efficient for me and takes twice as long to create and edit posts, particularly when it comes to inserting images.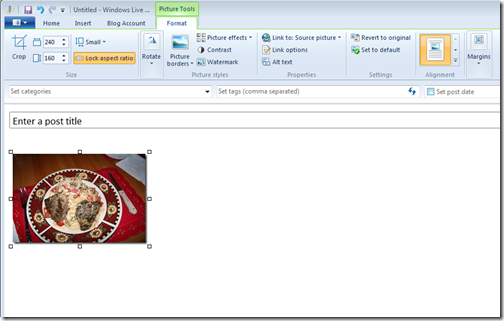 In the older version of Live Writer you simply click on an image, then click on position (center/left/right) from a drop down.  The entire right pane view is gone with Live Writer 2011 and everything you do is from the top bar, the interface is very Office 2010 like and uses the Microsoft Ribbon bar.  The problem though is less buttons are available without having to dig through different "Picture Tools" tab at the top.  This means you have to constantly flip back and forth between different top bars to change between text formatting, image formatting and such.  In the previous version of WordPress you had a sidebar on the right that gave you access to image information and your plugins, but no longer with Windows Live Writer 2011 where everything must be found and clicked on from the top bar.
The biggest slowdown is you now have to click on your Insert menu and scroll down to find your plugins that you want to trigger.  This takes so much more time and you don't seem to have the ability to drag and create your own custom toolbar of commands you can quickly click on the fly.
I think the post editing interface is prettier but overall is slower than the old Windows Live Writer versions.  When you go to resize images you used to be able to type in the width of an image and hit tab to have Live Writer auto-size the height, now you have to actually mouse click to get out, you can no longer tab out of the image sizing fields.
Live Writer 2011 does however have a new feature to instantly add a Bing Map into a WordPress post, which can be convenient when blogging about a location, event or business where a map would be handy.  Overall however, Live Writer 2011 still is losing ground as far as supporting features for WordPress 3.0 and with only 3 new extensions for Live Writer in the past month on the Windows Live Gallery I think the Writer software may be starting to get stale.
Hopefully it will catch up, Writer 2011 desperately needs some custom toolbar options and the ability to support WordPress featured images so you don't have to constantly edit your drafts inside the WordPress editor just to set a featured image.
-Dragon Blogger