Disclaimer:  This was a sponsored post, commissioned by WinXDVD.com. I was provided with a full license version for the WinX DVD Ripper product to be able to accurately test and review the product to give my honest opinion and educated information to my readers.  The words and opinions are mine and mine alone.
---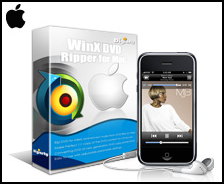 WinXDVD.com is giving away their full featured WinX DVD Ripper for Mac for free right now.  This allows you to download and install a program that allows you to copy or RIP your movies and convert them to just about any video format you could want.  iPOD, iPAD, MP4, Mpeg2, MOV and much more.  You can copy only the tracks you want if you don't want to  backup the entire DVD.
This software also allows you to cut out specific segments of a movie or film to RIP, say you want to just slice out 2 minutes of a home movie, or a funny 5 minute segment from one of your home movies.  You can selectively RIP out just parts of a movie if you don't want to RIP or copy the whole DVD.
The software will copy even digitally copy protected movies and allows you to backup your entire DVD library at your house.  I do want to point out that as a parent I have children who are very young and they get scratches, finger prints and damage nearly all of their Disney films that I have purchased over the years.  Backing up your movies and playing them off of the copy is so much better than having your originals damaged.  I don't condone piracy or using this software to copy or rip DVD's that you don't own, but encourage its use for backing up DVD's you have already purchased.  I have no problems with ripping a movie that I already purchased and putting it on my iPOD Nano, or notebook so that I can watch it while traveling.
For the month of April only, WinXDVD is allowing you to download the WinX DVD Ripper for Mac and giving away a full license for free.   So try the product for yourself, click on the link in the previous sentence and download the program for free.  Enter the registration code provided on the page and unlock the full WinX DVD Ripper for Mac program.
Want to try before you buy?  Download a free trial version of WinX DVD Ripper for Mac and give it a try before you buy it.
-Dragon Blogger