Disclaimer: This was a sponsored post, commissioned by WinXDVD.com. I was provided with a free license for the WinX HD Video Converter software so that I could do a full and thorough review and provided with 20 licenses to giveaway to my readers. No other compensation was received and all opinions are mine and mine alone.
---
In this day and age where you need videos, home movies and other media in a variety of formats what you need is a piece of software that is flexible and can do it all. I was asked to review WinXDVD HD Video Converter and share my thoughts and opinions of the software.
I often have to convert my home videos and other video files between DVD, AVI, WMV and iPOD movie formats. The WinXDVD HD Video converter is honestly one of the most versatile and fully featured pieces of video conversion software I have ever used.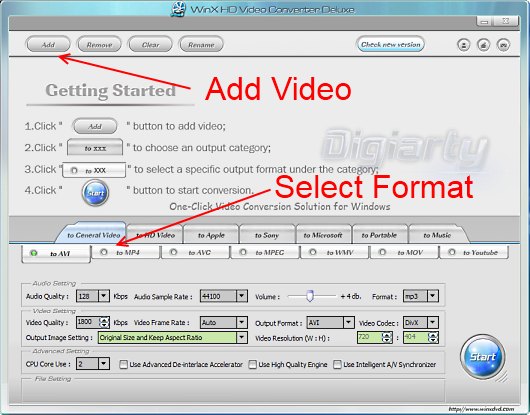 The software is so simple and easy to use.  Once you install the software and run it you simply add your "media" with the "add" button at the top of the program.  You can select any video format including selecting DVD video files right from a DVD drive.
Once you select all of your media files you want to convert you simply select what output you want your media file to become.  You have so many choices (Avi, MPG, iPAD, MP4, YouTube, HD AVI, HD YouTube, MPEG, WMV, Xbox 360, Sony and even the ability to just strip out the audio from your video files and make your own soundtracks.)
I tested by converting a home movie directly from DVD to AVI and the whole 15 minute video took less than 5 minutes to complete (it went faster than the initial indicator estimated).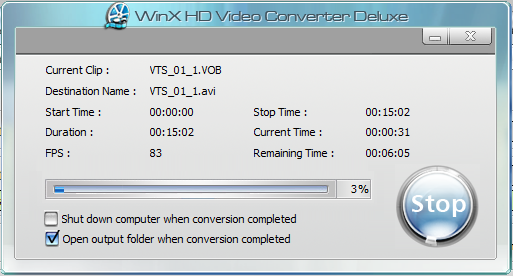 I was very satisfied with the quality of the output file and the program is very flexible.  Now, this program will not let you completely rip DVD's easily for backing up, you can convert individual chapters or parts of DVD video files but this isn't a DVD backup or DVD ripping software.  WinXDVD offers WinX DVD Ripper Platinum for that.  This program will however let you convert any video file into just about any other video file type you could want, and this allows you to convert YouTube video's to iPOD format or even allows you to backup your individual TV Show episodes on DVD so that you could play and watch them on your iPOD.
If you are looking for a software solution that is flexible, easy to use and converts media files quickly then I recommend you check out WinX HD Video Converter Deluxe
Now, The best part:
WinXDVD.com  gave me 20 full licenses to give away to my readers who are interested in the product for free.
In order to obtain your free license (worth $50) you need tweet:
@dragonblogger is giving away a free WinXDVD HD Video Converter License -> http://bit.ly/9V2YvG (convert DVD to iPOD and much more)
Then leave a comment on this blog post letting me know you tweeted and leave the URL of your tweet.
I will giveaway licenses to the first 20 people who enter the contest and help promote the software.
Only 2 licenses remain, the next 5 people who comment and tweet the contest will win the free software licenses.
Update September 2012
You can download a free trial of WinX HD Video Converter to see how it works before deciding to buy it!
-Dragon Blogger