Exploring Filmora
Go grab something to drink, maybe a snack, this section is a long one.
Closing out of the ads for now, we are at the base of Filmora, looks pretty basic.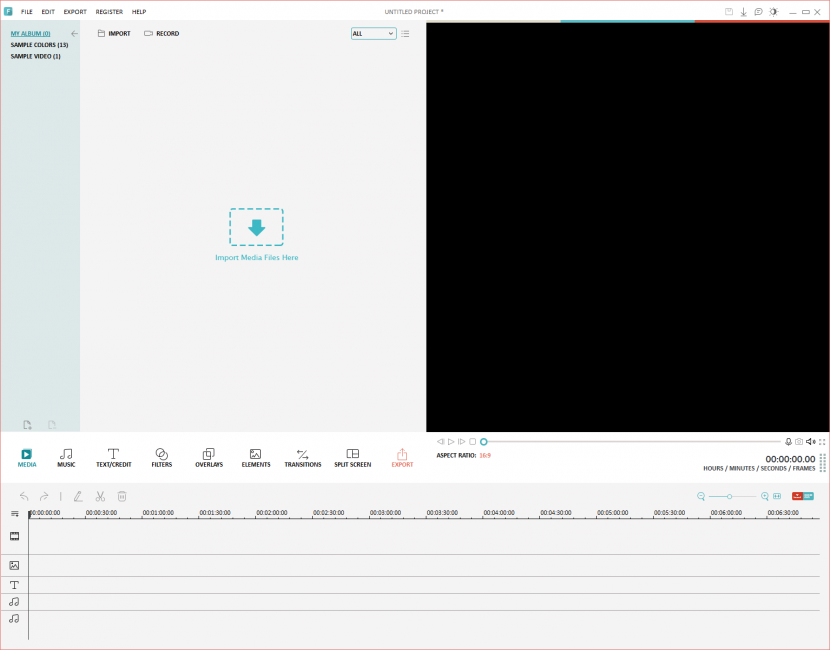 That all changes when we click "Music"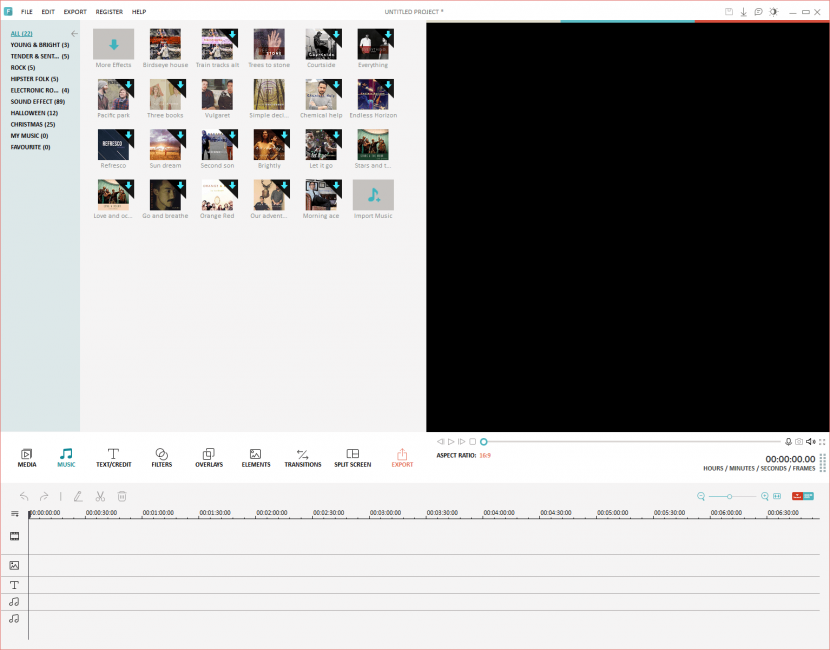 Clicking on Music shows you all the songs and sound effects you can use, but let me focus in on that.
Coming in closer we can see that it comes with 22 free songs,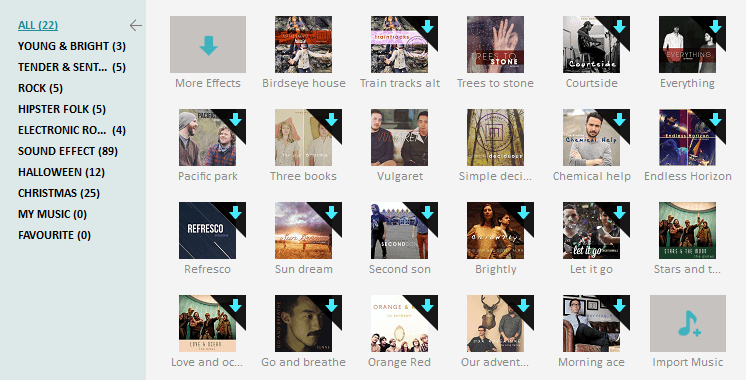 89 Sound Effects and more: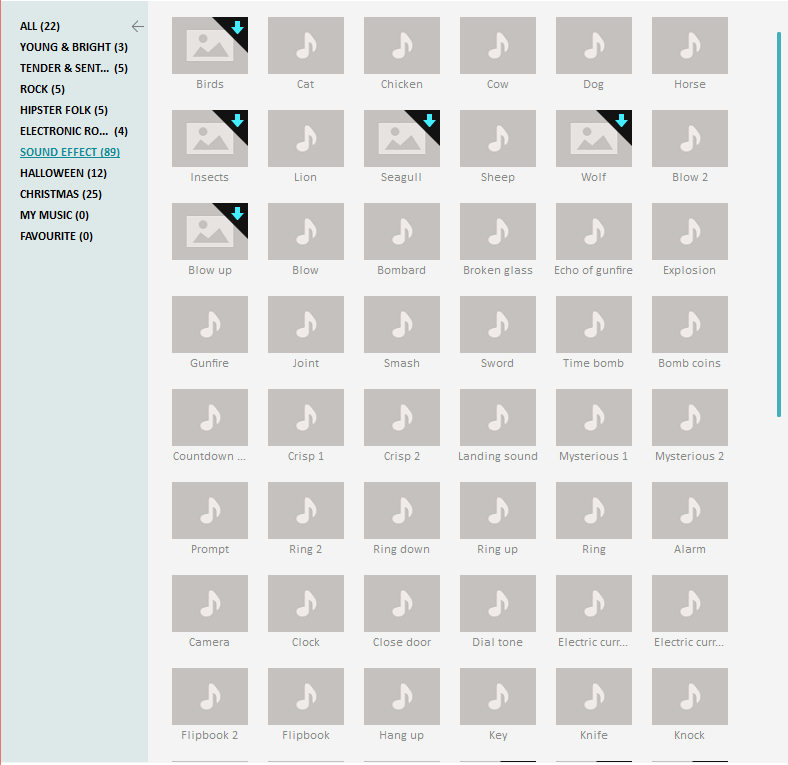 When you see that blue arrow point down, that means that it is not included in the install, but when you click on the track, it will download it for free.

Clicking on the "Text/Credit" tab shows you all of the different text and credit effect's you have access to, either already installed or available free by a single click.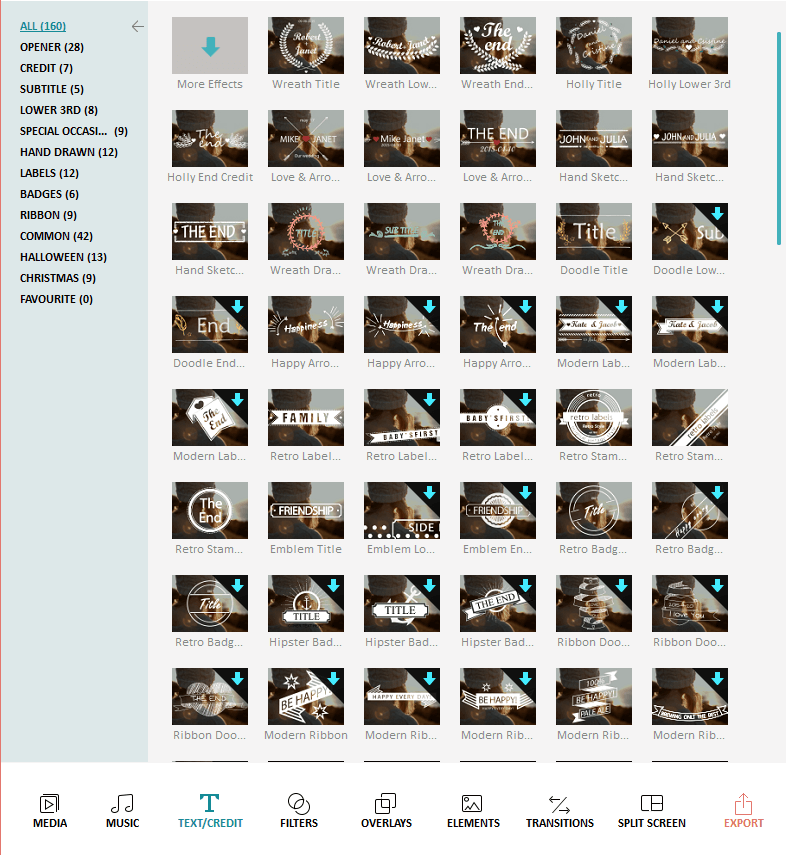 The Filters tab, shows you likewise all of the "Filters" available again either on the install or downloadable.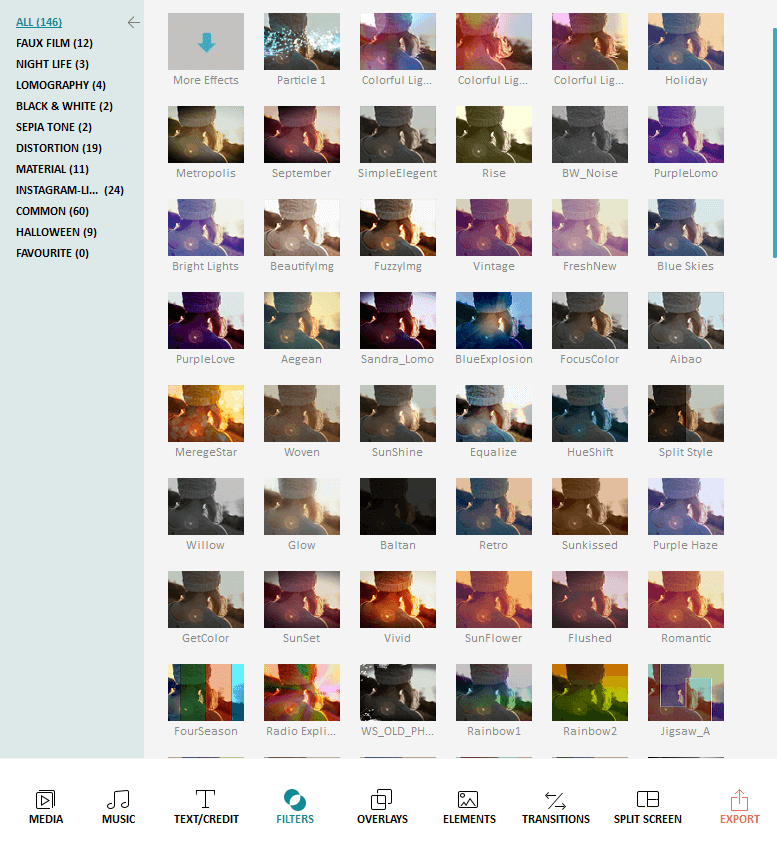 Overlays: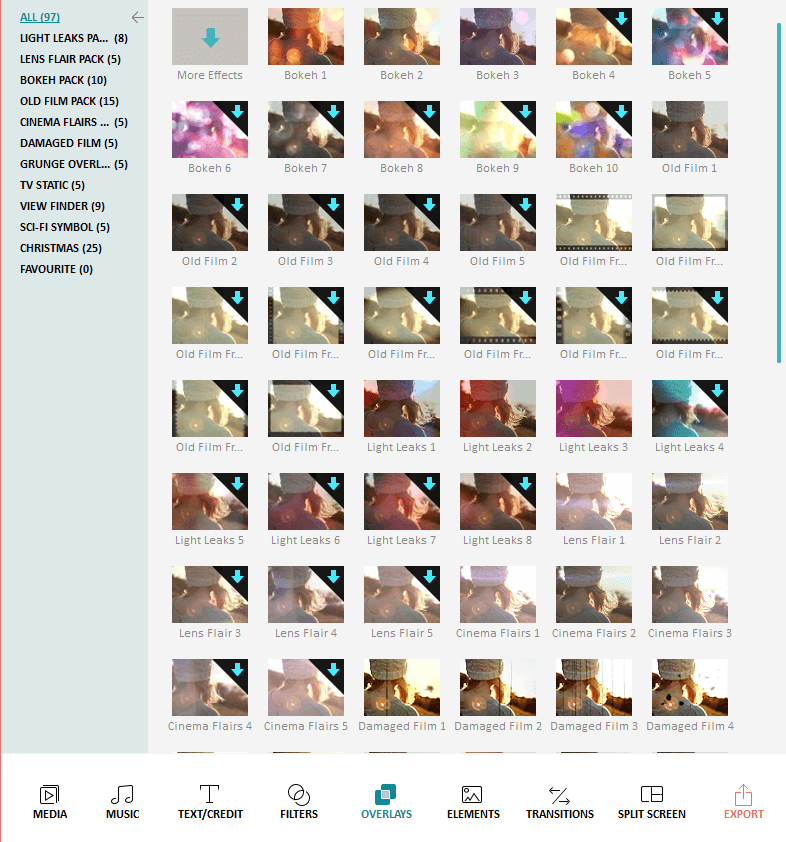 Elements: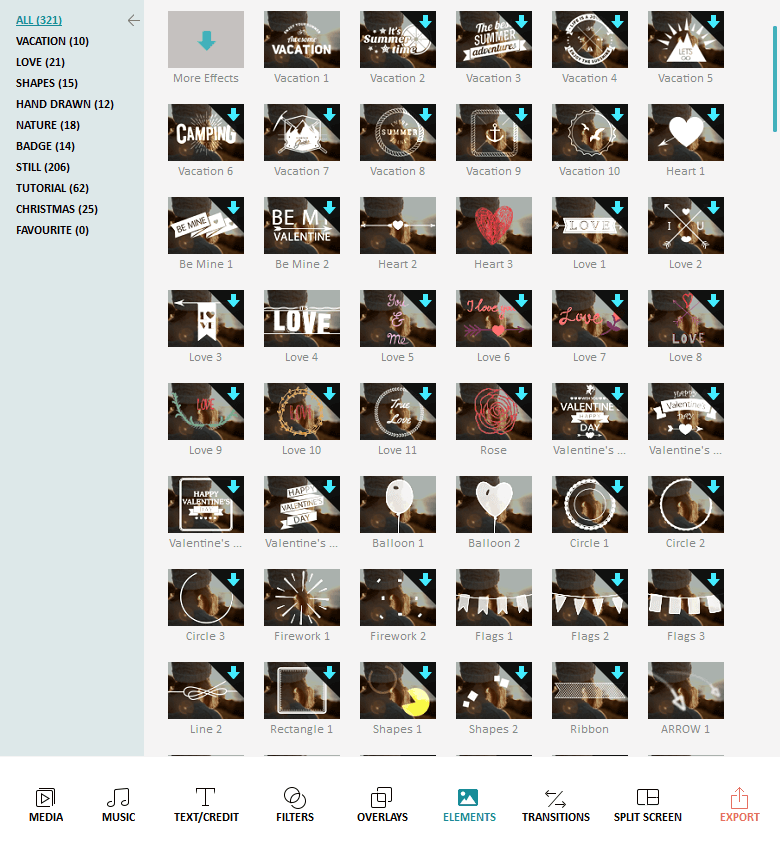 Transitions: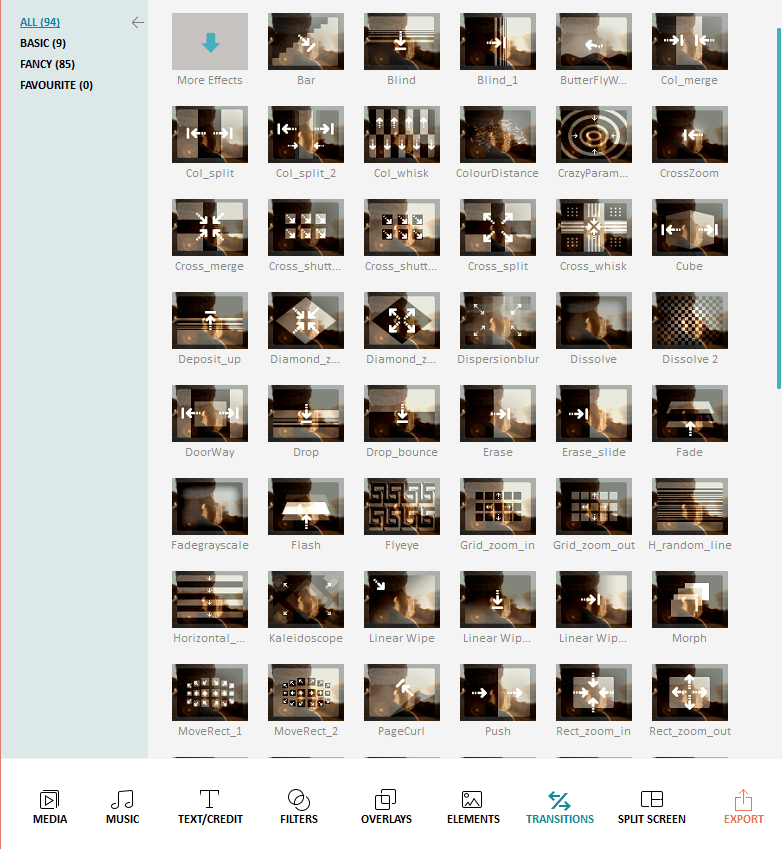 And even Split Screen effects: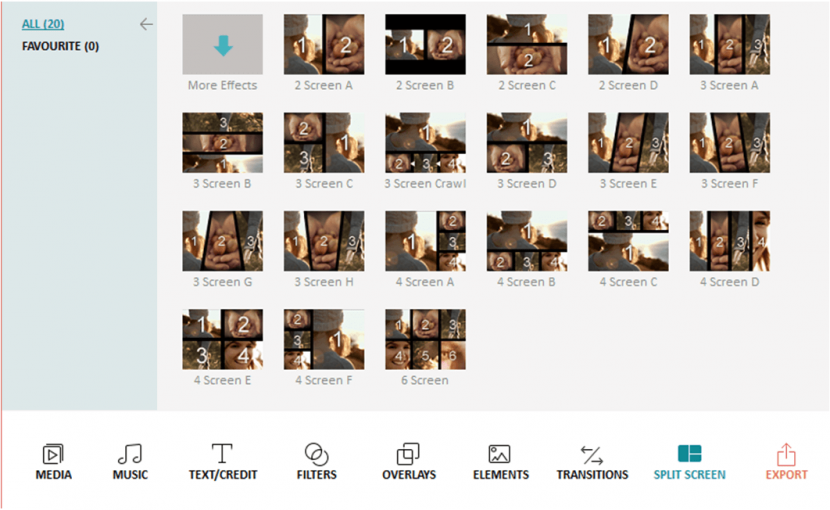 Of course, when you're done with everything you would Export your Project.  As I showed you in the "Format and Support" section, you have a ton of options when exporting.
Format: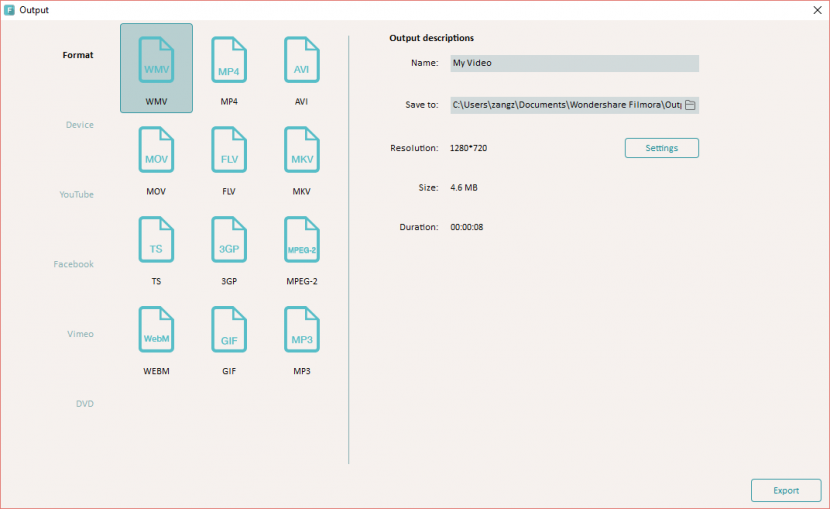 And then more when you click Settings: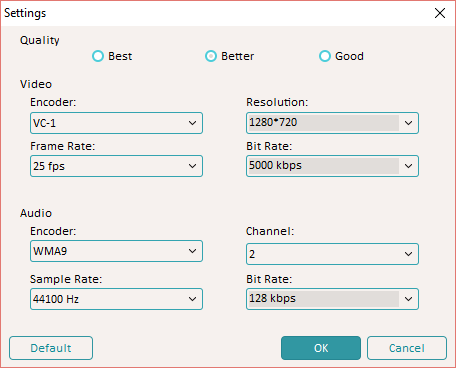 Device: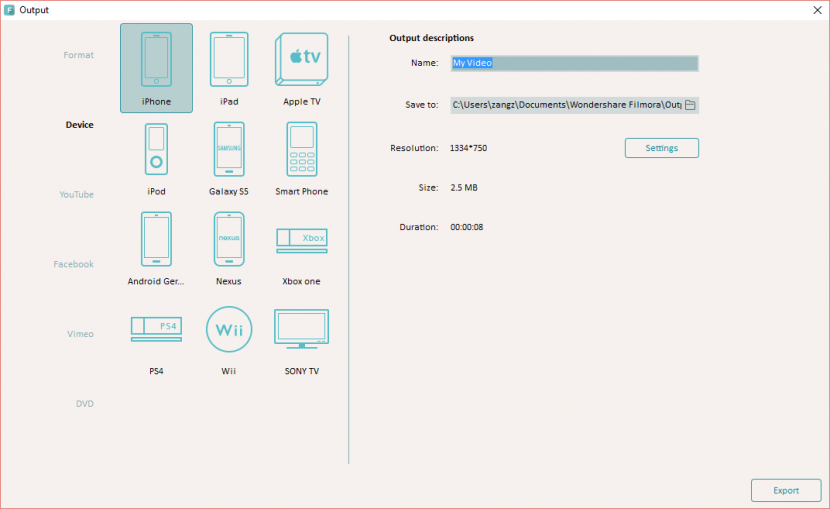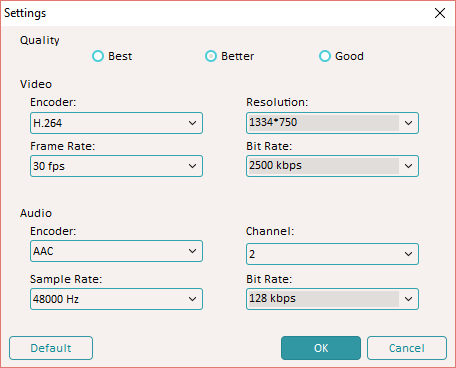 You can even export/upload to Youtube, Facebook, Vimeo directly into Filmora or just back them up to your PC.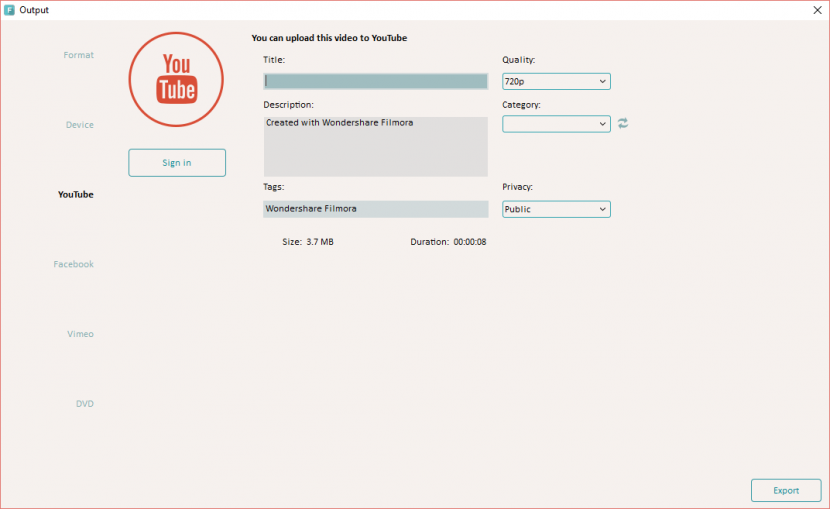 And as I mentioned before, to DVD: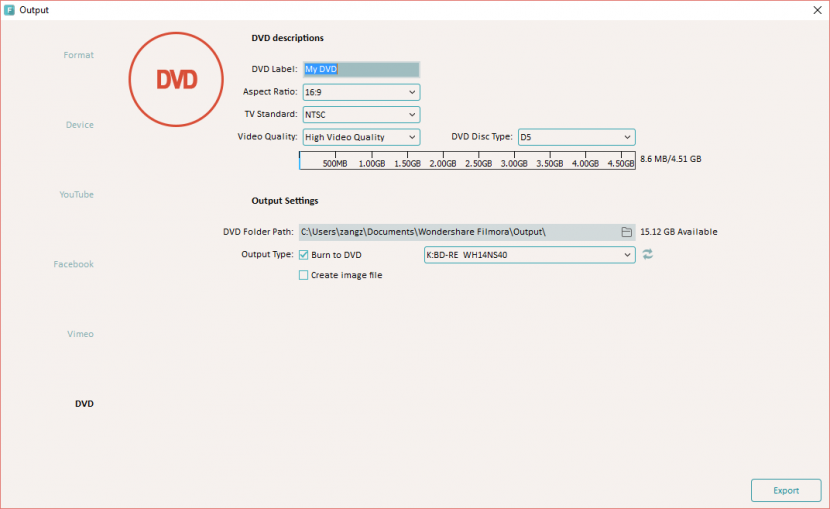 The Title bar even has a few hidden gems.

File provides you with: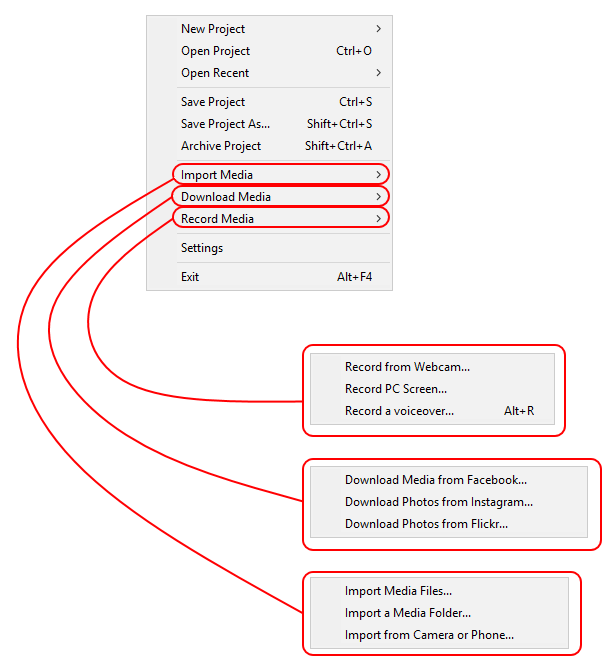 I don't personally own a webcam, but I did use the "Record PC Screen" feature, it works very well.

This allows you just how much of the screen you prefer, where the audio would play from and if it would record system audio.  This is a great addition, while you do need to start up Filmora to use it, once it is up, you can close Filmora and continue using it. Later in this review I will give you an example of where I used this.
The Media/Photos/Videos from Facebook, Instagram and Flickr is also a very nice feature.  This allows you to download media that you have uploaded to these social sites.  The reason I say this is cool because for example, many times you go on a vacation for example and take a bunch of pictures and videos and upload them to facebook and maybe you phone gets stolen, lost or dropped in water.  Filmora allows you to import these uploaded pictures and videos directly into Filmora or just back them up to your PC or Mac.
Usually that will mean the pics/videos you have taken are gone from the phone, and now you have to one by one download them from these social sites if you want them back, with this, you can select all and import them to a predefined directory, have everything back in your hands.  It will also come in handy if you want to close your accounts on these sites, rather that wasting weeks to retrieve them one by one, you can have them in minutes or maybe even hours but then you can close the account.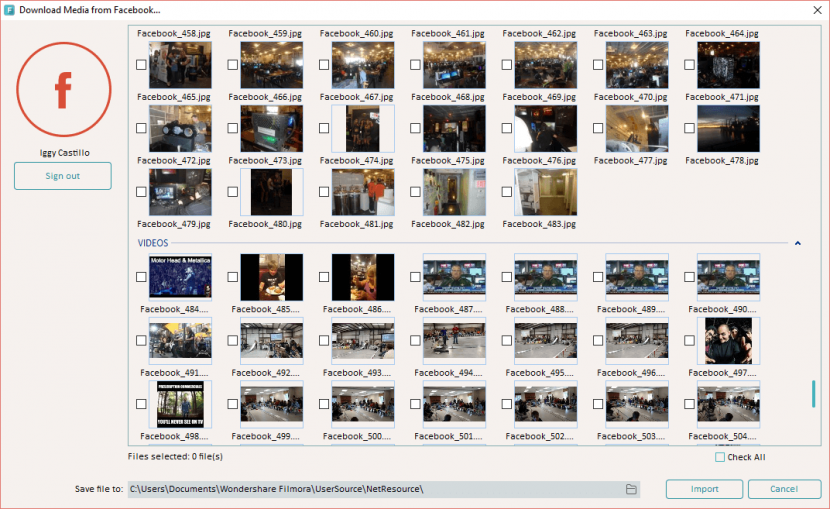 Going into Settings, we find some customization's you may want to take note of.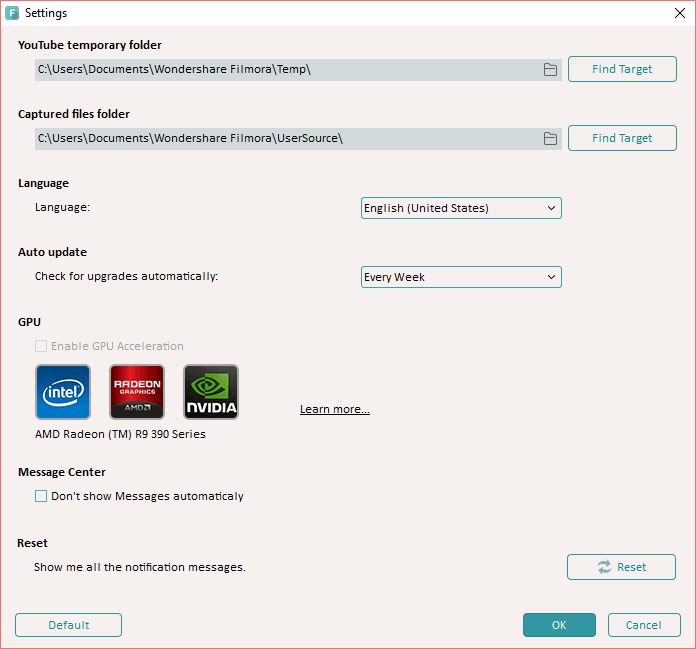 First off are the Youtube and Captured folders.  If you are installing onto a smaller drive, you want to make sure that this is redirected to a larger drive to avoid some nightmare with capacity.
Of course the Language, but the next is "Auto Update".  I am also the type of person that does not like to have a program scan the web for me to look for updates, but in this case, I feel that it is a good feature.  In the time I have been using the program, I have actually had 2 updates applied.  They are constantly working to improve the performance and experience I have come to find.
Trying to keep that in mind, I found the GPU Acceleration feature, take note that I found it off.  I have a Sapphire Radeon R9 390 8GB card, one would think that this would surely be able to take care of some nice GPU acceleration with OpenCL or NVIDIA based cards with CUDA, but there is a bit of a catch.  They only support till a card version, not a driver version as much.
Now at first I was very surprised, but then I thought about it a little more and figured it might actually be a good thing.  If you do a little Googling for GPU Acceleration you will find that many programs like Adobe Premiere and even Camtasia run into issues with GPU Acceleration running into program instabilities.  Rather than Wondershare just joining the bandwagon, they took the high road and individually certify the video card, remember a card is not just software, there can be many differences between hardware from model to model, but I still want my GPU Acceleration.
If you already have Wondershare Filmora Installed, you can actually see what cards are supported in file named Dll_Info_Config, located in the Filmora folder, here is an example of what the file hold, this is not the complete list of supported cards though.  I found also that I received now benefit from my Intel Core i7 5930K processor as the cores did not max out when encoding the videos.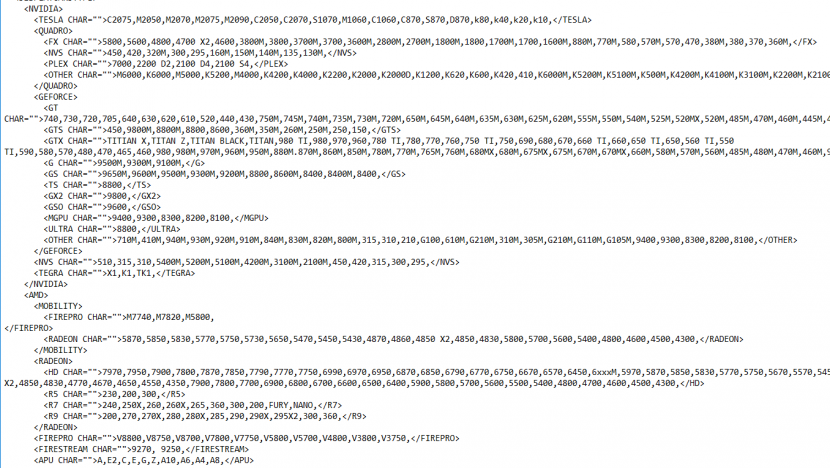 The exporting will still work, but it will take a bit longer to complete.  While it potentially adds to the programs stability, when GPU Acceleration works in programs, it works well and it really is a feature they should focus on as it could potentially benefit all of their current and future customers and surely it will aid in the decision for potential customers.
The export tab, will give you much of the same features.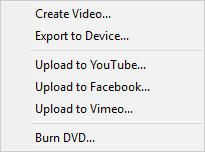 Register will give you the obvious choices.

And I will let you guess what Help provides.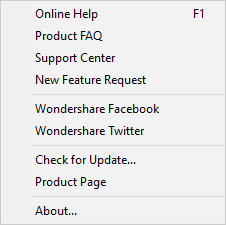 I will say, I do like the fact they offer you right within the app the ability to request a new feature, with the "New Feature Request" option.  I think I will request better and wider GPU Acceleration options, and I did.  I wasn't the first though.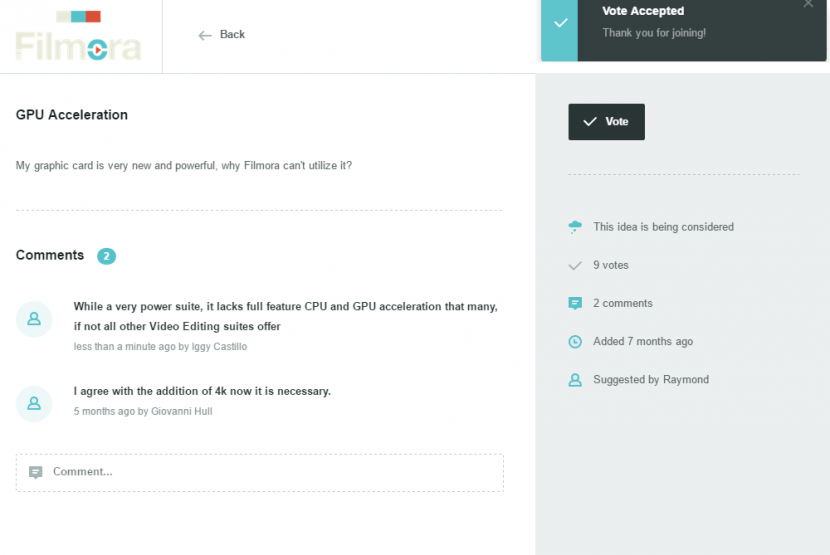 Whoops, meant to write "powerful suite", but surely they will get the gist.
On the right side of the app, we find a few other options
Save Project

 Download more effects from Filmora Resource Center

Message Center (Will have a red blip in it with a number to inform you of new features and options)

Change Skin (Allows you to change the Filmora Skin)