Final Thoughts and Conclusion
It was a great experience but it was not perfect, I did actually have the program crash once while I was working with the greenscreen software.  Because I am a part of the Customer Improvement Program by simply leaving the check mark in the box, I am presented with a "BUGSPLAT" Error report when the program crashed and recovered, where I describe my issue, leave my name and my email address and it goes off to Wondershare to analyze.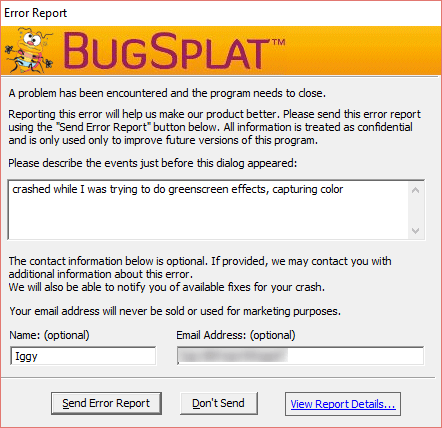 To add to that, and to defend Wondershare, I have run into tons of issues with Adobe Premiere and Camtasia so it does not matter how expensive or how inexpensive the software is, issues will occur.  I also ran into the GPU Acceleration card support, or lack thereof.  While it does support GPU Acceleration, it seems like they do not certify immediately after or while the cards are released, it takes some time.
Another thing to take note of, even though I slightly did was the fact that when the program crashed, it came back up and offered me to recover my project.  To make it more clear, it did not ask me to load a save point, which any software can do, it asked me to actually restore where I was last at, even bit of audio, video and picture with all its edits was brought back to the point it crashed, I lost nothing.
The software does offer automatic updates and freebies as you can see below and actually while you use the software, they show up as free downloads, you can just click on them.  While other companies might offer freebies, you have to know to go to their website and look in the most obscure out of reach places.  Here are 3 Freebies, offering many Music tracks, Elements, Overlays and Titles, not just one thing, but a bundle of things.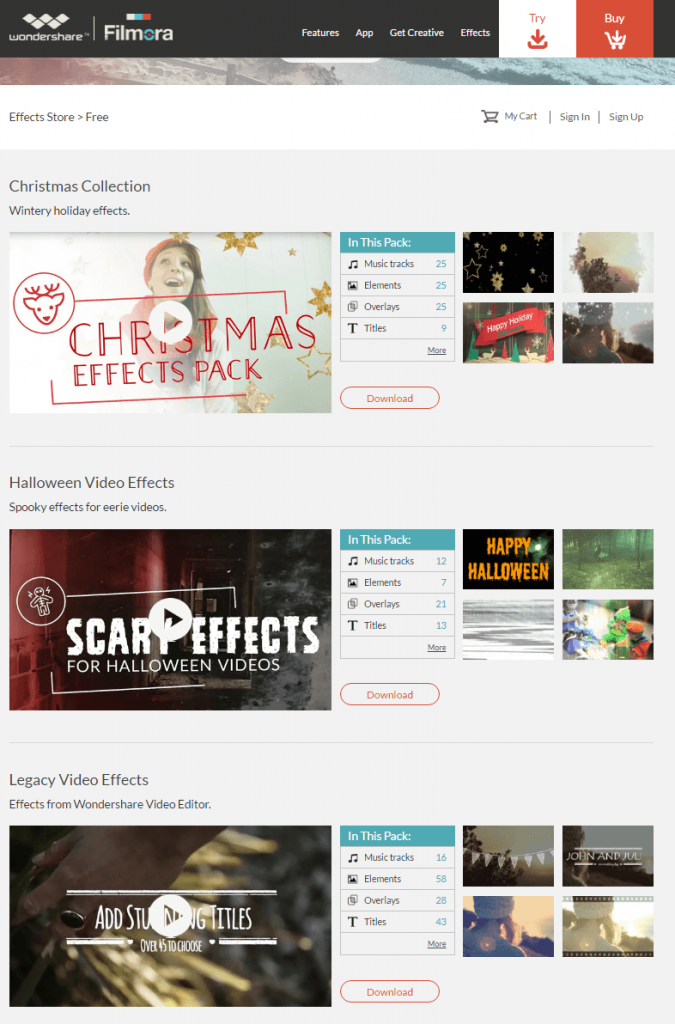 So here is my rating
Pros
AMAZINGLY Affordable
Offers features that other more expensive suites just don't and cannot handle.
Very simple, friendly and intuitive interface
A self-help site that actually works
Offers automatic updates
Offers easily accessible, right in your face freebies
Offers a free trial software
Compatible with PC and Mac
Has true 64Bit Support, not WOW (Windows on Windows) support
Cons
Poor CPU and GPU Acceleration Support
Level of editing could be more precise.
The Pros are pretty obvious but I will describe a little more in depth the cons.
While this program does offer GPU Acceleration, it is not amazingly wide and does not even offer support for the latest Gen cards, though they were launched not too long ago.  With the GPU support, it seems that they also lack CPU acceleration support, a basic feature that every program benefits.  Usually when an audio or video encoding suite starts encoding the media, it will suck up every available core the CPU offers, using Filmora, not a single Core was maxed.  I was told that this support would come with longer video clips, but I still did not see it.  I will say though that it still goes relatively quick, though not accelerated.
I also mentioned "Level of editing could be more precise", but I cannot take away a star for this, even half a star because of the price.  Adobe charges as little as $19.99 a month for Premiere, which does a TON of things and offers more precise controls of your tools and after 2 months of Premiere you could have already bought Filmora and owned it, not rented it like you do with Premiere.  Camtasia does a lot too, I don't know if I can say it does more, but I feel like it offers very tight control of your timeline and effects but can be a bit problematic and is expensive at $299 but does not offer lighting effects and a few things Filmora does.
In all, I think Filmora is amazing and offers a ton of great features.  The Poor CPU and GPU Acceleration would have alone removed an entire star if it were not for all the Pros and the most important Pro aside from the software working itself to me is the Price.  They offer a 1 year license for $29.99 and then a Lifetime License for only $49.99, even a multi-user/multi-PC licenses but there are a few options on that one, might be best to visit their site to check for yourself.
I give Wondershare Filmora a 4.5 Stars out of 5, highly recommended, but I so wanted to give it 5 out of 5.
You can check out the software here, and even download a free trial http://filmora.wondershare.com/video-editor/
SPECIAL DISCOUNT for DRAGON BLOGGER FANS!
Our Link to Wondershare has it at a discount so you can get the lifetime license for only $49.99 instead of $69.9.  You can get the PC or MAC version for that price for a limited time only!
And you can buy it here on Wondershares site
[P_REVIEW post_id=60299 visual='full']