Disclaimer: This is a Sponsored Post written by me on behalf of EmpiriTag through SponsoredReviews. All opinions are 100% mine.
---

I have always thought that WordPress tag clouds on blogs by default are a bit bland and serve little purpose other than to quickly overview your "topics" to a reader. I have looked at flash tag cloud widgets before but hadn't installed any on my blogs until this morning.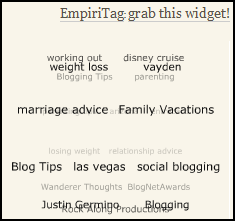 Empiritag has a very nice 3D Flash Tag cloud that presents all of your tags as a rolling drum, and you can embed this tag cloud in a post, page, or even directly into your sidebar either via a text widget or directly into your sidebar.php if you prefer. I decided to install it permanently on the homepage of my personal blog just to give it a whirl, and embedded inside this post to show example of it.
What I like about the Empiritag WordPress Tag Cloud is that it is very customizable. You can change the width and height to easily fit inside any side area, and you can change the color of the background and the tags themselves. You can chnage font size, how many lines of tags, rotation speed and maximum number of tags that display. You can even switch and have your flash tag cloud show only your blog categories instead of tags if you prefer.
Here is my example tag cloud (includes Tags & Categories) for DragonBlogger.com
[empiritag-insert-code]
There are only two things I would suggest that could improve the EmpiriTag Flash Tag Cloud:
#1 – Most tag clouds show "larger" words for tags that are used more often showing their significance, this tag cloud keeps all words the same size which may not represent your strongest tags clearly. This widget should do that, or prioritize and show the top most used tags before showing all lesser used tags for your blog.
#2 – After installing and activating the EmpiriTag Widget WordPress Plug-in you have to visit the website to find the "code" you need to insert into your post or widget to display the tag cloud. They should have included this information in the "EmpiriTag preferences page" to avoid some user confusion.
All in all, if you are a WordPress blogger looking for a new tag cloud wordpress plugin I would suggest you take a look at Empiritag. It will not only show the tags for your blog, but also can include your blog categories in the rotating drum and is fully size customizable.
-Dragon Blogger