As you know there are a lot of different Social Share Platforms out there. From Digg Digg, to Sharebar, to Shareaholic, the plugins out there are seemingly endless. I'm going to take a look at something a little different. Not only does it add great looking social sharing icons to your blog but you also get the ability to monetize it! Take a look at my WordPress Plugin Review of Po.st.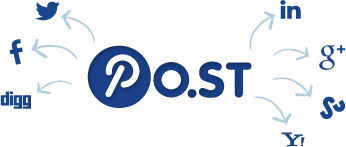 Po.st Not Just Another Social Sharing Platform
Well, technically it is just like most of the other Social Share Platform plugins out there at first. There are a few differences that make it stand out from others out there. The major one being is the ability to generate income from using it! But I'm jumping ahead a bit here. First lets go through the basics of the plugin first.
Install and Initial Setup:
You would go through the normal process of installing a WordPress plugin on your site:
Go to Plugins -> Add New
Put a search in for Po.st
Click on the Install
Click on Activate
Then you will need to get a Publisher ID from the Po.st website.
Fill out the form below: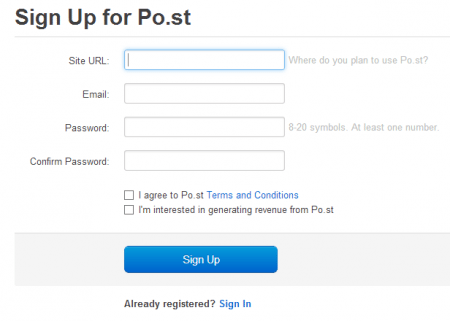 Then after you activate your account and get your API Key you input it in the field below:

Display
The usual where do you wish to display the social media icons at. Posts, Pages, or Both.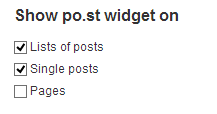 Design Options
You get a lot of different options on how you wish to display the Share icons on your blog or website. Everything from small 16×16 px icons to full sized share icons with counters  and just about everything in between. You can see examples of what you can use below: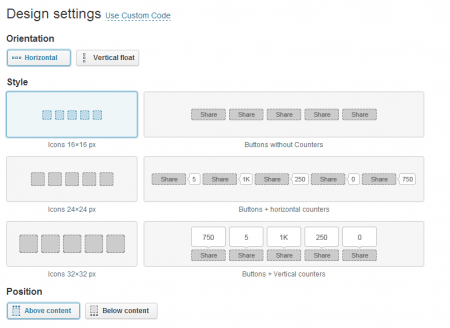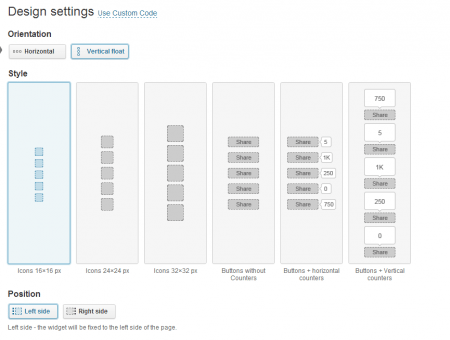 And if that wasn't enough if you know how to code you can customize the social icons to appear just about any way you would want to for your own site.

Social Share Bar Positioning
This has the basic functionality for other Social Media Platforms as how to display the bars on your blog. If you decide to use the Floating Social Bar – you can display it on the right or left of the screen. If you decide to use the vertical social icons? You can easily select to display it at the top or bottom of your content – or have it display in both places.
Social Media Services
Another great feature of this plugin is how easy it is to not only select the different services offered but see them previewed and re-order them on the fly. There is none of that typical delay involved with other plugins to see the preview – or worse having to save it then preview – make the change then save it again. Not with this plugin. It does it all smoothly and quickly. After your done with how you want it to look? Then you just save your settings and the  Social icons will be ready for visitors to use. The image below shows the preview and the different types of services offered by the plugin.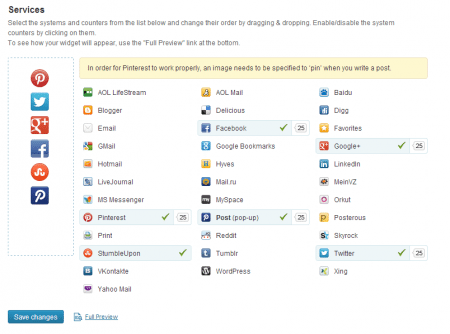 The only caveat to this is you will need to use the "smaller" icons at first, select your services – then select the larger icons. For some reason the other services will not display and only show the ones you have already pre-selected.
Pinterest Share Icon
If you decide to use Pinterest as one of your sharing icons there is a special way to get this to display. When writing a post in WordPress you will need to add the image you want shared on Pinterest in its own special field. I don't know why they just didn't tie into either the Featured Image function or automatically detect an image in the article. I guess this is a way for you to offer special imagery just for Pinterest to try and generate more interest.

Po.st Analytics
Part of the reason why you have to register with the site is so they can track your sites sharing activity. The sites graphs and data are up there are really great. Not only does it display information I can easily understand, I can make different requests using the drop down and they show up almost instantaneously! There is none of that usual 10-15 second wait times you might have on other sites.   The only thing that could have made this better? If they would have integrated it so you can see this inside of your WordPress admin area instead of going to an external site.  Check out the example graph below: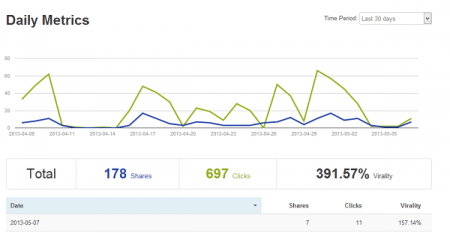 Generate Additional Revenue With Po.st

What makes Po.st great is the fact you can sign up to generate additional revenue to your site when people share your content and click on the advertising that then pops up.  When you sign up and agree to monetize the Po.st Share Bar – you then sign up for an account with Radium One who will handle all of the tracking of clicks and payment. The only strange part about this from other sites is that this was done through email and now through a sign up form on the site itself.
The great thing about this type of advertising. The ad will only pop-up after the person shares your content. You can see how it works in the example image below: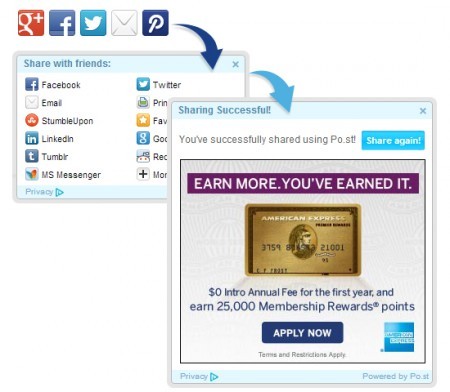 What I Like about Po.st:
Overall the plugin works great. It is very lightweight and doesn't add that much to the load time of my own site. And it appears every time I click on an article which is important.
You can easily customize it to your tastes. If you need even more functionality? There is some great documentation/support on the Po.st website.
The very simple setup screen for the plugin. That and the instant preview.
It looks great as either a Floating Side Bar or as your typical Vertical Share Bar on your site.
You can use it as an additional source of potential revenue from your site.
The Po.st site has some great Analytics of how well your social campaigns are running.
What I Don't Like about Po.st:
Unfortunately it isn't perfect. There are some things that I really don't like about the plugin.
You are forced to Register with the site. I know this is for reporting and the ability to monetize. Still I like to have it as a choice and not a mandatory option.
The Twitter share button is hard coded to use "@po.st" in the signature part of the tweet. There is no way to change this unless you go in and change the PHP code.
You have to put in the location of the image you wish to use for the Pinterest button to work. I'd rather have it auto-detect the image instead.
It does not auto detect when the Floating Share Bar is over your content. It will just keep on displaying right over the top of it. This is a big problem especially for mobile users on Smart Phones or Tablets.
It is unable to Display both a Floating Share Bar and a Vertical Bar at the same time. You only get one or the other. I know this is more of a feature request then an actual bug though.
Conclusion
As you can see this is a powerful plugin for sharing your content to popular social media outlets. It is very easy to setup and use, but it isn't perfect. I always suggest that you shop around and see what is out there before settling on something for your own blog though. If you can live with the dislikes I mentioned and want to have another stream of revenue for your blog? Then this is the plugin for you!
Now I'd like to hear what you have on your own blog and why you use it over all the other options out there!
Dad, Geek, Gamer – When not playing Call of Duty you can find me writing about the latest games, technology, and blogging tips, tricks, reviews, and how-tos. You can find me on Twitter, Facebook, Google+, and of course over at avgjoegeek.net