Before you go into this article further which I will discuss what a Popup mailing subscription list can do for your site or blog, I want you to read an excellent post on Kikolani.com about cases for and against popup opt-in forms.  In this article I was featured along with other bloggers on the "for" side, but there are also many compelling reasons not to use a popup for opting in to join your mailing list.
Once you decide whether or not you want to join the popup camp or at least test out to see if it will help boost your mailing subscriber list opt-ins, then I recommend you consider the following case examples.
I am not shy about saying I use the Popup Domination WordPress plug-in, and I have tried many free plug-ins before settling on one that I had to pay for.
This plugin allows you to not only set a cookie so that triggers only 1x per X amount of days (I left the default of 7 days) but allows you to easily choose from different templates, change wording on the fly, add branding and it seamlessly integrates with MailChimp, Aweber or any other mailing list program.  I actually like the integration with MailChimp much better than Mailchimp's own default form codes to embed on a website which are a little clunky.
Here is what I have my Popup configured to look like, (you already saw it if this was your first visit to the page).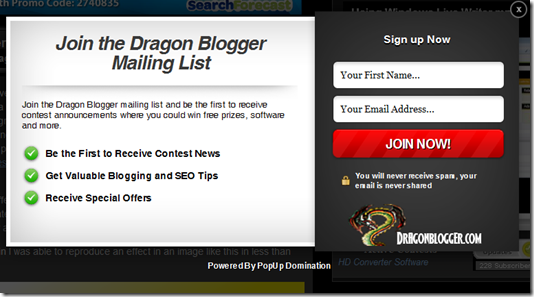 I had started my mailing list several months ago and was seeing an average opt-in rate of only 1 subscriber every 3-4 days, or about 8-10 subscribers per month.  After installing the Popup Domination plugin for WordPress I now see my average increased to 3-4 subscribers per day and have received more than 20 subscribers between 8/3 and 8/10 which is my first week using the Popup Domination.  So I already increase my number of subscribers by 400% within my first week, I am pretty sure my number will average between 70-100 subscribers for my first month.  This is a compelling reason to leave the popup on my site for a bit longer as I continue the experiment.
In sending out my latest campaigns, I only saw 2 unsubscribes and a 30-40% open rate with an 9% click rate.  I also don't send out campaigns just blatantly pushing or promoting affiliate products, but I may showcase one in my sidebar along with my regular content much like hosting a banner ad on a blog or website.
I plan on using my mailing list to promote contests, giveaways and valuable content that can be found not only on my site, but other sites as well.  It is more like a newsletter or newszine that provides information that I hope readers will find valuable if they are interested in the blogging/technology/internet markets.  I plan on rotating some newsletters to be more software/technology focused and others to be more blogging/internet marketing focused.
In the meantime, I only had 1 negative comment about my popup and this was more of a tease from someone I know.  I have seen nothing but traffic growth and my bounce rate has not increased the week I put the popup in vs. the previous week at all.
If you decide to use Popup Domination, let me know how it works for you.
Update:
Several people mentioned that the cookie was showing up after hitting multiple pages in the same browser session.  The developer provided me with a beta version of the Popup Domination plugin to address the issue and I am now using that version.  Please report any issues where the popup shows more than 1x per your browser session on my site.  The full release of this plugin will be next week.
-Dragon Blogger