Hey there.  Is your blog in need of a fresh, new look?  Do you want to spice up your  website and use a more professional looking theme as opposed to a standard blog theme?  Then look no further, Dragonblogger.com has teamed up with our good friends at Magazine3 to provide you with this great opportunity to score a GameUp WordPress theme license ($49 value) for free!
The GameUp theme is tailor made for a gaming community blog or site.  Many of the perks that come with this theme will keep your readers and community members engaged.  The news ticker, for example, is great for covering the latest news and conveying it quickly to your readers.  Especially when you don't have the time to write up a post.  A great example of it's awesome use would be to cover a convention such as E3.  With news flying around so quickly, it's unrealistic to have posts done about everything as they happen, but with the news ticker, you can convey the news quickly and elaborate on a blog post later.    The next big convention is ComiCon.  Wouldn't it be great to have this theme up by then?  Here are few more features that come with this wordpress theme:
Compatible with WP 3.0.2+
Widgetized Sidebar
Featured Gallery Section
Threaded Comments
Two Side Bars
Qjuery & TimThumb
And many more…
And setting it up is a breeze.  With the easy drag and drop edit menu, you can quickly customize the layout to fit your needs and you never have to worry about cropping your images to the correct size.  The GameUp theme will automatically crop your images using the TimThumb script to assure that your site will look it's best with crisp images.  If you are still not convinced that this may be a theme for you, head on over to the GameUp theme page and view the demo to see it in action.  Once you do, you'll want to enter this giveaway!
The Giveaway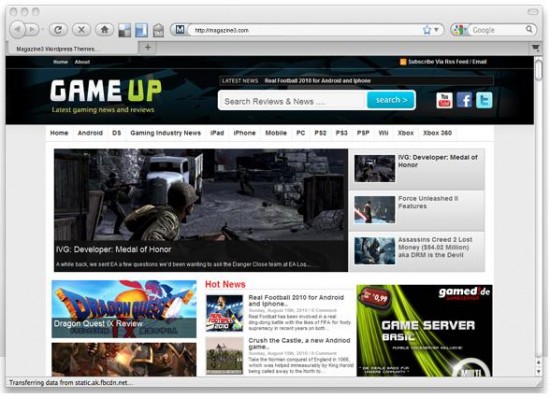 To participate in the giveaway, you must leave a comment letting us know that you want the GameUp wordpress theme.  Easy enough, no?  But you can also gain additional entries by sharing this giveaway on Facebook and Twitter.  If you do share on Facebook and Twitter, please leave a SEPARATE comment with the link so that we can verify.  If sharing on Twitter, please use the below:
I entered the GameUp Theme Giveaway on DragonBlogger.com 2 win a free wordpress theme -> http://bit.ly/m4QUzX  thanks 2 @m3themes #dbtheme
That's 3 ways to enter.  That's 3 comments maximum.  The giveaway will run from now until 11:59PM July 15th.  2 winners will be selected from the comments using random.org on July 16st and will be contacted by Email.  Winners that do not respond to their Email within 48 hours will forfeit their prize and another winner will be selected.  Shared links that cannot be verified will not count as entries so make sure that the link works.
So what do you guys think?  Do you see yourself using this kind of theme?  Magazine3 has done a great job in creating this and other awesome wordpress themes to suit many needs.  The winners will definitely be happy!  As a matter of fact, Magazine3 has been featured on WordPressThemes.com so they know what they are doing.  Also, since we're relatively new to the giveaway game, what do you guys think of us venturing into the world of contests for our readers?  Love it, hate it?  Let us know in the comments!  If the response is strong enough, we may end up doing more for you guys!  Later!
UPDATE: July 16th 2011
Hey there.  Thank you all for entering!  It is time to announce our two lucky winners.  I randomized the entries and then used random.org to chose 2 winning numbers.  And the winners are…  Moshen and Shenoy!  Congrats!  We will be contacting you shortly providing you with your license for your free GameUp WordPress  theme courtesy of our good friends at Magazine3!  Thank you all for entering.  Stay tuned for upcoming giveaways!