Welcome to yet another exciting WordPress Theme Giveaway contest! This contest is sponsored by ThemeForest.net, which is an amazing place to get Premium WordPress Themes for your blogs.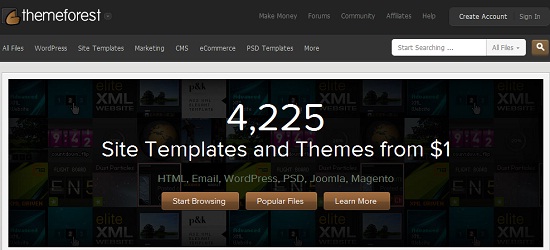 As a WordPress blogger you never can have too many themes to experiment with and this is especially true if you run multiple sites. Here at DragonBlogger.com we have offered other WordPress Theme Giveaways before but this time we are hosting a contest where there will be more than 1 winner.
Join the ThemeForest WordPress Theme Giveaway
Prizes:
There will be 3 prizes, awarded to 3 randomly selected participants (using Random.org):
Prize 1: Free ThemeForest.net Marketplace Credits worth $40
Prize 2: Free ThemeForest.net Marketplace Credits worth $35
Prize 3: Free ThemeForest.net Marketplace Credits worth $25
You can use these credits to  purchase amazing WordPress Themes for your blog and these credits can be used for 1 or more themes, so you really may end up getting 2 or more themes with your prize!
Contest:
In order to participate in the free WordPress Theme Giveaway contest, all you need to do is submit your entry as a comment below. There are 3 different ways to enter the contest:
1.Share This Post on Facebook with your Friends
2.Retweet This Post on Twitter for your Followers
3.Share This Post on Google+ with your Circles
You may enter the contest in one, two or all three ways.
If you enter in all 3 ways, you triple the probability of winning the contest!
Once you have shared/retweeted the post, you need to submit the Twitter Status URL, Facebook Wall Post URL and/or the Google+ Post URL in a comment below, you can leave 1 comment showing all three entries or a separate comment per entry.  Comments in article will not count as entries for this contest only the social media promotion methods.
Contest Starts on Monday August 22nd and Ends on Friday September 2nd 2011 at 11:59pm PST with 3 winners being chosen by Monday September 5th 2011.  Winners will be contacted by email with the same email address they leave in the comment here on the post.
Who wants some free WordPress themes?
Hi guys!
The 3 lucky winners for this WordPress Themes Giveaway Contest have been randomly selected (using Random.org) and they are…
#1 Prize – Wesley Lim – $40 bonus credits
#2 Prize – Sumon Seleem – $35 bonus credits
#3 Prize – Ashmita Patel – $25 bonus credits
More giveaways are in the pipeline, so stay tuned!
You might be the next lucky winner!