Disclaimer: This was a sponsored post, commissioned by TVTopTen.com. I was sent a free copy of the Melt it Off! program and asked to share my thoughts and opinions about the fitness routine. The words and opinions are mine and mine alone.
---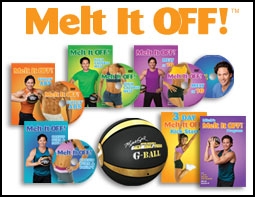 I really enjoy testing and reviewing products and this is one of the most fun parts about being a blogger for me. When I was sent a copy of the Melt it Off! with Mitch I was curious to see how the program would work and what came included inside the package. I had become very interested in fitness programs about two years ago, and actually own many of them though only some get used on a regular basis anymore.
The Melt It Off program comes with all you see here, which includes:
Workout DVD with 4 programs
Motivational DVD
2lb weighted G-Ball (which is heavy rubber and has firm texture so it is not slippery at all)
Program which helps you set your goals and track your progress
3 day Melt it Off! Kick Start which includes a 3 day meal program for men and women which also includes all the groceries you buy for the program.
A tape measure to measure and track your success
I originally went into the program thinking the ball was a little light weight, I am not an iron man or anything, but I do curl 25lb dumbbells so I was wondering if maybe it wouldn't be enough weight for me.  What I was surprised to find was that that little 2 pound ball really adds some impact when you are doing repetitive exercises while using it.  I did the 10 minute workout and found the See Saw, Thigh Thigh Shoulder Shoulder and Iron Cross to provide a good amount of resistance to my tricep, abs and thighs.
My honest impression is that the program itself should be able to work pretty well if you stick to it and commit to doing the workout at least 3-5 days per week. It would appear that the added 2 pounds you get of resistance from the G-Ball makes the workout higher impact than just doing an aerobic workout without any weights at all and the creative way you roll, twist, and incorporate movements of the ball into all the exercise routines really breaks up the monotony of normal workouts. I thought the Melt it Off! program had one of the best 10 minute workouts, which seemed to just fly by while doing the workout. I watched the workout on my 24″ computer monitor while I worked out along to the video in my office. I wasn't winded by the end of the video but definitely felt some strain in my side muscles and thighs, there are lots of squats in the workout. I know that had I done the 1 hour workout I would be pouring sweat by the time I was done, and probably winded half way through it.
See my video demonstration and review of Melt it Off! with Mitch:

You can find the Melt it Off!
weight loss solution
on TV Top Ten where they sell it for less than you would get it from other places.
-Dragon Blogger