When it comes to strategies for enlarging your blog community, there seems to be a common online authority.  As a result, most of the suggestions on this list are coming from an often quoted source on precisely this topic.  It would seem that when it works, it works, so feel free to implement them in order to grow your blog's community.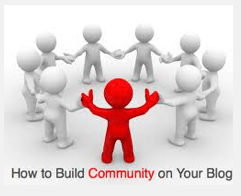 Write as though you are "talking" to your audience.  This type of format is much more engaging and encourages people to follow your experiences as they would a friend's or their own.  In theory, you do not want to set up a lecture format.  You want a conversation.
Encourage interaction.  That is what is great about allowing commentary on your posts.  This does indeed turn the typing online into more of a dialogue instead of a monologue.  Whether through polls or questions, let your audience know that you want to hear their opinions on the topic.
Blog about what you know about.  Stay within topics that feed your passion.  You do not want to present watered down tidbits of everything under the sun.  Focus.  If you dig reading fantasy novels about a certain young wizard, blog about that.  Do not try to discuss that half read Jane Austen novel, if that is not your cup of tea.
Make sure to have an area for your community.  This is what is great about social media sites. You can easily set up a community page for commentary, sharing, and the like.  You could even decide to have a forum on your blog.
Use Accessible Interactive Mediums.  This is similar to the previous suggestion, but it reminds you to use one or more of the many easily accessed interactive social media setups which are available.
Host challenges or projects of some sort.  This sort of set up fuels sharing of photos and tips from your audience, as they follow your journey.  It can be a shared learning, compare and contrast sort of situation.  Set ups like "31 days to a better…" seem to be popular among readers or viewers.
Share real life happenings.  This is a great way for people to find out what they have in common.  Discovering that you are not the only one whose stress related nightmare is in the form of tooth loss, can be comforting and amusing.
Highlight your readers.  Guest posts, commenting on the blogs of others, and posting their links related to the topic at hand, encourages more interaction.
Have a good posting pace.  You have to find that balance between posting too much and not enough.  Once you get the hang of it, you will be able to more easily keep your community a buzz.
Make blog navigation easy.  By placing back links to previous posts, or forward links to more current posts on the same topic, your audience will be able to better engage with your blog.
Nancy has a vast background in PPC and SEO. Feel free to visit her site http://www.NancyBadillo.com Be sure to stay updated with her most recent posts about the latest changes and trends in online marketing.