Nowadays, people don't seem to listen to the radio as much as they used to. I myself however still listen to the radio, but not in a conventional way. See, most people now go to the Internet for their favorite radio stations when not in the comfort of their car. When at home, I myself mostly stick to Internet radio stations such as iHeartRadio or even Pandora for some easy listening. The Ocean Digital WiFi Internet Radio FM Tuner gives you the ability to place Internet radio anywhere in your home and the speakers to be able to produce great sound quality no matter where it is placed. This device gives you a full-color screen to be able to go to your favorite Internet radio stations and access them as well as the ability to pick up well over 21,000 radio stations, giving you the freedom to listen to whatever your heart desires.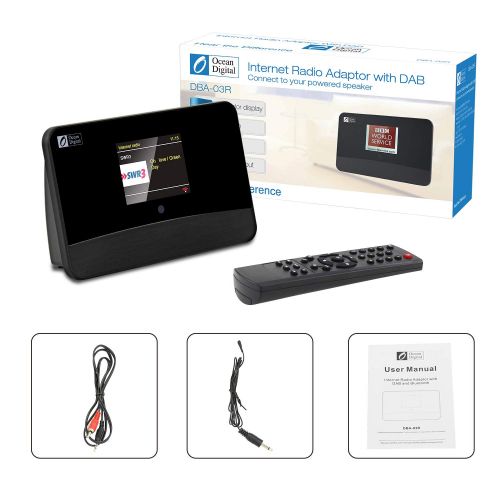 The Ocean Radio Tuner also allows you to connect your wireless devices such as your smartphone or tablet via a Bluetooth connection giving you also the freedom to listen to whatever music you have stored on your digital devices or whatever custom playlists you may have. I know that there are times when I want to listen to certain music and not have to wait for a radio station to play something I enjoy. Another option the Ocean provides is the means to be able to plug in your own stereo system if the built-in speakers are not giving you the sound that you desire. The 3.5mm audio output jack allows you to plug in your own stereo system that way you can listen through your own setup. Coming also with an internal FM radio tuner gives you also the ability to listen to your favorite local radio stations in the more traditional way for those that enjoy being able to listen to your favorite local radio stations making tuning rather easy with the digital display.
The Ocean Radio FM Tuner makes for a great addition to your home with multiple options for listening as well as options for audio output that truly gives you a custom listening experience in your home no matter what room you may be listening in and once that I highly recommend for anyone age and any level of experience using a digital device.
Ocean Radio Product Features:
WiFi internet radio tuner / FM digital radios/RECEPTION of more than 21,000 radio stations: giving you access to thousands of radio stations around the world to the comfort of your home

COMPACT ADD-ON: The tuner/receiver is designed to connect with your existing stereo system via the 3.5 mm audio output jack on the unit. Compact unit size without an internal speaker makes it a perfect add-on to your listening enjoyment

OPTICAL OUTPUT: An alternate connection to send high-quality audio to your speaker system for Internet Radio and FM

BLUETOOTH Receiver: receive and play music streamed from your mobile phones, tablets, and other Bluetooth devices

UPnP & DLNA: Streaming music from UPnP &DLNA compatible devices