We are influencers and brand affiliates.  This post contains affiliate links, most which go to Amazon and are Geo-Affiliate links to nearest Amazon store.
Note: Episode review contains substantial spoilers.
Skyler's ready and willing to open up shop…
[easyazon_image asin="B005CKPQHA" alt="Breaking Bad Season 4 Sneak Peek" src="http://ecx.images-amazon.com/images/I/51WhUN1HrQL.jpg" align="right" width="300″ height="225″]
AMC's Emmy winning series Breaking Bad aired the third episode of season 4 and it seems the pipedream of White's to own the car wash is finally coming to fruition – shame that Skyler (Anna Gunn) wasn't enticed by the free manicures courtesy of Saul's (Bob Odenkirk) nail salon associates.  As always, if you are not familiar with Breaking Bad yet, you can take a peek at the first few paragraphs of our earlier review which describes the whole premise of the show.  A spark finally ignited in this episode that is the beginnings of a fire.  Surprisingly, that spark was not lit up by our favorite crazed chemist Walter White (Bryan Cranston) but by his firecracker of a wife Skyler – Saul's right "she's a keeper."
This is what I love about Gilligan's approach to the White family.  In this episode Gilligan truly iterates the saying "behind every great man is an even greater woman."  Skyler is far from wicked in her tactics but boy can she be twisted!  Walt's a man who believes that putting off a cocky self-confident air will save him.  Skyler surely knew how to get his buttons pressed when she revealed to Walt that his former boss from the car wash saw the White's stunt as pathetic – especially when Walt decides to send his woman to do the dirty work.  This is the oldest stratagem in the literature to emasculate the fellow lover.  Her move causes me to draw comparisons to Lady Macbeth's dagger jabs at her husband's manhood.  While I see Skyler as far more decent in her motivations, this was one of the few times that I'd call her cold and calculative.  Ah well – she's got to get that money clean and take care of her newborn baby girl, can you blame her?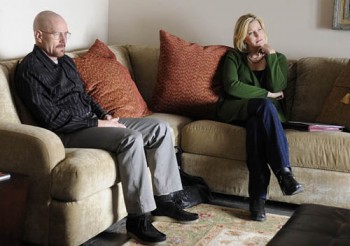 Unfortunately, it seems things are running less smooth and slick for Walt.  Big Brother – I mean Gus – is keeping the eye in the sky fixed on him.  This is symbolic of how Walt's double life is becoming less and less secretive.  He cannot hide anywhere, even within the confines of his super secret basement lab.  I feel like grabbing Walt and encouraging him to turn to his Heisenberg tendencies to save him.  I know he's walking on egg shells but he has got to reach out to his allies like Jesse (Aaron Paul) and hatch up a plan.  He botched such an effort with Mike (Jonathan Banks) but there is still hope to take down that sick "Chicken Man."
Speaking of former friends, Jesse is on a crash course to hell right now – isn't it quaint that he was so eager to go go-carting?  Right now the drugs are not the only thing toxic for Jesse as shown by the mob of demons he's created a nest for.  Gilligan really is doing an excellent job of creating sympathy for this supposed no-good-junkie.  Jessie in the earlier seasons possessed a truly intriguing sense of morality.  Sure he was on the wrong side of the tracks but I really was touched by the moments where his ethics were better than Walt's.  This compass of integrity seems to be whirring off course and I fear that Jesse will lose it.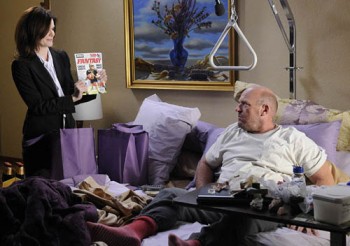 Backtracking to the Walt family – brother-in-law Hank (Dean Norris) and wife Marie (Betsy Brandt) relationship is on the rocks.  Naturally, Marie resorts back to her bad habit of kleptomania to deal with it.  I know its weird that the girl can't keep her sticky fingers to herself but this is her only way to grab Hank's attention.  Hank's behavior of being a loud and lovable oaf has literally disappeared.  He is withdrawn and is ignoring her like crazy.  Something strange that I picked up on – is how Marie seems to have decked the whole house in splashes of purple and even got Hank's things fixed up in purple.  I cannot put my finger on what this is indicating exactly – all that is obvious is that her bleeding heart is showing everywhere.
The show wraps up with Hank being presented with Gale's infamous notebook from the "Box Cutter" episode.  Hank's a pretty smart cookie in regards to the drug game so I'm sure he's going to connect the dots soon.  I wonder what kind of reaction he will summon up when he finally discovers how close enemy #1 has been all along…
[xrr label="Breaking Bad S. 4 Ep. 3 'Open House' is rated" rating=5/5]
[easyazon_block asin="B005FDWS34″ align="left"]
We are influencers and brand affiliates.  This post contains affiliate links, most which go to Amazon and are Geo-Affiliate links to nearest Amazon store.
Mitra Faridian first joined the site in 2011 under the handle "Persian Poetess." Her gaming and entertainment taste is very eclectic and she's always open to a fun new virtual adverture. Email her at the following address: mitra [at] dragonblogger.com