We are influencers and brand affiliates.  This post contains affiliate links, most which go to Amazon and are Geo-Affiliate links to nearest Amazon store.
Note: Episode review contains substantial spoilers.
Defend or destroy?  What is Walter aiming for…
[easyazon_image asin="B005CKPQHA" alt="Breaking Bad Season 4 Sneak Peek" src="http://ecx.images-amazon.com/images/I/51WhUN1HrQL.jpg" align="right" width="300″ height="225″]
AMC's Emmy winning series Breaking Bad aired its second episode of season 4 tonight and while I cannot say it ended with a bang – it certainly is leading up to one boom of an upcoming episode.  Those who have not been following the series thusfar can read the introductory paragraphs of the previous review to get a taste of what this mindbending show has to offer.  Series creator Vince Gilligan seems to be turning the notch down on pacing lately.  This does not necessarily turn me off – in fact I am salivating more than ever to see how Walter White (Bryan Cranston) is going to take care of business.  Cue a discussion regarding our "moral rights" and how that justifies touting around sinister firearms…
As "Thirty-Eight Snub" opens, Walt finally decides that its time to not only pack heat but bring the heat.  This does draw the attention of the black market gun salesman showing the firearms to Walt and brings up an interesting moral dilemma.  Walt thinks buying a gun equals self defense but obviously things have gone much farther than looking over one's back.  Gus' stunt with the [easyazon-link asin="B005D646RE"]box cutter[/easyazon-link] in the last episode is further reaffirming in Walt's head that its kill or be killed.  This assumption is confirmed later on in the episode but I will elaborate on that in a moment – on to the rest of the merry band of meth producers.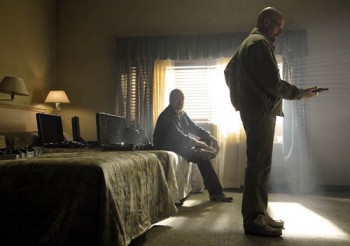 Gilligan keeps providing peeks at the private life of hitman Mike (Jonathan Banks).  A shot of Mike sitting in a bar with mundane surroundings caught my interest as well as yours I'm sure.  The blood on his cuff left over from disposing of his former associate Victor left a message that really resonated.  I am convinced that Mike is unhappy with the trail of bodies being piled up despite it being a common sight of his profession.  He stared at his sienna stained fingertips with a concern that was uncharacteristic of his usual cool self.  Could Mike perhaps turn on the wishes of his employer and get in cahoots with Walt?  Oncemore this is further addressed towards the latter part of the episode.
Before we take a closer look at the ties between Mike and Walt – Jesse's welfare is definitely worth addressing right now.  Jesse is more akin to the living dead after all the mess that he has been led into.  As the speakers flex from his new surround sound, the monotonous blare of "money, money, money" reduces him to little more than a zombie.  The little side conversation between Badger (Matt L. Jones) and Skinny Pete (Charles Baker) about zombie themed first person shooters is a brilliant way to illustrate this.  If poor Jesse does not O.D. on the drugs – he's definitely going to end up giving whats left of his living soul.  The loneliness is what seems to be killing him the most.
It is loneliness that best encapsulates this episode.  Tensions are not only building for Walt and Jesse but for out-of-commission DEA officer Hank Schrader (Dean Norris) and wife Marie (Betsy Brandt) as well.  Hank lives outside his paralyzed body now – even the pleasure of sharing an embrace with his wife will not bring him comfort.  He is completely cut off from Marie despite her valiant efforts to support his physical therapy and get him back up on his feet.  His fixation with stones (or should I say minerals) is a quaint touch given how stone cold his resolve is towards the ones he loves.  Does he secretly know that Walt's peddling the "blue stuff"?  Hard to say – his emotional disconnection is hard to crack right now.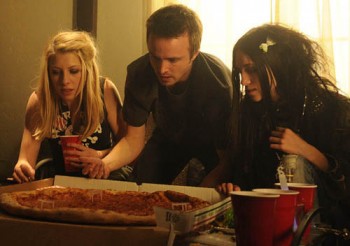 If there is anyone playing cool under fire and keeping a positive outlook it would be Skyler (Anna Gunn).  Her choice of words to Walt that it was "time to pull the trigger" on the car wash got me to smile.  She is practicing her shooting form too – but not for dark purposes.  Skyler just might save Walt's bacon by snatching up his former work place.  Walt's old boss may not be budging now but I saw the fire in Skyler's eyes.  She can make explosions happen too – without firearms or chemistry.  Keep a close watch on her, I know she has something up her sleeve to make that boulder move.
Walt is treating his obstacles with a more brute force approach.  The Heisenberg hat makes a return and Walt easily passes for an undertaker ready to take care of a dead body.  Inches away from Gus' residence he gets a call to back off and not go through with his evil deed.  Keen not to lose momentum he takes the opportunity to pay a visit to Mike who once again is chilling around a bar.  Though Mike's reception was not what I would call warm – especially when he kicked Walt to the floor – I see that more as friendly advice from Mike.  I believe Mike is looking out for Walt's best interest and trying to make him clean up his act if he wants to through with a hostile takeover.  Discussing such matters at a bar is darn near stupid, which is why I believe Mike did not bother to give Walt an answer to his proposition.
"Thirty-Eight Snub" was not your typical on-the-wire episode but more like the calm before the storm.  Gilligan has a talent for feeding you tidbits to frenzy on that cause you to hunger for more.  Walt can be compared to the same shark analogy.  He's had a taste of the power he carries as the lead chemist – he's ready to chew apart those who stand against him.  Heisenberg is taking over him completely now.
[xrr label="Breaking Bad S. 4 Ep. 2 'Thirty-Eight Snub' is rated" rating=4/5]
[easyazon_block asin="B005D646RE" align="left"]
We are influencers and brand affiliates.  This post contains affiliate links, most which go to Amazon and are Geo-Affiliate links to nearest Amazon store.
Mitra Faridian first joined the site in 2011 under the handle "Persian Poetess." Her gaming and entertainment taste is very eclectic and she's always open to a fun new virtual adverture. Email her at the following address: mitra [at] dragonblogger.com