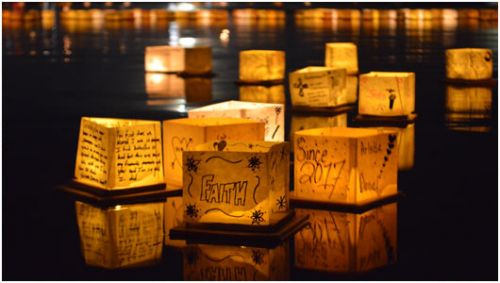 This Summer the Water Lantern Festival is coming to a city near you! I will be attending the festival as well as writing an article about his experience and thanks to the Water Lantern Festival, they have decided to partner up with Dragon Blogger to give away two tickets to the event at a city near you.
All that you need to do is the following:
Follow @waterlanternfestival on Twitter.
Like this post.
Tag your friends and comment below. (Each friend you tag counts as an additional entry. Tag as many friends as you want for more chances to win)
That's it! We will pick a winner one week from today and provide the winner with their tickets!  Water Lantern Festival is an amazing and beautiful experience that was recently VOTED #1 FESTIVAL by USA Today!
We are truly thankful to the Water Lantern Festival for letting me attend as I have been quite interested in this event in Downtown Indianapolis. The Water Lantern Festival is a nationwide event that takes place in all 50 U.S. States as well as in Washington D.C. an event that I am looking forward to checking out myself and cannot wait to write about!
I've been writing and covering many forms of entertainment such as comedy shows, and arcade bars as well as reviewing video games and more for the past decade. I love to write and I am blessed to be able to have the opportunities that I have had in the entertainment and technology fields.