Welcome to the Dragon Blogger Active Giveaways Page.  This makes it very easy for you to see and enter all active giveaways from a single page and check back often as new giveaways will go live and be listed on this page as they launch.  Besides the Gleam giveaways you can enter on this page you can always enter the daily Spin to Win game daily for a chance to win a random prize as well as there are ways to win or redeem Steam games daily from our Twitch channel and other exclusive giveaways on our Discord channel.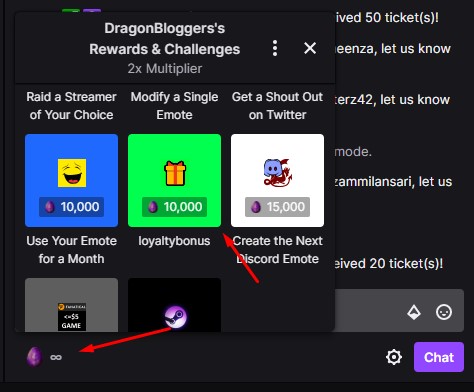 One big thing to note is going forward on all Gleam giveaways we offer, there will now always be a Twitch Loyalty Reward feature, this is where you can watch our live streams and earn Dragon Eggs (Twitch Loyalty) you can redeem those dragon eggs (10,000) and get 25 entries for each time you redeem the Twitch loyalty.  There is no limit to the number of redemptions during the lifetime of a giveaway so by saving up loyalty between giveaways you can go all in and increase your odds for just the giveaways you really want to boost your odds in.
How to redeem Loyalty Bonus, on Twitch you go to your chat and bottom left shows you your dragon eggs.  Tap and find the Green Redeem Option which is 10,000 points.  It has a picture of a prize on it and looks like this:
After you redeem the prize on Twitch in the Gleam giveaway itself you now validate the entry.  It will accept it and now change the value to showing you how many times you have redeemed this entry (like the refer-a-friend option).  So you can keep track of how many times you redeemed it and there is no limit.  The catch is you can only redeem the Loyalty Bonus once per stream, so the max is 1-2 times per day usually, though we run 3-4 streams on Sunday and you can do that many times on a Sunday.
Watch live video from dragonbloggers on Twitch