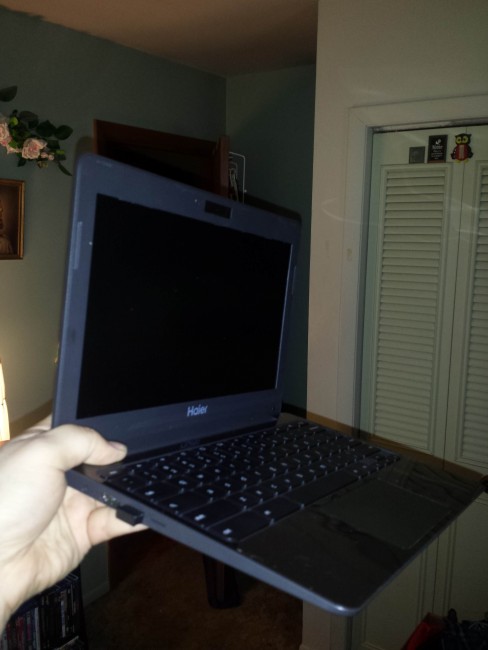 This is my second article in my series revolving around the new Haier Chromebook. My first article covered my initial impressions. This article will dive a little deeper into its specs and how well it performs while on the road. In future articles I'll cover the differences and similarities between a Chromebook and it's competitors, the positives and negatives of having a Chromebook as well as how I use it in my everyday routine.
So, first off, lets check out what this Chromebook is packing. Here are the specs:
| | |
| --- | --- |
| Screen Size | 11.6 inches |
| Max Screen Resolution | 1366 x 768 pixels |
| Processor | 1.8 GHz |
| RAM | 2 GB DDR3L SDRAM |
| Hard Drive | 16 GB |
| Wireless Type | 802.11 A/C |
| Average Battery Life | 10 hours |
| | |
| --- | --- |
| Brand Name | Haier |
| Series | Haier Chromebook 11 |
| Item model number | Chromebook 11 |
| Operating System | Chrome |
| Item Weight | 2.5 pounds |
| Item Dimensions L x W x H | 11.40 x 8.07 x 0.77 inches |
| Color | Black |
| Processor Brand | Rockchip |
| Flash Memory Size | 16.0 |
| Optical Drive Type | No |
| Batteries: | 1 Lithium ion batteries required. (included) |
As you can see, there's nothing that really stands out on this particular Chromebook. It is your basic, run-of-the-mill netbook. There's nothing that quite stands out to me, other than the battery life. It definitely shines in this department as I can have it on for almost ten hours and idle for even longer. A 16-GB hard drive just seems so small in the year 2015. I feel like you could've doubled the capacity without raising the prices and still come out on top. That is just my personal opinion, of course.
From a traveling point of view, the Haier Chromebook is exactly what you need. At only $149, it's really affordable. It's lightweight and compact so it's not going to take up much room. The battery lasts forever so you can use it all day without having to worry about charging it. It's bluetooth capabilities allow it to sync with most devices with relative ease. Unfortunately, the one real downside is the fact that I also own a Samsung Galaxy S IV and a Samsung Galaxy Tab 4 10.1″. Not only are they smaller, they are just as capable of doing the same things the Chromebook is. Sure the Chromebook is cheaper and the battery last longer, but at least, with my phone, I'm almost always connected to the internet.
When everything is said and done, the Haier Chromebook is a middle of the pact netbook with a cheap price tag. It's a good travel companion if you don't have the smartest voice or the latest tablet. It may not be the fanciest or equipped with the best hardware, but I would still highly recommend this Chromebook. Just don't expect that extra wow factor when you take it for a spin.