iPhone 5 is here! Boasting a slew of upgrades and new features, this new phone could be the year's hottest item and is likely to be #1 on many Christmas wish lists. So, what can you expect from the new iPhone?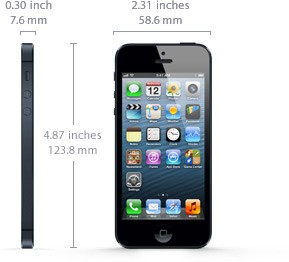 Esthetics-wise, iPhone 5 is almost 1.5mm thinner than the iPhone 4 and 4S, making it the thinnest phone available in the world. The previous 3" tall screen has been replaced by a 4" tall screen allowing users to still comfortably use the phone one-handed while enjoying the ability to watch HD video in widescreen. Apple also tells us that the iPhone 5 is also an impressive 20% lighter than the previous models making this smartphone much more comfortable to use. Models range from 16GB to 64GB in size and will be available in 2 colours: white and silver or black and slate.

The improvements are not just skin deep, however. The popular 8-megapixel iSight camera is back but is 25% smaller and has a number of new features including a thinner, more durable, sapphire crystal lens cover for crystal clear images, and a panoramic mode which can take pictures of up to 28MP with one smooth motion. The video capabilities have also been improved. Video face detection will now detect up to 10 faces, and improved stabilization helps to take still photos even while recording 720p video.
The audio performance in the iPhone 5 has been enhanced with a beam-forming directional microphone with new noise-cancelling technology to make background noises fade away and will make it so only what you want heard will be heard. The iPhone 5 also comes with the new Apple Earpods which are advertised to fit better, be more durable, and provide some of the same acoustic quality found in higher-end earphones.
iPhone 5 features a newer, better operating system. iOS 6 is the world's most advanced system featuring over 200 new user features. These features include a new Maps app with turn-by-turn navigation and an all-new Flyover™ view, and a Facebook app with integration for Contacts and Calendar and allows posting from the notification centre. Even Siri has new features! You can now more easily access sport scores, movie listings, and restaurant recommendations so you can have a great night out and still not miss your game.
Finally, the new iPhone 5 is powered by an all-new A6 chip which will not only improve performance with up to 2x the graphics and CPU performance but will even increase the battery life of the smartphone.You can never have too much battery life! Also, this A6 chip, paired with the iPhone 5's improved Wi-Fi capabilities, will allow users to experience up to 150Mbps.
Overall, it seems like there are a lot of great improvements and with pricing starting at $199 (US) for the 16GB model (upon approval/with a plan), this upgrade is much more enticing that of the iPhone 4 to the iPhone 4S. It's exciting to imagine the possibilities that this new technology will bring.
Now, tell me what you think. Do you have an iPhone already, and if so, will you upgrade to the iPhone 5? If you use another type of smartphone, would you consider switching to an iPhone 5 with all that it offers?
Artist / Model / Gamer / Crazy Cat Lady