We are influencers and brand affiliates.  This post contains affiliate links, most which go to Amazon and are Geo-Affiliate links to nearest Amazon store.
Introduction:
Mionix is a company who's slogan is "all about the craftsmanship". And for the recent past, they've been able to achieve that goal with the launch of the perfect, Castor Gaming mouse which received our 5-star Editor's Choice award. Mionix Castor was a perfect gaming mouse released last year. But today, we're going to take a look at one year before that, when Mionix announced the Nash 20 headphone. The only headphone Mionix currently has available in it's product catalog.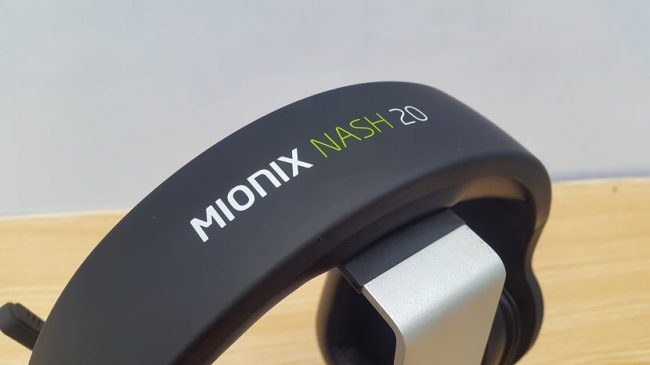 So today we have the Mionix Nash 20 headset for review. Let's get this out first that this is a $90 headset and it's only an analog stereo headset. So we're looking for some solid performance from the headset.
Mionix Nash 20 Unboxing:
Below you can find the unboxing of the headset:

Mionix Nash 20 Specification:
Headset Specs
| | |
| --- | --- |
| Headset type: | Analog Stereo Headset |
| Type of earcup: | Semi-closed back Circumaural |
| Audio connection: | 3.5 mm gold plated connector |
| Mic connection: | 3.5 mm gold plated connector |
| Ear pad & Head band: | Memory foam, wrapped in leather |
| Volume control: | Scroll wheel on left ear cup |
Driver  Specs
Driver type:
Dynamic, 50mm, Nd magnet
Impedance:
32Ω ± 15% at 20kHz
Sound pressure level:
103 dB
Resonance frequency:
≥ 100 Hz
Input power:
Nominal 40mW – Max 80mW
THD:
Less than 2% at 1Khz
Less than 5% at 300kHz
Microphone Specs
| | |
| --- | --- |
| Microphone direction: | Uni-Directional |
| Microphone mute: | Flip up to mute |
| Sensitivity: | (@1kHz, 1V/Pa) -42 ± 3dB |
| Mic frequency response: | 15Hz – 16kHz |
| Mic frequency-noise ratio: | 58dB |
| Microphone dimensions: | 6mm |
Nash 20 Body and comfort: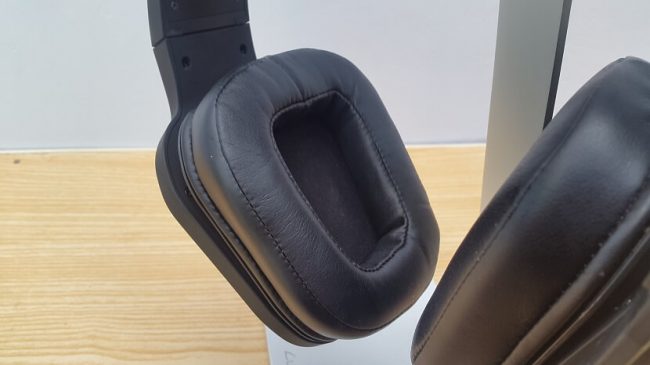 The body is probably the only dislike I found about the Mionix Nash 20. It is too bulky. The headphone weights about 398 grams which is by far the heaviest headset I've ever used. The body has a matte finish all over the headphone which  look good with the added aesthetics of the Mionix logo on both ear-cups. But, the ear-cups are also huge that they came all the way from the top of your ear to the jawline of your face.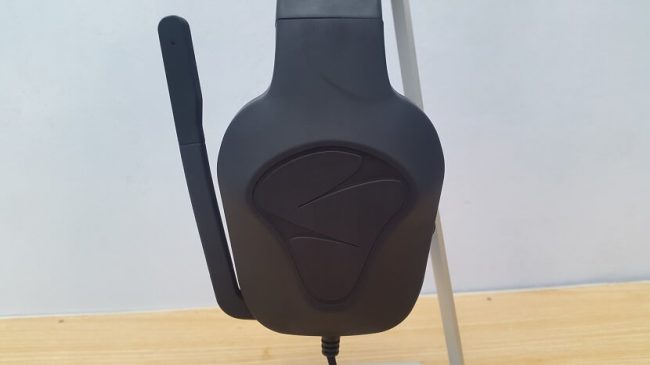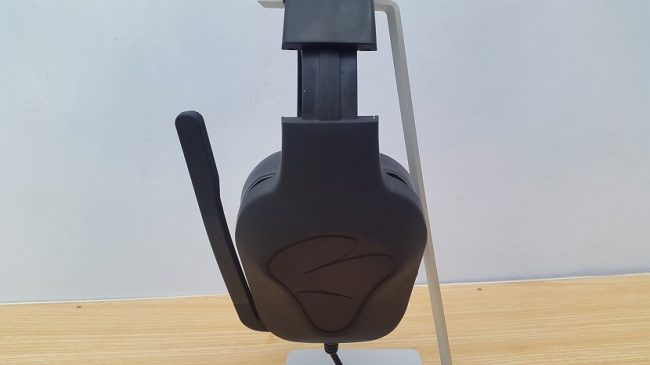 As for the comfort goes, the headphone is comfortable enough that you can wear it for few hours despite the weight. But you'll never forget the frame around your head during your usage due to the weight and the heavy feeling it has, almost feels like wearing half a helmet. The comfortability is the result of leather wrapped viscoelastic ear cushions and headband and the ability to adjust the height of headphone. So despite the weight, the headphone is comfortable enough to wear for a short few continuous hours. But you'll have the constant feeling of wearing something heavy on your head.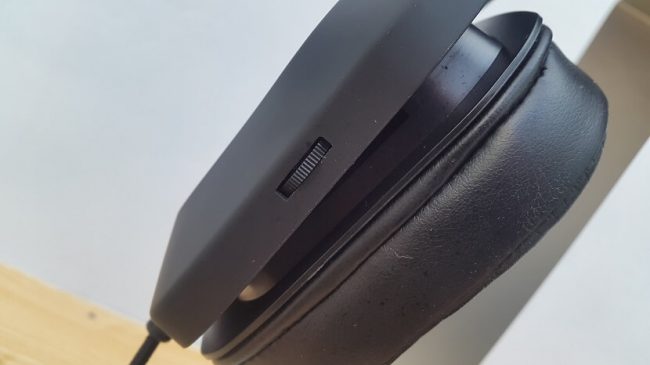 The Mionix Nash 20 also features a volume controller on the left earcup for quick volume control. It is always great to have the volume controller on headphone, as it's a hassle when they're on the cable and most often goes bad within few weeks.
And just one more thing about the body, that the top headband part is using some kind of plastic coating; where the "Mionix Nash 20" is written. It has started to peel off after about 1 month of use. But it's not a big deal as it's not as wild as it sounds. If you go back to the very first picture in this review, you can see a little spot near the edge under "NI" of Mionix. Some improvements can be made here.
Mionix Nash 20 Performance:
The Mionix Nash 20 features a 50mm driver on both ear-cups which  is also enormous and thunderous. I don't remember having used a 50mm driver headphone before, but now that I have, I can say this is probably the loudest and clearest headphone I've used with such drivers
With bigger drive, you also get better and stronger bass, and the Nash 20 drivers indeed have the power to rattle the body. So not only the drivers of Nash 20 is huge, clear, and loud, they also have strong and clear bass.
With such huge drivers, I was expecting some distortion at high volume, but instead, it was very clear with some excellent bass. Also, the output was very balanced at high volume; I could clearly hear the vocals amidst the bass. Though compared to another headphone I'm reviewing, I found the soundstage to be a little small.
With Nash 20, I've watched movies, listened to music and played video games for hours, and I've got no complaints except for one. The only complaint I have is with the output of the headphone while playing video games. Since the Nash 20 is only a stereo headphone, I was having a little difficulty in pinpointing the distance of the enemies behind walls and sometimes miss judging the direction which can be a problem in competitive games. So there's that, but the best experience the Nash 20 can provide you is in the music sector with clear and balanced output and some good bass.
Mionix Nash Mic Quality: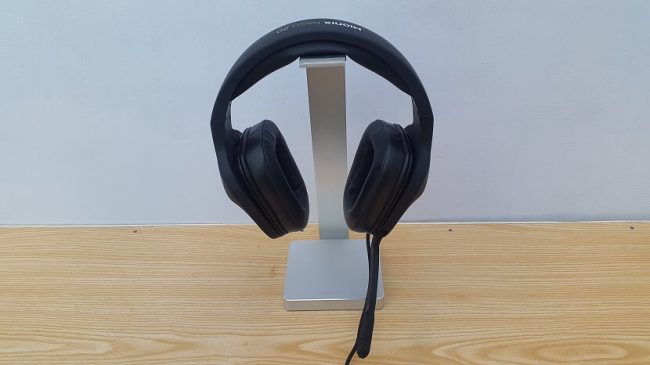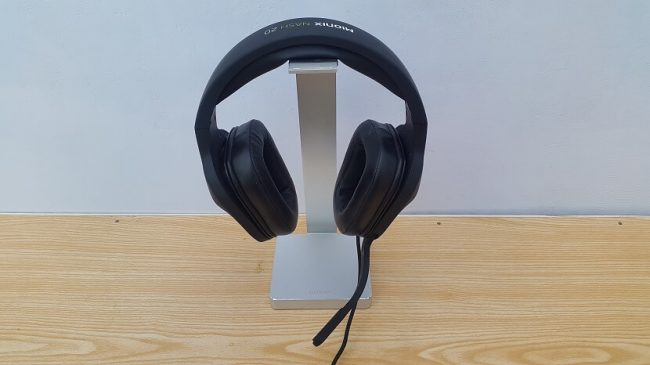 I've used a plethora of local brand headphones with a mic but compared to them, the Mionix Nash 20 has a great mic performance. The microphone of Nash 20 is very clear that my voice during gaming sessions was easily understandable. You can check the audio quality of the mic in the below audio clip.
Though the only thing I don't like about the mic is the material used. The mic feels very light which is somewhat uncomfortable, and also the mic has a hard time keeping the shape it's given.
Conclusion:
I've used the Nash 20 for about a month or so by now, and I've got attached to it. This is my go-to headphone for listening to music because of the huge drivers and the music I listen mostly includes drum and bass, so it always feels awesome.
As for gaming, the headphone does well but you might have directional awareness issues with the Nash 20 since it's only a stereo headphone.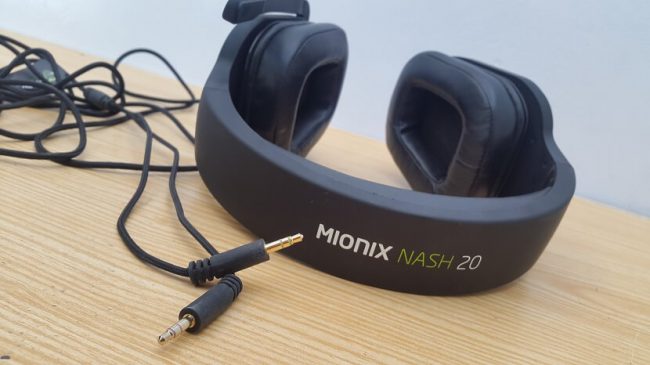 Other than that, what I think can me improved about the headphone is its bulky design. If Mionix were somehow able to add all this performance into a small and breathier headphone, then I would throw my cash at them for it. But if you're not prepared to go along with the weight of the headphone, then you might want to pass on this one. But if you're looking for some excellent bass, with clear output at high volume without any distortion and you're willing to give up some of the comforts due to weight, then I would recommend you to try the Nash 20.
Now back to the price factor, the Nash 20 is a $90 headphone, at this price point, you can either get a sub level 7.1 surround headphone or a premium stereo headphone. The choice is definitively yours to make, but for the price and the performance I got from the headphone considering a stereo headphone, I'm very pleased with the results. I would like to rate the Nash 4.5 out of 5 stars and give it our 4.5 star Editor's Choice award.
We are influencers and brand affiliates.  This post contains affiliate links, most which go to Amazon and are Geo-Affiliate links to nearest Amazon store.
Hi, I'm Ahmed Kazim and I've been a gaming freak since like 7-8. I'm also a geek-o-nerd who keeps looking around for latest development in hardware/tech/gadget industries so expect some quick news from me. I'm also interested in anime (Japanese animation) and can't stand a day without music and gaming.