[easyazon_image asin="B00511N76C" alt="Better Off Dead (Blu-ray)" src="http://ecx.images-amazon.com/images/I/51x99bbBwiL.jpg" align="right" width="300″ height="412″] Better Off Dead (1985) is a teen comedy written and directed by Savage Steve Holland. It stars John Cusack, David Ogden Stiers, and Kim Darby in a film about a teenager who has to deal with his girlfriend dumping him, family crises, homicidal paper boys, and a rival skier.
Classic '80s cinema has made the all important technological leap to Blu-ray disc. Better Off Dead is a 'new' type of film for me to review. Mostly because I am stuck in a film genre that that is an unimaginative, rampant rip off of some other film genre. But I can see now why "modern Hollywood's" unsuccessful films are nothing more than a regurgitation of previous successful films. Case in point–the '80s awesome teen comedy, Better Off Dead.
Breaking up is hard to do, especially for Lane Meyer (Cusack), who in this film, is a bit "obsessed" with his newly ex-girlfriend Beth (Amanda Wyss). So how does Lane deal with being rejected? Well, he aims to kill himself. Not a practical way to deal with his problem, of course, but then he thinks up an even better plan–beat Beth's new boyfriend by skiing the most dangerous mountain, the "K-12." Its really not that all complicated, all he has to do is "go that way, really fast. If something get's in his way…turn!"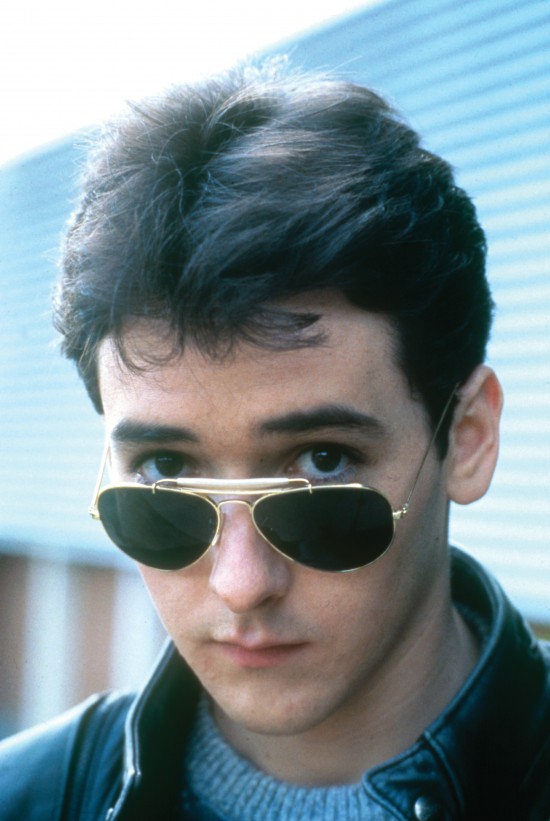 Even Lane's kid brother even has a lot more going for him than he does. He clips coupons from the cereal boxes to send in to companies, so he can build his own "spaceship," and such. And even more hilarious, a book on how to pick-up "trashy women." Even worse, Lane's next-door neighbors, a mother who hosts a foreign exchange student from France, just so her uptight, overweight son Ricky (Daniel Schneider) knows what it is like to have a girlfriend. Underneath the fancy talking cartoons, animated soul singing hamburger, and skiing–Lane never "off's" himself. He, instead, falls in love.
Better Off Dead features oddball characters that do some of the most curious antics, with memorable dialogue. It pretty much offers a lot of content that throws a lot at you: an Asian race car driver and his brother who learned to speak English from watching sports broadcaster Howard Cosell; a crazy, homicidal paperboy who goes through great lengths to get his "two dollars" owed to him, and a mother who has to be the worse cook on the planet, but her heart is in the right place.
There are a few rough patches in the film, the humor can be described as "cute" and the film does seem to poke fun at the suburban family life, and even though it does not have a 'directed focus,' as there are events going on everywhere. Even still, you just can't beat clean, off the wall comedy. Better Off Dead is an offbeat reference to young love and adolescence, and the '80s teen comedy is still a cult favorite among fans old and new.
If you have an opportunity, check it out on Blu-ray, because the overall video presentation is very good and the audio is both loud and powerful (DTS-HD MA 5.1 aspect.) It's a bit "cloudy," but you have to consider the film's age, and the music tracks can't  have the same clarity as it would if it were recorded using current industry standards of recording. Visually, the film obviously looks a lot better than the featured trailer (below), however, it's 1080p, 1.78:1-framed transfer to Blu-ray still looks pretty good. There are a few minor inconsistencies– it still has a bit of the natural grain from the original '80s film, however, and it does retain it's visual quality. The color of the people's clothing and some of the animated features in the film–does show really well and do reveal the tiny flaws mentioned above. I like it because that's what's great about watching an old film that has been transferred to the Blu-ray format. Its fun, because it really shows off the benefits of owning a [easyazon-link asin="B004MSI7UQ"]Blu-ray Disc Player[/easyazon-link].
The only miss with this disc were the limited special features. You only get the original '80s trailer.
[xrr label="Better Off Dead is rated" rating=4/5]
[youtube width="555″ height="261″]http://www.youtube.com/watch?v=AlEYRjlVtjg[/youtube]
[easyazon_block asin="B00511N76C" align="left"]
Image credit: Paramount Pictures
When AIDY isn't writing poetry, she likes to write film reviews. If she is curious about something she seen or heard, she'd maybe write about that, too.