We are influencers and brand affiliates.  This post contains affiliate links, most which go to Amazon and are Geo-Affiliate links to nearest Amazon store.
Located on geekbuying.com, this powerful, affordable 3D Printer comes in a yellow akin to its namesake and looks to be quite the deal. Let's talk about the more general features before we get into the meat of its specifications.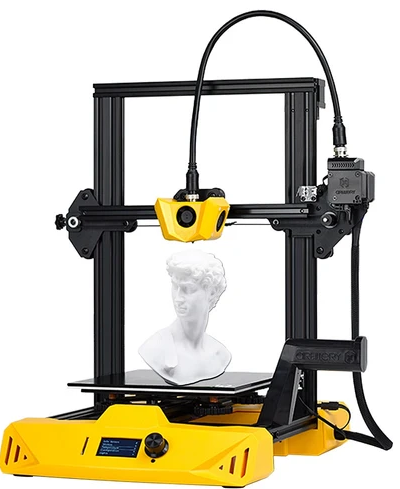 Easy to Assemble and Use: The Hornet 3D Printer comes ninety-five percent pre-assembled, with an integrated structure and metal frame. It only takes you three minutes to set it up and is extremely easy to use, with a one-key knob integrated switch. If you're a beginner this printer is absolutely right for you.
Sleek and Modern Design: Unlike other 3D Printers that both look clunky, and lack any color, the design on this particular printer is extremely sports car-inspired. It blends style and science, with its mix of metal and yellow finish.
No Loose Cables, and Safe to Use: The Hornet 3D Printer has an integrated cabling system that combines all the power and signal cables, as well as the filament feeding system into one cable. It ensures that not only will you be free from cable clutter, but also makes the printer look neat and tidy. Aside from that, a pair of fans for print cooling ensure everything is kept at a safe, quick-drying temperature.
Silent Printing: Featuring a Self-Developed 32-bit motherboard with replaceable drivers that bring ultra-silent printing, and better performance straight to your desktop. It's so quiet that you can even sleep in the same room during a print.
Watch the Unboxing and Assembly Video with Leveling
Now that we've discussed the general features of the Hornet 3D printer, let's talk more about what powers this affordable, gorgeous piece of tech. First though, why would you want a 3D Printer? For many reasons, they make hobby work truly interesting, allowing you to assemble entire 3D printed costumes out of basically nothing. Some parts for things can also be replaced with 3D printed versions! School Projects can be 3D printed, truly the potential for such a versatile piece of tech is practically endless.
Fans for Part Cooling: As mentioned above, the printer uses a set of dual fans on both the hotend and the printing board to keep the fan at a safe temperature, as well as help prints dry quickly to ensure they're as precise as possible.
Reverse Single Z-Axis: The Reverse Single Z-Axis with a patented Z-Coupler will ensure smooth, stable, and quiet printing. It also makes layering problems an absolute minimum issue. The stable V-shaped pulleys provide smooth and quiet motion, creating a slick and easy printing experience 
Adjustable Filament Holder: The position of the filament holder can be adjusted to keep the center of gravity low and minimize wobbling during printing. 
Integrated Belt Tensioner: The integrated belt tensioner located on the x-axis can be used to tighten the belt in a simple, and convenient way for quick corrections between prints.
Titan Extruder Modular Hotend for Higher Precision Printing: The Hornets' new Titan Extruder has stronger extrusion, with stable filament feeding. The modular hotend integrates all-copper nozzles, for quick heat transference and fast filament melting via high three-dimensional heat dissipation. It's also easy to maintain and repair.
Coated Tempered Glass Platform with Higher Thermal Energy Efficiency: The Coated Tempered Glass Platform with an aluminum DC heating plate provides uniform heating, high energy efficiency, and is a foundation for printing quality and a high print success rate. Special coating on the glass eliminates the need for adhesive to keep prints stuck to the build plate, so no more warping, and your models are easier to remove than ever!
Self-developed 32-bit motherboard: The motherboard is developed from the company itself, and driver replacements are frequently issued.
Watch 3D Printing an SD Card Case with the Artillery Hornet
Final Thoughts
The Artillery Hornet 3D Printer is absolutely bursting with features while providing an extremely user-friendly experience that caters to both beginners and advanced users alike. The plate is of special note, being one of the most essential parts of any good 3D printer, and extremely hard to nail. I'm also personally a fan of how much convenience they packed into many of the features for adjusting the printers configurations for easier prints!  One bit of feedback is the test print file they include with the printer is very underwhelming, and the brand should include a higher quality print file that shows off what the printer is capable of instead of a bland cube.
The Artillery Hornet is on special deal though and is a good starter 3D Printer, though note it may take some time to level as it doesn't have auto leveling.
Get the Artillery Hornet 3D Printer on Geekbuying  and Use Coupon Code: NNNDGBGAH3D and get this printer for only $169.99 for the first 50 people who purchase with the code.
We are influencers and brand affiliates.  This post contains affiliate links, most which go to Amazon and are Geo-Affiliate links to nearest Amazon store.
I am just a 25 year old doofus who enjoys rpgs, sugar rushes, and passing out at odd hours.