We are influencers and brand affiliates.  This post contains affiliate links, most which go to Amazon and are Geo-Affiliate links to nearest Amazon store.
Many users have switched over from streaming 1080p Full HD content to streaming 4K Ultra HD. When it comes to streaming 4K content on your computer, you are stuck in a situation where you don't know which media player to choose for streaming your videos as there are quite a few media players that don't fully support large 4K files and have stuttering issues. So if you are out on the internet looking for a 4K media player, you might want to check out 5KPlayer. 5KPlayer is a hardware-accelerated x265 player capable of playing 4K, 8k, and HDR videos in x265 HEVC format. It is available on both Windows and Mac and can play all of the commonly used video formats without any issues. Let's find out exactly what all the media player has to offer.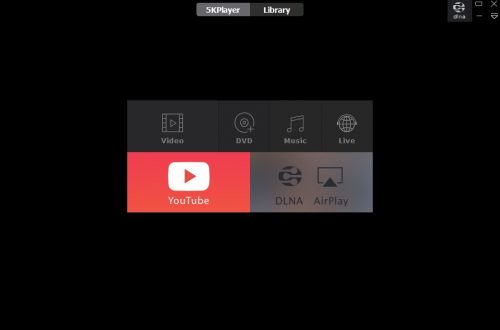 Multimedia Playback
5KPlayer can basically play any type of media that you can think of. It supports all major video file formats such as MKV, MP4, AVI, FLV, WMV, MOV, 3GP, etc. Not only can you play videos, but you can also play audio file formats like MP3, AAC, FLAC, WMA, and more. You can play 1080p, 4K, 5K, and even 8k videos with ease. 5KPlayer is also capable of playing 360° VR videos. The player also has minor but useful features that allow the users to rotate or flip the video at any time with a simple click. You can also take a screenshot of a particular frame by clicking on the snapshot icon. Some other commonly used features include changing the aspect ratio, loading subtitle files, changing video speed, and audio/subtitle synchronization. The final feature that I would like to mention is the audio equalizer. This lets you fiddle with the audio of the video file so that you can get the perfect music experience.
Hardware Acceleration
Many media players in the market still aren't able to properly support x265 content. What makes 5KPlayer special is that it supports hardware acceleration powered by NVIDIA, Intel, DXVA, and AMD. The media player utilizes your systems processor and graphics card to stream 10bit HEVC/x265, HDR, 4K, and 8K H264 videos content smoothly. So even with an average system, you can play your content with ease. Although playing 8K videos might be a stretch on an older computer, you can still enjoy 4k and 5k videos with ease.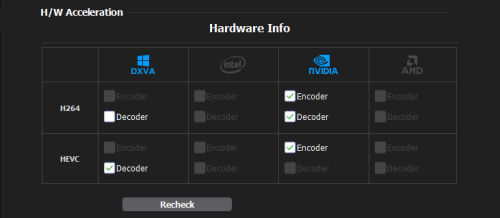 Video Editor
5KPlayer has a built-in simple video editor that lets the user perform some basic editing functions. If the recorded video is too long, you can cut and trim just the required part and render it out. You can rotate and flip the video as per your need, change the playback speed, and increase or decrease the video volume. You can also do some basic color correction, such as changing the video file's saturation, contrast, and brightness. Once all the edits have been made, click on 'Save File' to save the edited video.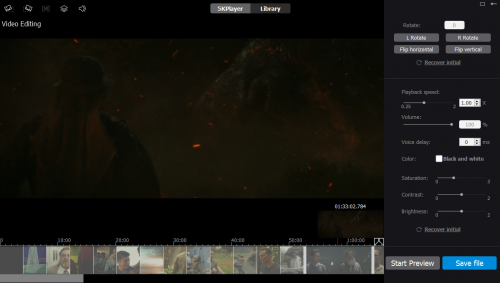 AirPlay & DLNA Wireless Stream
Airplay and DLNA wireless streaming is a feature that all media players should have. Airplay allows the user to stream content from their Apple device to your computer with 5KPlayer. You can even mirror your iPhone/iPad with Airplay. Similarly, DLNA allows you to stream your media with DLNA supported devices. This eliminates the need for any USB devices or cables, and all your files can be streamed wirelessly by connecting both devices on the same network.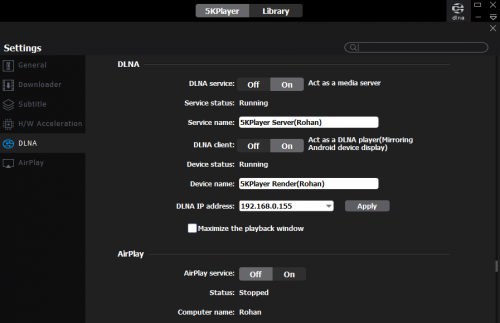 Built-in DVD Player
If you are one of those that still has a DVD drive and wants to view their old recorded videos/audio, then 5KPlayer has got you covered. 5KPlayer has a built-in DVD player that lets you play various file formats such as AVI, MP4, MKV, FLV, WMV, MOV, etc. 5KPlayer support for 4K Blu-ray content, 360°, and 3D DVD playback. Playing region-locked DVD's is also possible as the player bypasses region coding and reads the raw data directly.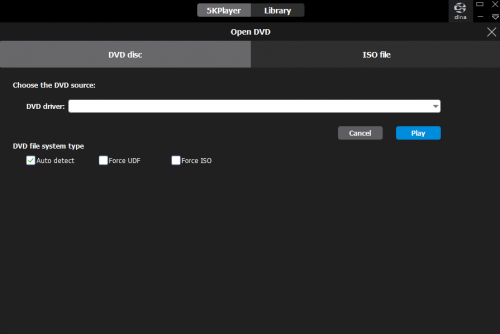 Radio Player
Now, this is a feature that you rarely see. If you like listening to the radio, then 5KPlayer has a built-in online radio player. You can listen to popular radio channels by simply clicking on them from the list. If your preferred radio channel is not available on the list, then you can simply paste the link and enjoy listening to your favourite channel.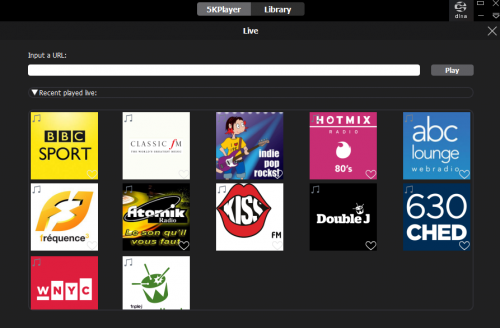 Media Downloader
Apart from being a media player, 5KPlayer also acts as a media downloader. So if you are looking to download some videos from the internet, then you can use this feature. 5KPlayer allows you to download videos from over 300+ websites. Alongside videos, the player also allows the users to download music from popular music streaming sites. Simply copy the link, paste the URL, click on Analyze, select the video quality by clicking on the gear icon, and click on download.
Conclusion
5KPlayer is one of the best free video players on the market right now. It can handle all of the major audio/video formats easily. With hardware-acceleration, it can even play 8K videos. Playing x265/HEVC content without the need of downloading any additional codecs is a bonus. Playing videos wirelessly through DLNA/Airplay is an excellent feature that is still missing in other media players. With additional features such as a video editor, radio player, DVD player, and a media downloader, I highly recommend our readers to go and check out 5kPlayer.
We are influencers and brand affiliates.  This post contains affiliate links, most which go to Amazon and are Geo-Affiliate links to nearest Amazon store.
Hi my name is Rohan Jadhav. I am a guy who loves to play games and a tech lover. I like to be updated on all the tech stuff. I enjoy watching movies and I am currently doing a specialization course in VFX.