We are influencers and brand affiliates.  This post contains affiliate links, most which go to Amazon and are Geo-Affiliate links to nearest Amazon store.
Now that Sony has finally revealed what the PS5 looks like, there must be some questions going on in your mind. Just after half-hour of the announcement the hardware design had been revealed. The console has a design in white and black colors and it matches the latest controllers that have been included in its box.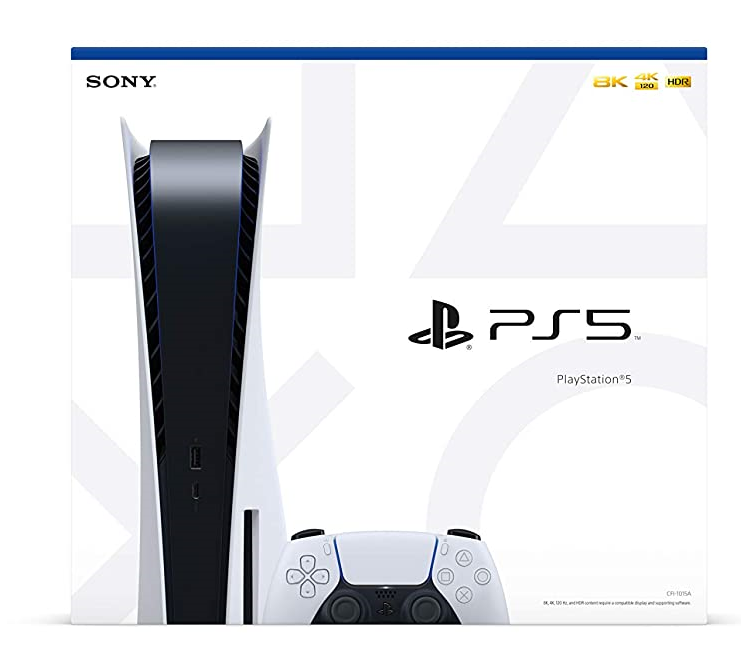 Just like the Xbox series, this also stands vertically. As you might know by now that there will be two versions available. One that has a 4K Blu ray drive then the other one will be the Digital Edition.
The one without the optical drive seems thinner than the other one, thanks for removing the drive. Here are the most asked questions on PS5 answered for you!
Can You Use The PS4 Disc And Play Older Games?
Hideaki Nishino Senior Vice President of Platform Planning & Management stated ein a Sony Blog post that 99% of the PlayStation 4 games will be working on the PlayStation 5. Though they haven't given out a specific list of what is or what isn't compatible they have confirmed that there is a big focus on PS4 Exclusives being supported by the Playstation 5 and Triple A third party games getting the highest focus of compatibility support. One would assume that if you have the PS5 version with the disc drive you can just pop-in your PS4 game and install and play it, but if you have the Digital Only edition you likely needed to have the Digital Version of the game purchased on your PlayStation account. It is unlikely you can convert a physical PS4 game into a digital version so if you have a large PS4 library of physical game discs you are going to want the PS5 with the disc drive. If you own a PS3 however then you won't get backward compatibility and have to rely on the digital offerings that release for games ported to work on the PlayStation 5.
What about PSVR?
PlayStation VR will be completely compatible with the PS5 including all Playstation VR games.
Any Information On The Digital Games One Owns?
Sony hasn't much talked about the way one can access the digital games of PS4 in this new one. Though, it will be very odd if one will not be able to download them from the PS store.
Are the saved games transferring over?
Per Sony, so far we know that you can transfer digital games, game data, and game saves from a PS4 console to a PS5 console using LAN cables, or via Wi-Fi. You can also bring your PS4 save data to your PS5 with that external USB storage device. And if you are a PS Plus member, you can also sync PS4 game saves on PS5 with their cloud storage.
Note however the ability to transfer game saves between your PS4 version and PS5 for a game is a developer decision, and some may not support.
Example: For Marvel's Spider-Man: Miles Morales, when players decide to upgrade from PS4 to PS5 their game saves will transfer.
Can you use the controllers DualShock 4?
Yes, one can use them and other licensed controllers from a third party on Play Station 5. But one can only play the PS4 games. Better to use the newer controllers that come with the PlayStation 5 and leave the extra PS4 ones for co-op cross play when needed.
What about the PlayStation VR?
Sony had also confirmed that PlayStation VR will be compatible with PS5 in 2019. And they have also said that the PSVR Aim controller and the PS Move Motion controller will be supported by PS5 in August. Also, the Camera will be working with PS5, although there will be a requirement for a free adaptor. But Sony to date hasn't given the information out on how one will get the adaptor.
Can one play Blu-rays, DVD'S and 4K Blu-ray with it?
Yes, you can do that. Though if you want to save $100 off the console price you can opt for a digital only model and do away with the physical media, but you have to have digital purchases for all your games.
Is There a Need For 4K television?
No, if you own a 1080p monitor or TV, then PS5 will be working completely fine. Although these games will work very well on the 4K HDR set. Because the PS5 will be rendering a 4k image that will be downscaled to a 1080p TV you will likely see higher quality graphics from a PS5 to the same 1080p TV than from a PS4 to the same TV. Especially considering you will get a far better gaming experience with higher frame rate as well there should be a smoother gameplay and much faster load times.
Is PS5 Going To Fit In The Entertainment Center?
PS5 is certainly big. There is a high probability that it won't. Most of the girth is in 1D. But it's recommended that one plan for the console for taking up a good amount of space. In a recent teardown demonstration by Sony you were clearly given a picture on how the panels can come off so that the console can be vertical or horizonal to better align it to your entertainment center needs. This tear down video is a must watch as it also shows you the upgradeability and ports as well.
Conclusion:
These were all of the questions related to Play Station 5 that you might have had in mind. There is also a cooling mechanism this time that makes sure that you won't have to worry about the heating issues at all.
The article was contributed by PSN Card Delivery, place where you can buy Playstation gift cards online starting from $10. For more details check PSNCardDelivery.com.
We are influencers and brand affiliates.  This post contains affiliate links, most which go to Amazon and are Geo-Affiliate links to nearest Amazon store.
My name is Alice and I have been into gaming since I first got the Nintendo 64 in late 1996 and enjoy writing about all things relating to entertainment, gaming and streaming. Lately you can find me playing mostly MMO's like WoW, FFXIV or Black Desert Online when I have time to game.