We are influencers and brand affiliates.  This post contains affiliate links, most which go to Amazon and are Geo-Affiliate links to nearest Amazon store.
Polar Vortex is coming. Winter is getting closer. In Minnesota, there will be no day with positive temperature next week. Fortunately, Amazon offers occasion-appropriate deals. We are going to showcase 3 best deals today. One of the most essential devices in Winter is Heater. But this one is not an ordinary heater. It is an infrared heater, with Wall Mounted feature fro Heat Storm. Next on the list is another essential device from NEXPOW – Battery Jump Starter. Last but not least, we will ensure you have the best air quality with HATHASPACE Air Purifier.
Heater, undoubtedly, is one of the most crucial products in the Winter. However, due to their infrastructure, some can be very bulky. Recognizing that problem, Heat Storm – a brand from Energy Wise solutions – has developed some innovative products. Their HS-1500-PHX Infrared heater is one of them. With only 9 pounds, this device is very portable. You can easily transport it to different rooms in the house, such as office, kitchen, or even garage. The best part is you can install this heater on the wall, instead of having it on the floor. With this feature, you can save a lot of floor space in the room. Also, it makes it safer if you have any kid, or pet hanging out in the same area as the heater.
This heater is also WiFi ready. Yes! It means you can control the heater from the touch of your phone. This is such a convenience feature, especially when you install it on the wall. Imagine when you want to install it a bit higher on the wall, it will be challenging for you to adjust the temperature. By being able to control the temperature through the phone, you don't have to worry about that anymore. In addition to that, thanks to the patented HMS dual wall technology, this heater is capable of warming up the area quickly and energy efficiently.
With about 10,000 positive reviews, you can entrust this brand and their products. You can buy the HS-1500-PHX-WIFI Infrared Heater at this link
Are you a frequent driver in the Winter ? It is bad to have your car's battery died. It will take at least an hour for your insurance to come for the rescue. That's why you will need a Battery Jump Starter. And that's also why we recommend NEXPOW products. Their products are currently on DEALS OF THE DAY from Amazon for up to 33% discount.
This is a very powerful jump starter. It has enough power to jump start most 12 volt vehicles on the road (up to 8.0L gas or 8L diesel engines). This makes the NEXPOW Jump Starter capable of jump starting cars, motorcycles, ATVs, boats, pickup and so on. It won't take that long for the battery to fully charge. Moreover, if you turn off the main switch, the batter can hold a charge for about 3 months. Moreover, this starter also equips with a a UL2743 standard certification. Along with the intelligent clamp of 8 advanced safety protection technologies (Reverse polarity, reverse connection, over-current, overload, over-voltage, over-charge, over-discharge, short circuit), the jump starter is spark proof. It also indicates audibly if there is any error. 
Besides being a Jump Starter, this product also has a lot of fantastic features for the winter. First of all, you can also use it as an emergency flash light. The are 4 modes total (Spotlight/Strobe/SOS) & Red Blue Warning. You can use these as a hazard warning signal in case of emergency. Next is the 3.0 quick charging feature. With the dual USB outputs, it is capable of handling charging all the devices. It can charge up to 1.8 times faster than the original USB port. Also, by having a 12V DC Output Port with Cigarette lighter adapter, the Jump Starter can power your other car accessories such as Tire Inflator.
Being featured as Deals Of The Day with 7,100 reviews, the NEXPW batter jump starter is one of the must-have if you are looking for Winter Accessories. You can buy the product at this link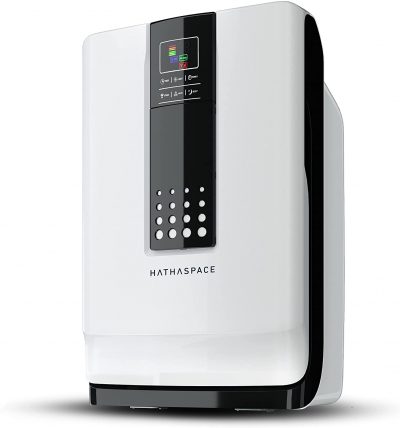 When it is winter, people will spend most of their time indoor. With all the time being indoor, you really to ensure that you are having the best air quality. Hathaspace, with a mission is to improve the health and wellness of our community with purified air, they offer a lot of quality products with HEPA air filtration.
One of them is the Hathaspace Air Purifier – HSP001. This product can purify your air and protect those around you from airborne pollutants. It can cover up to 700 square feet, filtering 100% of the air every hour. By equipping with a 5-stage HEPA filtration system, it can filter 99.97% of particles as small as 0.3 microns. These include allergens, dust, pet dander, pollen, odors, smoke, and toxic Volatile Organic Compounds. Have I mentioned that they can naturalize odors? Thanks to their built-in anion ionizer, they will remove all the bad odors. This makes the HSP001 suitable for offices, bed rooms, and kitchens.
If you worry about cleaning the filter, you can get rid of that concern now. It is very easy to clean the HSP001's filter. You just have to gently brush the filter off outside, then take the vacuum hose to it softly with the brush attachment. After that, you just have to let filters sit in the sun for a few hours to disinfect and recharge.
You can buy the HSP0001 Air Purifier at this link
We are influencers and brand affiliates.  This post contains affiliate links, most which go to Amazon and are Geo-Affiliate links to nearest Amazon store.
If you can't find me at the table coding, then you can find me at another table playing boardgames. I want to share the fun, the intense, the `ah-ha` moments, the sabotage, the nerve wracking experience … that Boardgames can offer to the community.